Did a Pentagon official say that Ukrainian President Volodymyr Zelenskyy is the cousin of George Soros? No, that's not true: There is no evidence of a Pentagon official saying this or of a familial relationship between Zelenskyy and billionaire philanthropist Soros. This claim was seeded to the public by an account from India, @OsintUpdates, that has a history of planting false information on Twitter.
The claim was posted in a tweet (archived here) from @OsintUpdates on April 5, 2022. About nine hours later, @MUBreaking posted a similar tweet (archived here) that included side-by-side photos of Zelenskyy and Soros. A screenshot of the @OsintUpdates tweet plus a comment that included a screenshot of the @MUBreaking images was posted on Facebook on April 6, 2022, by Anthony Prewitt. The post caption said, "Get out! Any other sources anyone knows of confirming this? Ohhhhh this is getting goooooooooooooood!" The tweets in the screenshot read:
OSINT Updates
@OsintUpdates
Volodymyr Zelensky is a cousin of George Soros. Pentagon official says.

2:37 PM . 05 Apr 22 . Twitter for Android
601 Retweets 74 Quote Tweets 2,027 Likes

Sunshine @Sunshine_077 . 6h
Replying to @OsintUpdates and @notsogdgal
No wonder why they have so much similarity.
This is how the post appeared on Facebook at the time of writing: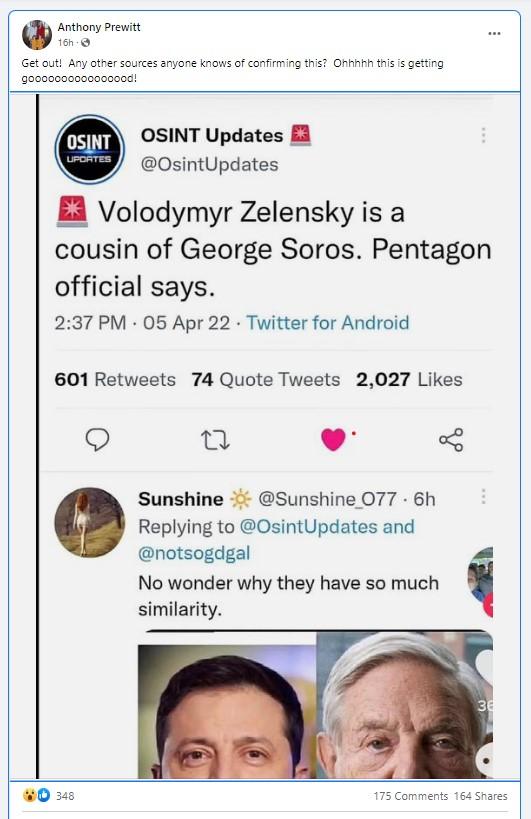 (Image source: Facebook screenshot taken on Thu Apr 07 21:32:43 2022 UTC)
The U.S. Department of Defense has no press release on record about this claim. In an April 8, 2022, email, the Pentagon press office said the Pentagon has made no such statement.
The first Twitter account to post this claim uses the term OSINT in its handle. OSINT stands for open source intelligence, a type of information gathering that uses publicly available sources. One of the features of OSINT analysis is that the investigator's methods can be shared to demonstrate how the investigator got the information and what their sources were. However, @OsintUpdates does not provide its sources.
Many Twitter accounts accuse @OsintUpdates of posting fake news (here, here and here). Lead Stories searched fact checking sites from India to see what other types of unsubstantiated information the @OsintUpdates account was tweeting. On February 22, 2022, sochfactcheck.com published an article titled, "Fake letter to Imran Khan linked to Pakistan Army Chief Gen Bajwa." The @OsintUpdates account was the original account that introduced a forged letter as if verified and factual. On March 17, 2022, newschecker.in reported, "Misleading Reports Alleging Killing Of A Second Terrorist Involved In IC 814 Hijack Go Viral." This time @OsintUpdates fabricated a story with a photo, identifying "Zafarullah Jamali" as a second hijacker who had been killed, after hijacker Mistry Zahoor Ibrahim was confirmed to have been killed on March 1, 2022. This rumor was false: There was no second hijacker who was killed.
In the comments on his Facebook post, Prewitt adds a screenshot that serves as information laundering. This is the opposite of OSINT verification. Information laundering is a means of disguising the source, in this case obscuring the path back to the two Twitter accounts that seeded this rumor. The screenshot comment shows Google search results for "pentagon soros cousins of zelensky."
This appears to show that a Google search shows other articles online that prove they are cousins. Because it is a screenshot of search results, a person is given the impression of verification -- when actual links would show that was not the case. The two articles are nothing more than an engagement statistics chart of the false tweet from @MUBreaking and a WordPress website titled "World Market Reports" that reposted a copy of the @MUBreaking tweet and linked back to it. Below the copy of the tweet, the "article" has a disclaimer:
SOCIAL MEDIA CONTENTS.

Social media contents must be cross examined and verified to be true before sharing to the general public because anyone can post anything on social media. You must verify this news contents to be genuine from authentic news sources.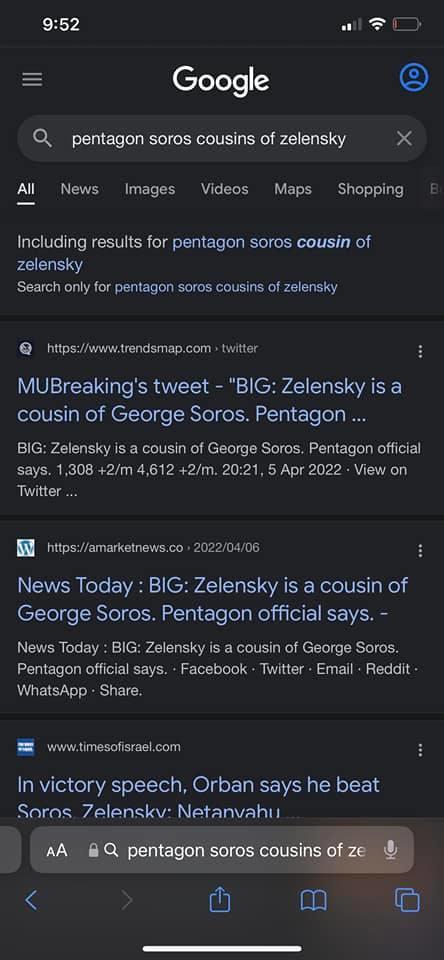 Additional fact checks about this false claim have been issued by politifact.com and reuters.com.