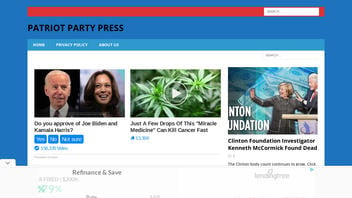 Did Disney shareholders panic after $2.4 billion in losses in a single day? No, that's not true: The website the claim appeared on specializes in satire and comes with this warning in its "About Us" section: "Everything on this website is fiction. It is not a lie and it is not fake news because it is not real." It is the work of Christopher Blair, a notorious liberal prankster who produces fake claims to troll conservatives.
The claim appeared in an article (archived here) published by the Patriot Party Press on April 8, 2022, titled "Disney Shareholders In a Panic After $2.4 Billion in Losses in One Day." It opened:
Reports from the floor of the New York Stock Exchange say traders are in tears after watching their clients lose billions after Disney's announcement to go woke. Senior Market Analyst Joe Barron with Standard and Whitney Poor says there is no coming back for Disney. 'It's a different company now.'

Executives agreed to take a pay cut when the plan went into action to counter the losses of park revenue from patriotic Americans they figured would stop going. What they didn't expect is for 9.1 million people to cancel Disney Plus or add Disney Kids to their parental controls list.
This is what the post looked like on the Patriot Party Press website on April 8, 2022: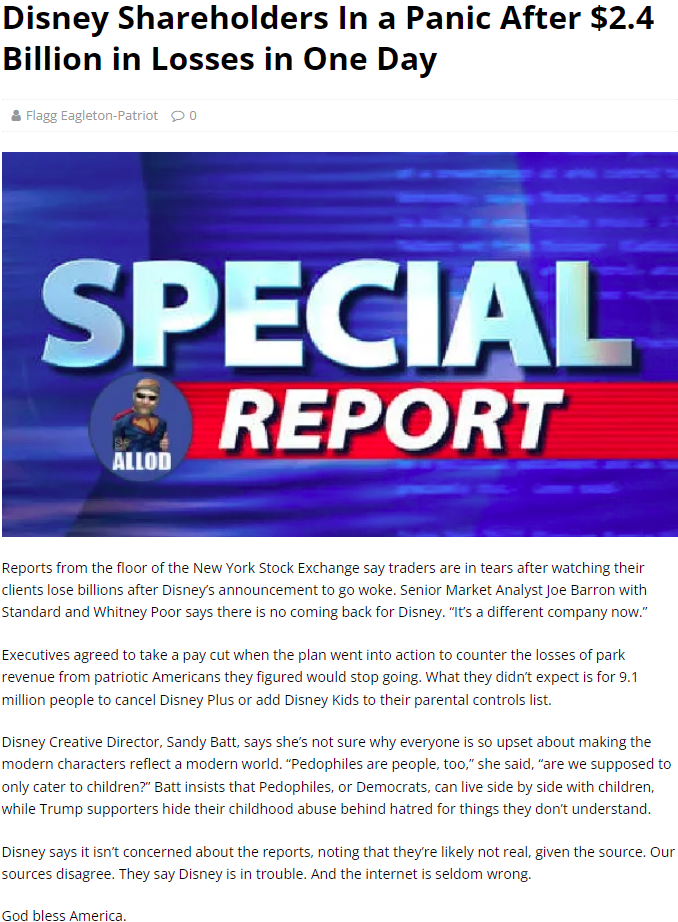 (Source: Patriot Party Press screenshot taken on Fri April 8 15:07:26 2022 UTC)
There were multiple days between March 8, 2022, and April 8, 2022, when Disney stock dropped at least 1 percent (which would have been $2.4 billion), according to Yahoo Finance.
Living in a satire world
The site is part of the "America's Last Line of Defense" network of satire websites run by self-professed liberal troll Christopher Blair from Maine along with a loose confederation of friends and allies. He runs several websites and Facebook pages with visible satire disclaimers everywhere. They mostly publish made-up stories with headlines specifically created to trigger Republicans, conservatives and evangelical Christians into angrily sharing or commenting on the story on Facebook without actually reading the full article, exposing them to mockery and ridicule by fans of the sites and pages.
Every site in the network, including the Patriot Party Press, has an about page that reads (in part):
About Satire

Before you complain and decide satire is synonymous with 'comedy':

sat·ire ˈsaˌtī(ə)r noun: The use of humor, irony, exaggeration, OR ridicule to expose and criticize people's stupidity or vices, particularly in the context of contemporary politics and other topical issues.

Everything on this website is fiction. It is not a lie and it is not fake news because it is not real. If you believe that it is real, you should have your head examined. Any similarities between this site's pure fantasy and actual people, places, and events are purely coincidental and all images should be considered altered and satirical. See above if you're still having an issue with that satire thing.
Articles from Blair's sites frequently get copied by "real" fake news sites that omit the satire disclaimer and other hints the stories are fake. One of the most persistent networks of such sites is run by a man from Pakistan named Kashif Shahzad Khokhar (aka "DashiKashi") who has spammed hundreds of such stolen stories into conservative and right-wing Facebook pages in order to profit from the ad revenue.
A regular feature of Patriot Party Press articles is the use of the names "Sandy Batt" and "Joe Barron." While the names often show up in the satirical stories, their identities change each time. Sometimes, they're public officials. Other times, they're children. It all depends on the context. Here are just a few of the articles both names appear in at the same time on the website: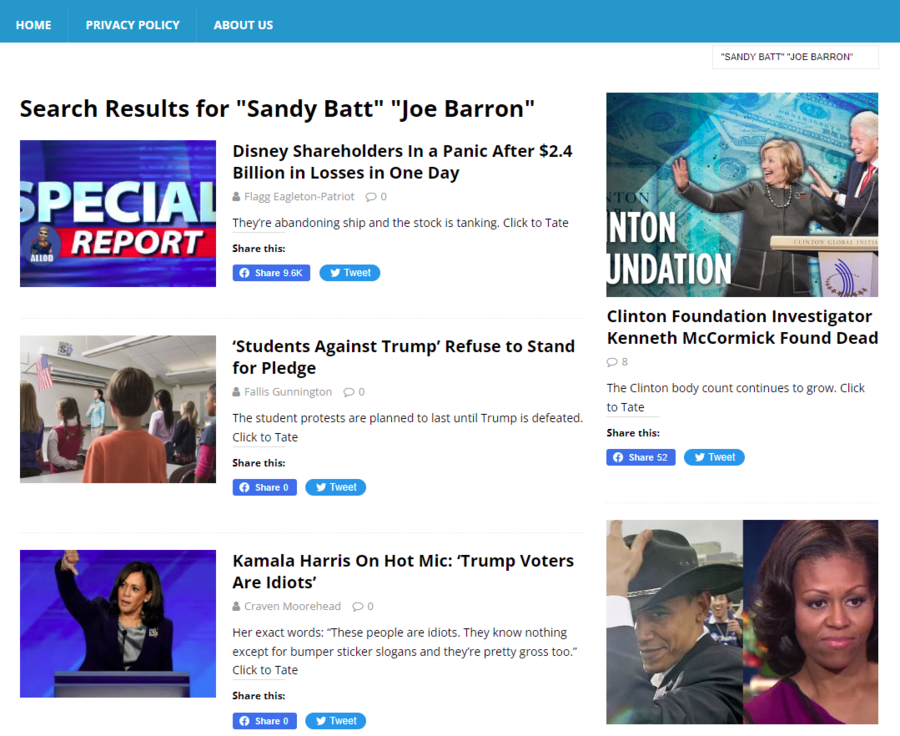 (Source: Patriot Party Press screenshot taken on Fri April 8 16:44:05 2022 UTC)
Markets in the non-satire world
In the real world, The Walt Disney Company is one of the most valuable corporations in the world. On April 8, 2022, CompaniesMarketCap.com estimated the company's total market value at $241 billion, making it the 39th most valuable by market capitalization. While $2.4 billion is a lot of money, it was still just 1 percent of Disney's value on this date. Such stock fluctuations are not uncommon on Wall Street.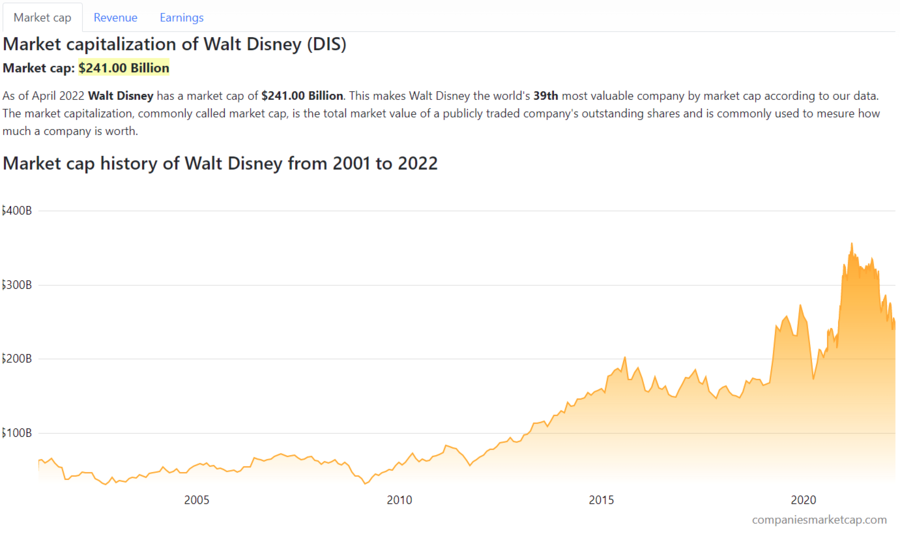 (Source: CompaniesMarketCap.com screenshot taken on Fri April 8 16:53:45 2022 UTC)
The article doesn't specify which day the losses happened. There were multiple days between March 8, 2022, and April 8, 2022, when the value of Disney stock dropped a percent or more and would have produced a loss in value totaling at least $2.4 billion, according to Yahoo! Finance.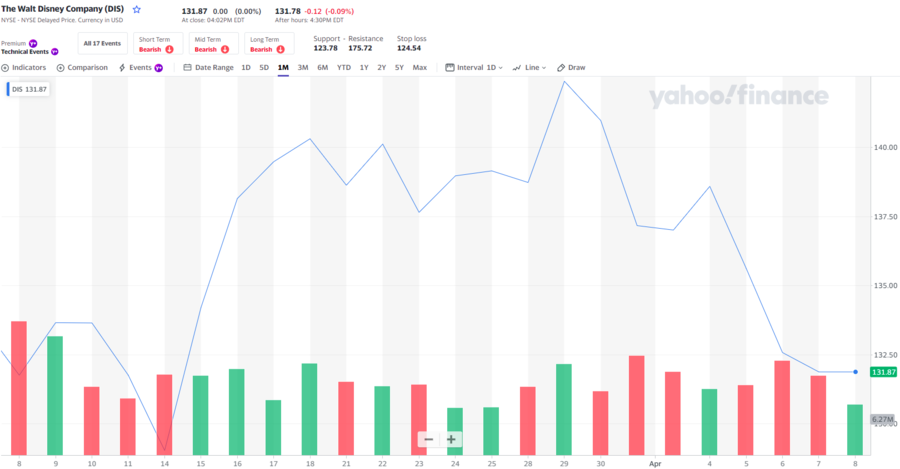 (Source: Yahoo! Finance screenshot taken on Fri April 8 20:32:16 2022 UTC)