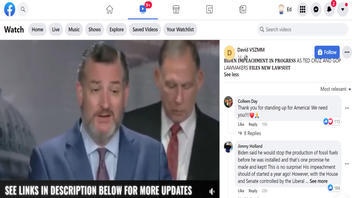 Is the impeachment of President Joe Biden "in progress" as Sen. Ted Cruz and GOP lawmakers file a lawsuit? No, that's not true: The video in the Facebook post does not show Cruz and other GOP lawmakers announcing the impeachment of Biden or a lawsuit against him.
In addition, lawsuits are not part of the impeachment equation.
The claims appeared in a Facebook post on June 2, 2022. It reads:
𝐁𝐈𝐃𝐄𝐍 𝐈𝐌𝐏𝐄𝐀𝐂𝐇𝐌𝐄𝐍𝐓 𝐈𝐍 𝐏𝐑𝐎𝐆𝐑𝐄𝐒𝐒 AS TED CRUZ AND GOP LAWMAKERS 𝐅𝐈𝐋𝐄𝐒 𝐍𝐄𝐖 𝐋𝐀𝐖𝐒𝐔𝐈𝐓
This is what the post looked like on Facebook at the time of writing: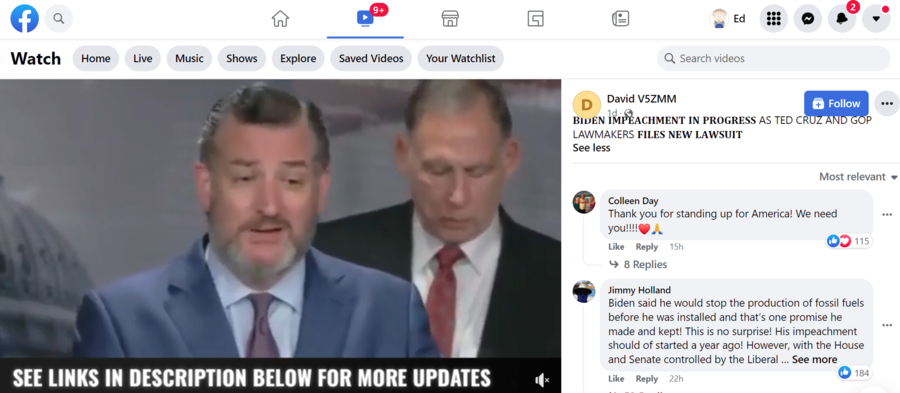 (Source: Facebook screenshot taken on Fri Jun 3 14:24:42 2022 UTC)
The video is a clip from a May 18, 2022, Senate Republican news conference on gas prices. Cruz begins speaking about 28 minutes into the video. The word impeachment is never mentioned during the nearly 44-minute event.
The U.S. Constitution says only the House of Representatives can impeach an American president. If the House votes to impeach on a majority vote, the case then moves to the Senate where senators hold a trial and act as judges. It takes a two-thirds majority vote in the Senate to remove a president from office. No impeachment proceedings are underway in the House. None are scheduled either.
While Cruz didn't talk about impeaching Biden during this news conference, the senator has discussed it before. During Episode 101 of his podcast "Verdict with Ted Cruz," which was published on YouTube on December 31, 2021, he said at 43:14 that Biden could be impeached if Republicans take back the House during the midterm elections:
Yeah, I do think there's a chance of that, and whether it's justified or not ... The Democrats weaponized impeachment. They used it for partisan purposes to go after Trump because they disagreed with him. And one of the real disadvantages of doing that ... is the more you weaponize it and turn it into a partisan cudgel, you know, what's good for the goose is good for the gander.
Cruz's comments can be heard here: