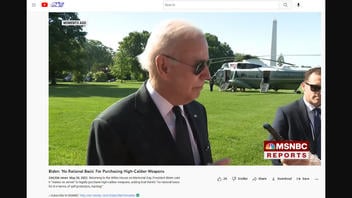 Is it true that "a 9 mm bullet blows the lung out of the body"? No, that's not true: Lead Stories reached out to firearms experts and a trauma surgeon who said the claim is false.
The claim was made by President Joe Biden on May 30, 2022. In an apparent attempt to make a case against what he called "high-caliber weapons," Biden was recounting a story from his time as a U.S. senator. He said he met with a trauma doctor who told him about the impact of different ammunition on the body. Beginning at the 2:05 mark of the video of his statement, Biden said:
And they showed me X-rays. He said, 'A .22-caliber bullet will lodge in the lung, and we can probably get it out, may be able to get it, and save the life. A 9 mm bullet blows the lung out of the body.'
This is how the video of Biden's statement looked at the time of writing: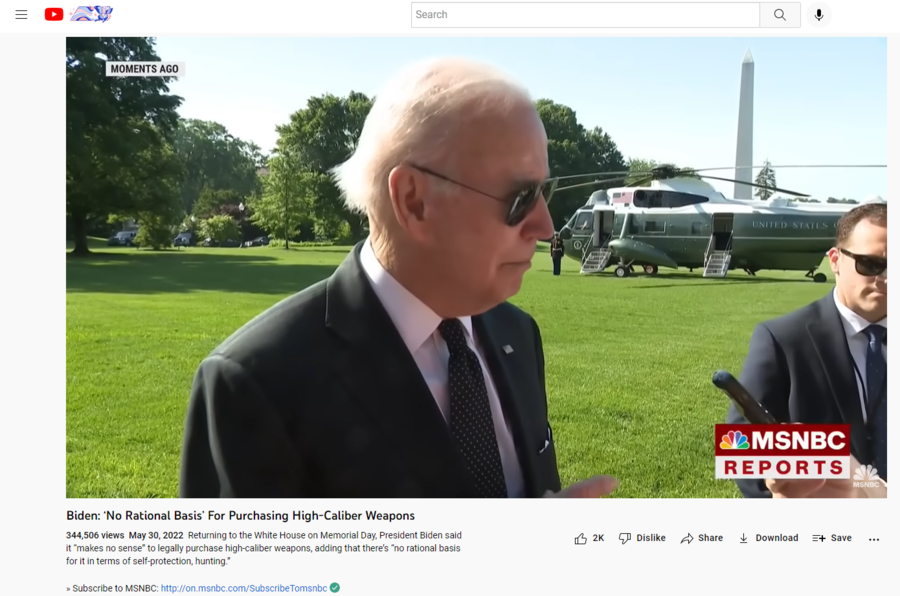 (Source: YouTube screenshot taken on Thu Jun 2 17:17:56 2022 UTC)
The National Rifle Association (NRA) tweeted a response to Biden's claim on May 31, 2022, noting that "The 9mm round is the most popular handgun caliber in America, commonly used for self-protection." This is consistent with the information provided to Lead Stories by Gregory Laskowski, president and chief consultant of Criminalistics Services International.
In an email sent to us on June 3, 2022, Laskowski told us that variations of the 9 mm round are used by law enforcement agencies around the world. The 9 mm round is "probably the most popular pistol caliber carried in guns on the civilian market," he said. He also detailed the intended effects of the 9 mm round:
As originally for military use as a full metal jacketed bullet, the round is designed to penetrate and perforated. It will not blow out lungs or other internal organs in its path through the body. The jacketed hollow point or hollow cavity round typically used by US law enforcement is designed [to] penetrate but not to perforate the human body nor is it designed to blow out or blow-up human organs. It does expand to a greater diameter when striking soft tissue and may yaw and tumble to some extent.
Laskowski told us he has never seen wounds caused by a 9 mm round to the extent that Biden described during the "countless autopsies" he has been to. He also said that none of the other handgun calibers he has ever test-fired into ballistic gelatin or tissue simulant have caused the damage Biden claimed.
Footage of 9 mm rounds being shot into gelatin targets can be found during a "60 Minutes" special report beginning at the 3:04 mark of the video and during a video from NPR starting at the 0:26 mark. As shown in the videos, there is a considerable difference between the damage caused in the body by 9 mm rounds and more powerful and speedy ammunition, like that used in AR-15 rifles.
Dr. Bill Smock, a police surgeon for the Louisville, Kentucky, Metro Police Department, agrees that speed matters. During a phone call with Lead Stories on June 3, 2022, he made sure to emphasize that "any bullet" can damage tissue or kill someone. However, he said the higher a round's velocity, the more likely it is to cause severe damage.
More experts provided us with their takes on the claim. In an email to Lead Stories sent on June 2, 2022, forensic scientist Lucien "Luke" Haag told us:
This claim is patently rediculous and easily disproved.
Haag is former technical director of the Phoenix (Arizona) Crime Laboratory, with more than 50 years experience in forensic firearms examination, having testified before Congress and grand juries around the U.S. He is the author of the textbook "Shooting Incident Reconstruction."
Similarly, during a phone call with Lead Stories on June 2, 2022, Dr. Ernest Moore, former chief of trauma and former chief of surgery at the Denver General Hospital who has publicly weighed in on gun policies, said of the claim:
It makes absolutely no sense, it is completely unfounded.
Further in his statement, Biden also made his previously debunked claim that at its inception, the Second Amendment banned Americans from owning cannons.
Lead Stories also contacted the NRA and the American Association for the Surgery of Trauma and will update this fact check with relevant responses.