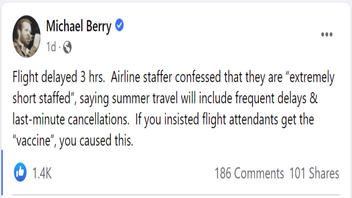 Did the now-suspended COVID vaccine mandate for flight attendants cause a shortage in staffing that was to blame for widespread June 2022 flight delays? No, that's not true: None of the airlines that responded to inquiries by Lead Stories blamed the previous vaccination requirement for impacting summer operations. The federal government stopped enforcing the vaccine mandate in December 2021.
The claim appeared in a Facebook post on June 26, 2022, by radio talk show host Michael Berry. It opens:
Flight delayed 3 hrs. Airline staffer confessed that they are 'extremely short staffed', saying summer travel will include frequent delays & last-minute cancellations. If you insisted flight attendants get the 'vaccine', you caused this.
This is what the post looked like on Facebook at the time of writing:

(Source: Facebook screenshot taken on Tue Jun 28 15:36:11 2022 UTC)
Flight delays have been commonplace in the summer of 2022. The Washington Post reported this on June 28, 2022:
The weekend of Father's Day and Juneteenth, thousands of travelers were left fuming after more than 3,000 flights were canceled and more than 19,000 were delayed.
In his Facebook post, Berry pinned it on the previous vaccine mandate for flight attendants, suggesting it had caused a staffing shortage that led to the flight delays. In a June 28, 2022, email to Lead Stories, Southwest Airlines said that's not the case with them:
The COVID-19 vaccination requirement was suspended in December 2021 by the Federal Government, and the previous mandate for vaccines or exemptions is not impacting our summer 2022 operational performance ... Southwest appreciates being an employer of choice for job seekers and has hired more than 14,500 Employees (including additional Flight Attendants) in the past 12 months to support this summer's flight schedule.
In another June 28, 2022, email to Lead Stories, United Airlines made no mention of flight attendants or the old vaccine mandate when asked about flight delays:
We prepared for the current national surge in demand by making sure we had the appropriate staffing and planes necessary to serve our customers.
In a June 20, 2022, interview on CNN, United CEO Scott Kirby squarely put the blame on the overscheduling of flights at Newark Liberty International Airport and on there not being enough air traffic controllers:
[T]he biggest issue is, there's more flights scheduled in Newark, for example, than there is capacity at the airport, even on a perfect blue sky day and air traffic control is understaffed and because of that, there is just more flights than the airport can handle.
Lead Stories also reached out to Delta Air Lines, American Airlines and the Association of Flight Attendants (AFA) for comment, but had not received one at the time of writing. Any response from Delta, American or AFA will be added to the story.