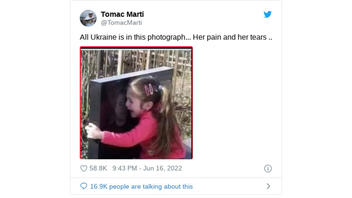 Does a picture of a grieving girl hugging a tombstone stem from the 2022 Russia-Ukraine conflict? No, that's not true. The photograph first appeared on a Georgian-language website in January 2019. The original image contained a Georgian-language inscription, but it was cut out from the later versions of the picture, adding more ambiguity about where the photograph was taken.
The claim appeared on Twitter on June 17, 2022 (archived here). It opens: "All Ukraine is in this photograph... Her pain and her tears .."
This is what the tweet looked like: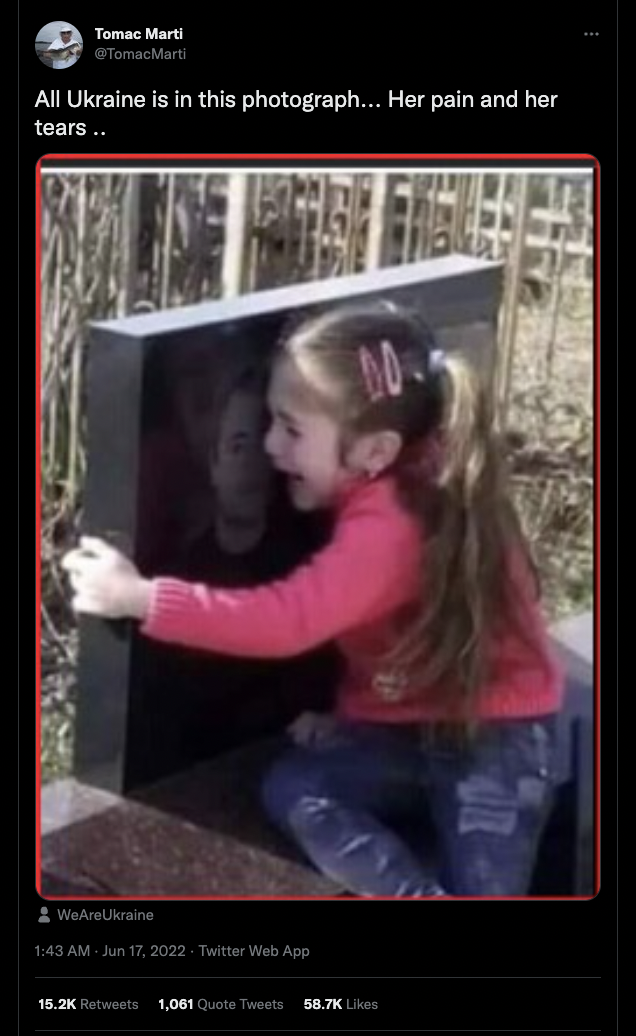 (Source: Twitter screenshot June 28, 2022 16:27:24 UTC)
This English-language claim also appeared here and here. A reverse-image search shows that the same picture has been circulating on social media since 2019. Moreover, both Ukrainian (here and here) and Russian (here and here) accounts have used the picture of this crying girl to promote opposing views of the Russian-Ukrainian armed conflict that has been going on since Russia's forcible annexation of Crimea in March 2014.
So in 2022, some commentators suspected that the picture might not show the consequences of the escalated war that began with Russia's February 24, 2022 invasion of Ukraine.
In fact, this photograph was first published on January 19, 2019. The caption did not discuss Ukraine. Instead, its Georgian-language title read, "It doesn't have to be this way." The Georgian website, Intermedia.ge, where this image appeared, describes itself as a platform for user-generated content that allows account-holders to earn money from their uploads. The website calls this "citizen journalism," although it remains unclear whether it enforces any verification standards or other standard journalism practices.
Here is what the original image looked like: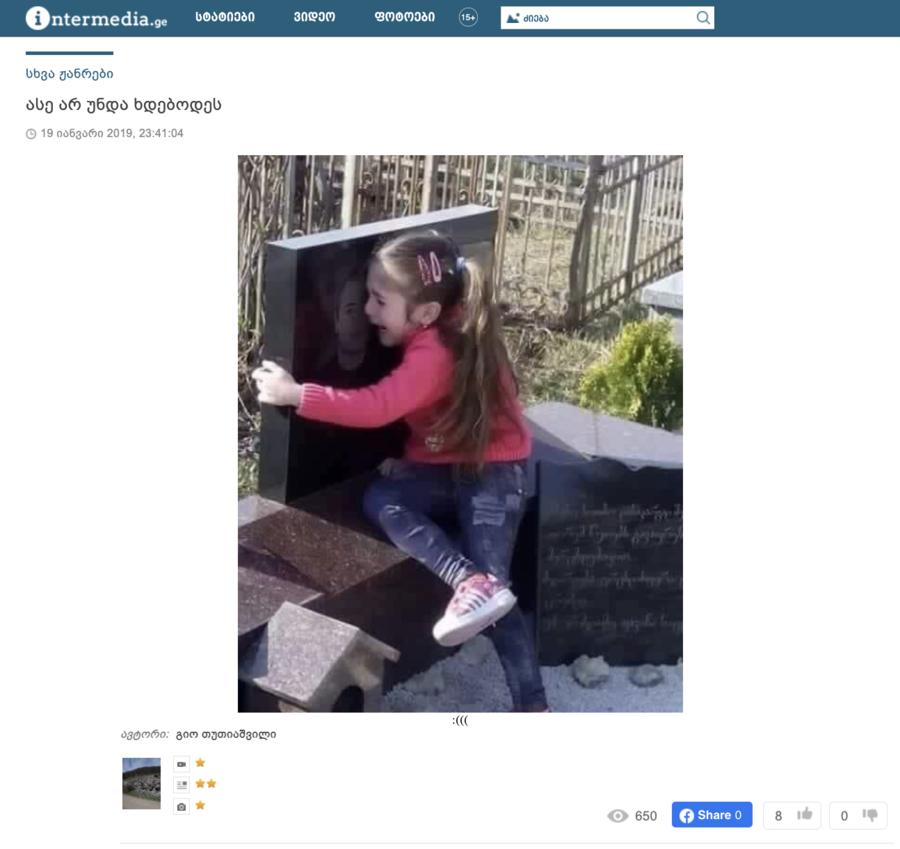 (Source: Intermedia.ge screenshot June 28, 2022 15:16:04 UTC)
The picture shared many times on social media had a substantial difference -- it showed a cropped version of the original that cut out a tombstone inscription in the language identified as Georgian by the fact-checking website Stopfake.org. This raises legitimate doubts about the place where the photograph was taken. Additionally, not a single comment below the original image referenced Ukraine. One social media user, however, pointed out that publishing a picture of a minor in tremendous distress might be unethical:

(Source: Intermedia.ge screenshot June 28, 2022 15:23:20 UTC)
Other Lead Stories fact checks related to the 2022 Russia-Ukraine conflict can be found here.