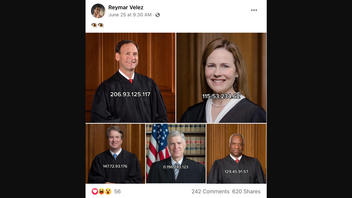 Can people target U.S. Supreme Court justices with Internet Protocol (IP) addresses found on social media? No, that's not true: The IP addresses superimposed over the smiling photos of the five judges who voted to overturn Roe v. Wade do not appear to be associated with any of the justices. The high court opinion on abortion was announced on June 24, 2022.
The implied claim appeared in a Facebook post on June 25, 2022. It opens:
206.93.125.117 [Samuel A. Alito Jr.]

115.53.234.62 [Amy Coney Barrett]

147.72.93.176 [Brett M. Kavanaugh]

0.196.243.123 [Neil M. Gorsuch]

129.45.91.57 [Clarence Thomas]
This is what the post looked like on Facebook at the time of writing: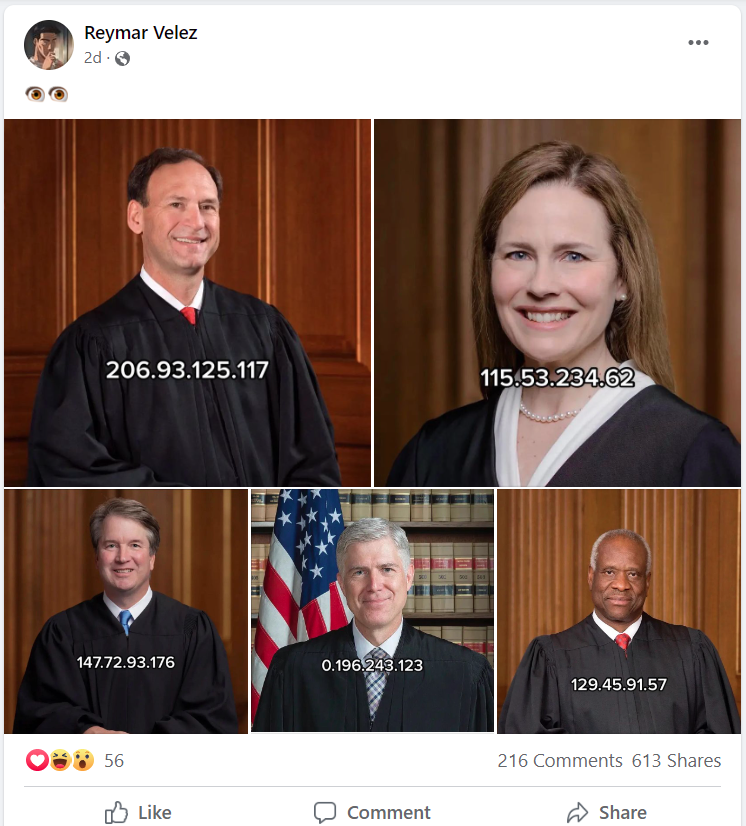 (Source: Facebook screenshot taken on Mon Jun 27 17:29:55 2022 UTC)
This is how Kaspersky, an internet security firm, defines an IP address and its purpose:
An IP address is a unique address that identifies a device on the internet or a local network. IP stands for 'Internet Protocol,' which is the set of rules governing the format of data sent via the internet or local network.

In essence, IP addresses are the identifier that allows information to be sent between devices on a network: they contain location information and make devices accessible for communication. The internet needs a way to differentiate between different computers, routers, and websites. IP addresses provide a way of doing so and form an essential part of how the internet works. ...

An IP address is a string of numbers separated by periods. IP addresses are expressed as a set of four numbers -- an example address might be 192.158.1.38. Each number in the set can range from 0 to 255. So, the full IP addressing range goes from 0.0.0.0 to 255.255.255.255.
None of the five IP addresses appear to be associated with any of the Supreme Court justices pictured in the post, according to Whois Doman Lookup, a website that tracks the ownership of domain names and IP addresses:
206.93.125.117 is owned by ADP, Inc.
115.53.234.62 is owned by China Unicom.
147.72.93.176 is owned by Pittsburgh Supercomputing Center.
0.196.243.123 is owned by Internet Assigned Numbers Authority.
129.45.91.57 is owned by Optimum-Telecom-Algeria.
The current members of the Supreme Court can be found here. The high court's contact information on its official site is here.