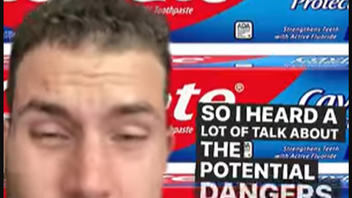 Does the safety protocol for cleaning up a spill of hydrofluorosilicic acid demonstrate that the fluoride in toothpaste must be damaging to teeth? No, that's not true: The concentrations and amounts of fluoride approved for use in both drinking water and toothpaste, which may come from several compounds including hydrofluorosilicic acid, are proven to be safe.
The claims appear in a video presented with a sarcastic tone posted on Instagram by @evolvingknowledge on June 23, 2022. It opened:
evolvingknowledge

Fluoride GOOD?! We can all agree on this science, it is fully settled. Enjoy!
(Image source: Instagram screenshot taken on Tue Jul 12 17:31:15 2022 UTC)
The second part of the post caption contains a pitch for a product, "Choq." The supplement is not the focus of this fact check.
The narrator of the short video sets up his position by describing the fluoride information available at the Colgate.com website with skepticism. He points to colgate.com's FAQ article titled, "Can You Have Too Much Fluoride? Get The Facts" and says:
So I heard a lot of talk about the potential dangers of fluoride. So I went to Colgate's website where they have fluoride toothpaste to see what they have to say. Now keep in mind nine out of 10 dentists recommend Colgate toothpaste and 10 out of 10 dentists are out of business If your teeth are healthy. Don't think about that too hard. Can you get too much fluoride? Get the facts from Colgate selling fluoride. 'It's called nature's cavity fighter, and it's especially good for developing teeth' aka children. 'Overall, the mineral is safe and effective.'
While the narrator's criticism is directed at Colgate toothpaste, Colgate is not the only toothpaste that contains fluoride. Toothpaste companies can earn a Seal of Acceptance from The American Dental Association (ADA) by submitting data to the ADA Council on Scientific Affairs. All toothpastes carrying the ADA Seal must contain fluoride. The ADA website has a Fluoridation FAQs page that explains how fluoride protects teeth, both as in ingredient in toothpaste and in community water fluoridation:
Fluoride benefits both children and adults. Here's how:
Before teeth break through the gums (erupt), the fluoride taken in from foods, beverages and dietary supplements makes tooth enamel (the hard surface of the tooth) stronger, making it easier to resist tooth decay. This provides what is called a 'systemic' benefit.

After teeth erupt, fluoride helps rebuild (remineralize) weakened tooth enamel and reverses early signs of tooth decay. When you brush your teeth with fluoride toothpaste, or use other fluoride dental products, the fluoride is applied to the surface of your teeth. This provides what is called a 'topical' benefit.

In addition, the fluoride you take in from foods and beverages continues to provide a topical benefit because it becomes part of your saliva, constantly bathing the teeth with tiny amounts of fluoride that help rebuild weakened tooth enamel.
The background image in the video then shows a crew in hazmat suits as the narrator sarcastically explains:
Now when this 'very safe' chemical spills, this is who comes to clean it up. This is a screenshot from an incident in Ohio where a gigantic truck of fluoride spilled all over the ground. Now it does corrode concrete and cement and will degrade, literally eat a hole through a road if it's spilled, but it's for your teeth -- trust me.
(Image source: Lead Stories composite image with Instagram and YouTube screenshots taken on Tue Jul 12 20:32:20 2022 UTC)
The chemical spill was actually not in Ohio but at the Rock Island, Illinois, water treatment plant on March 24, 2011. A clip of a WQDA News 8 segment about the incident was posted on YouTube on April 8, 2011. At the time the segment was filmed, it was stated the volume of the spill was not known. The news reporter mentioned that the chemical hydrofluorosilicic acid was "burning through the concrete." Rock Island Fire Chief Jeff Yerkey said:
There was a corrosive agent that the water treatment plant uses, and there was an overflow that caused spillage out from the building onto this driveway behind me. They stopped the leak using some earthen berms with dirt, sand and some commercial boom equipment and had it contained pretty much to this facility within a short amount of time. There was no inhalation hazard at all. So there was no need for us to evacuate any residents around the area.
Lead Stories reached out to the American Chemical Society for a referral to an expert in this field. ACS connected us with Hans Plugge of Safer Chemical Analytics, LLC. Plugge is a toxicologist whose work focuses on environmental biochemistry, environmental health hazards, exposure and risk estimates. Plugge returned our email on July 12, 2022, and explained:
This is a classic case of confusing the hazard of a chemical with the risk of a chemical. Hazard describes the intrinsic attributes of a chemical; here its corrosivity. Exposure i.e. the amount 'received' by a human determines the risk i.e. the probability of an effect on that human.

Here mg are compared with kkg (metric tons) a 1,000,000,000 fold (billion fold) difference in exposure. Obviously the risk inherent to a tiny exposure drops significantly as well (maybe not linear but close)

I always like to use the example of acetic acid: nasty chemical; highly corrosive with significant inhalation toxicity in its undiluted form. Yet most humans can consume a 4% solution of acetic acid just fine i.e. the vinegar in your pickles or salad dressing.