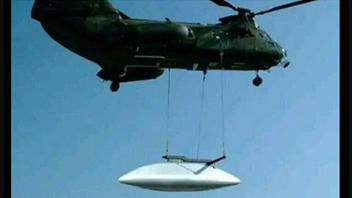 Did a U.S. military transport helicopter carry a silver disc-shaped UFO to Area 51? No, that's not true: This photo has been edited. A Swedish helicopter was carrying a European Space Program shuttle prototype of a "reusable launch vehicle" (RLV) named Phoenix. This test took place on May 8, 2004, at the North European Aerospace Test Range in Sweden. The approximately small-scale prototype was dropped from a height of 2,400 meters (7,900 feet) then guided to a landing strip with automated systems. Photos of the helicopter carrying the Phoenix have been edited to make the prototype look like a flying saucer, and to remove the markings visible on the helicopter and RLV.
This digitally edited photo of the transport helicopter carrying what looks to be a UFO dates back to at least 2013. It was widely circulated in UFO circles, as can be seen with TinEye reverse image search results. The photo was posted on Facebook by the page Uncovering Mystery on July 15, 2022. The post was captioned:
US military plane transports a UFO vehicle to Area 51
This is how the post appeared at the time of writing: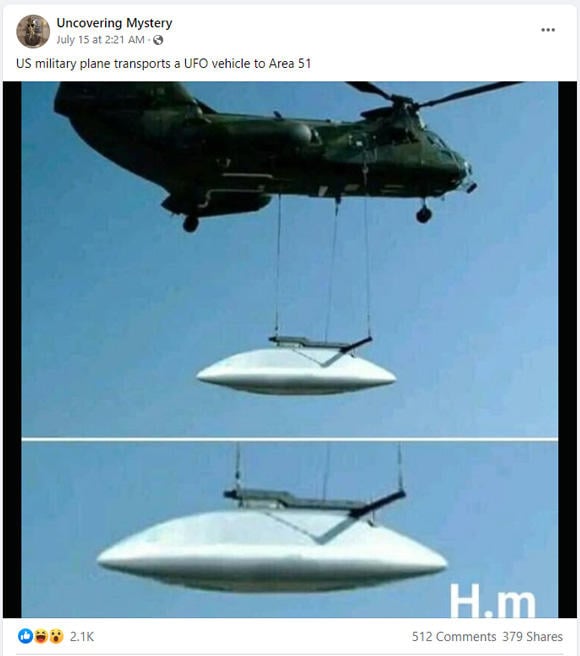 (Image Source: Facebook screenshot taken on Fri Jul 22 15:40:52 2022 UTC)
Many of the websites that hosted articles and photos about this 2004 test are no longer operational. An overview of the European Space Agency's launcher program's goals can be found as a .pdf document (here). On May 6, 2004, NBC reported, "Europe's space shuttle test succeeds":
An unmanned prototype for the European space shuttle glided to a successful landing Saturday after being dropped from an altitude of 7,900 feet (2,400 meters), a project spokeswoman said.

The EADS Phoenix, a German-designed prototype of the future European Shuttle, was dropped by a helicopter at 9:45 a.m. local time.

Guided by GPS satellites, the shuttle 'landed perfectly' on the test runway after a 90-second flight, said Johanna Bergstroem-Roos, of the North European Aerospace Test Range in Kiruna, 770 miles (1,230 kilometers) north of the capital, Stockholm.
Lead Stories was unable to locate the identical unedited match that would have been the source image for the UFO hoax in the Facebook post. We did locate an additional version of this hoax based on another photo from this prototype test. In this version, the vehicles' markings have also been obscured with editing, and the shape of the Phoenix simplified to appear as a smooth disc (pictured below).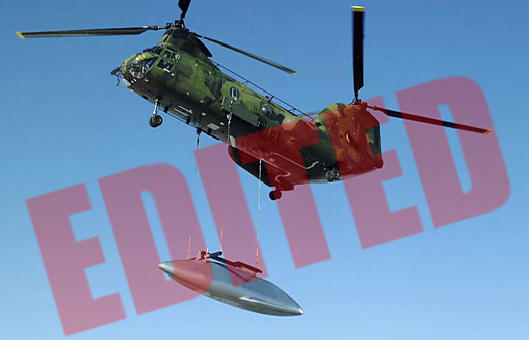 (Image source: Lead Stories marked bing.com screenshot taken on Fri Jul 22 16:16:24 2022 UTC)
The original image (pictured below) shows the markings of the "Försvarsmakten," the Swedish Armed Forces, and appears in the blog thelivingmoon.com in an entry titled, "ESA Phoenix, European Space Shuttle." Thelivingmoon.com credits another source, astrium.eads.net (archived here) but no photos are included in that archived copy. The photo caption on the blog reads:
Air Drop Tests
Credit: DLR/US Air Force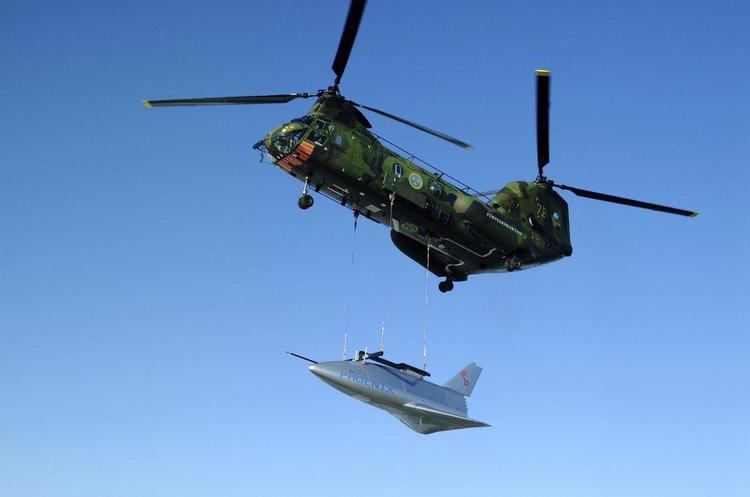 (Image source: thelivingmoon.com screenshot taken on Fri Jul 22 16:35:18 2022 UTC)
Additional photos of the test can be seen here and here. A photo of the helicopter lifting off with the Phoenix can be found (here) on a uppsagd.wordpress.com blog article about the North European Aerospace Test Range (NEAT) in Sweden. The video embedded below shows footage of the helicopter carrying and then dropping the RLV Phoenix.