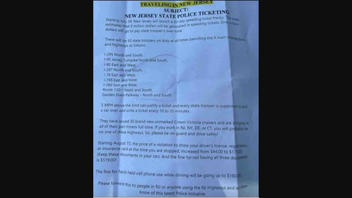 Is New Jersey planning to launch a new "30-day speeding ticket frenzy" on July 28, 2022? No, that's not true: The New Jersey State Police has publicly debunked this recycled hoax several times since at least 2015.
The claim appeared in a Facebook post on July 13, 2022. Beside the photo of a letter with highlighted text on the top of the page that reads, "TRAVELING IN NEW JERSEY," the caption opens:
Just received this
This is what the post looked like on Facebook at the time of writing: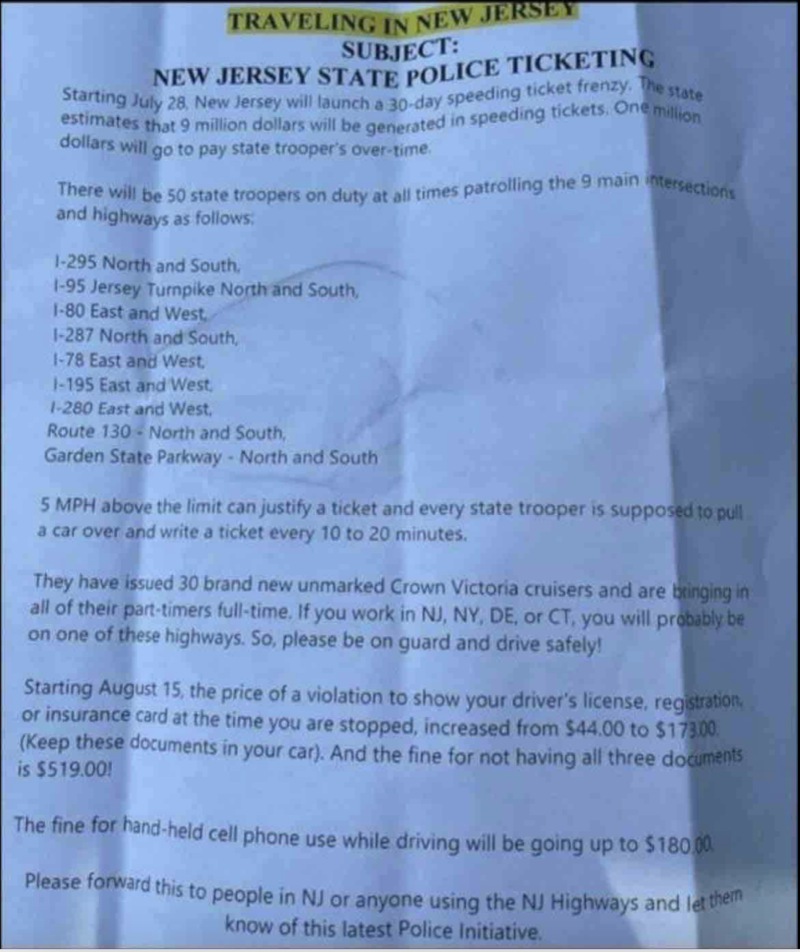 (Source: Facebook screenshot taken on Thur July 21, 20:10:37 2022 UTC)
The purported letter told residents:
Starting July 28, New Jersey will launch a 30-day speeding ticket frenzy. The state estimates that 9 million dollars will be generated in speeding tickets. One million dollars will go to pay state trooper's over-time.
The letter does not have any official New Jersey state or city seal or signature and includes no year in which the "new" ordinance would be implemented.
In a July 21, 2022, email to Lead Stories, Sgt. Philip Curry of the New Jersey State Police shared this July 15, 2022, Facebook post published on the State Police page. The caption reads:
ICYMI

Earlier today, Colonel Patrick J. Callahan was featured on News 12 to dispel the rumor that a ticket blitz by the State Police would occur where fines for summons would be increased. Although Colonel Callahan confirmed that this is ficticious, he did reaffirm that troopers are always on patrol 24/7 enforcing traffic violations.

We want to remind everyone to obey traffic laws and to drive safely.
This isn't the first time the New Jersey State Police have debunked this hoax. This July 31, 2015, Facebook post on the State Police page cited the same claims, which it called an urban legend, and noted Ford Crown Victoria cruisers were discontinued by Ford in 2011.