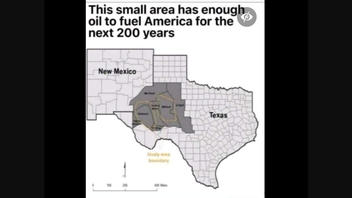 Does the Permian Basin hold enough oil to fuel the United States for the next 200 years? No, that's not true: The basin is the highest oil-producing region in the country, but estimates of its available resources vary and, based on the current annual rate of U.S. oil consumption, would not last 200 years.
The claim appears in a graphic meme that has been widely shared on Facebook, including in this July 17, 2022, post under the title, "This small area has enough oil to fuel America for the next 200 years."
This is what the post looked like on Facebook at the time of writing: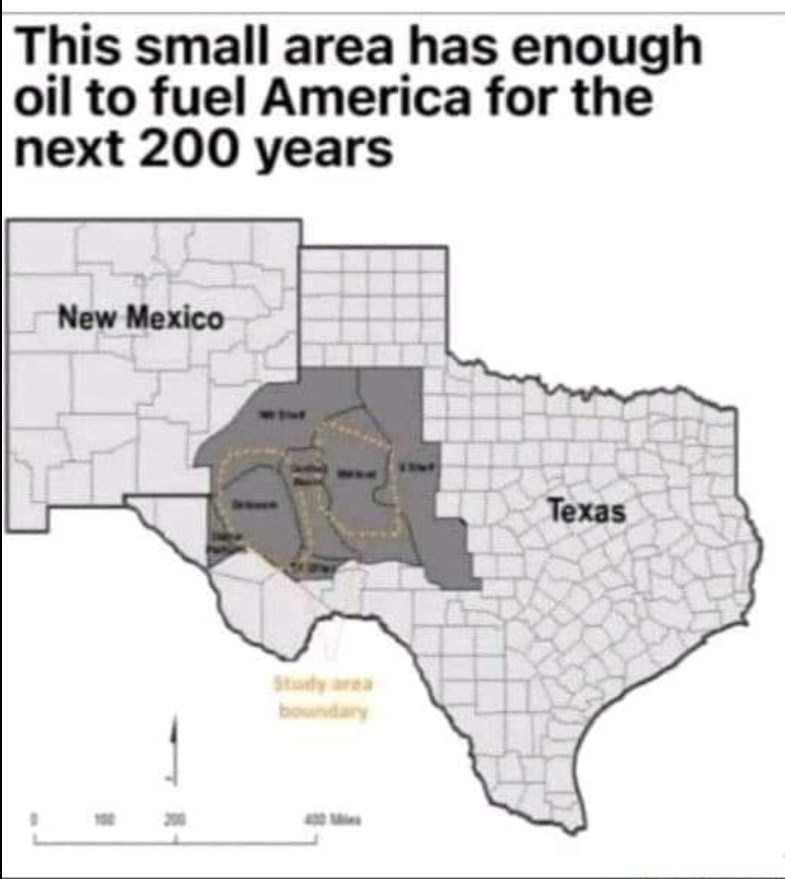 (Source: Facebook screenshot taken on Mon Jul 25 19:40:29 2022 UTC)
The Permian Basin province is a series of basins and other geologic formations roughly 250 miles wide and 300 miles long that stretches across West Texas and parts of southeastern New Mexico.
In April 2022, the Federal Reserve Bank of Dallas reported that the basin accounted for 43 percent of U.S. oil production.
Current estimates from the U.S. Geological Survey (USGS), based on separate assessments of what's known as the Delaware Basin in the Permian Basin province (2018) and the Midland Baisin (2016) also in the province -- two regions said to hold the most potential resources because they have deeper zones of sedimentary rock -- place the amount of available, recoverable oil at 66 billion barrels.
That's more than the 38.2 billion barrels cited in a January 2022 report from the U.S. Energy Information Administration (USEIA) which the agency found was recoverable at the end of December 2020.
In either case, it's not enough to fuel the U.S. for 200 years, said Hugh Daigle, an associate professor at the University of Texas at Austin's department of petroleum and geosystems engineering.
Assuming U.S, oil consumption, which in 2021 was about 20 million barrels of petroleum per day, remains constant over the next 200 years, the Permian's resources are still "a couple of hundred times too small," he told Lead Stories over the phone on July 25, 2022.
"You would need one and a half trillion barrels," he said.
USGS and USEIA arrive at different estimates because they use different data and methodologies in their assessments, Daigle explained.
USEIA's calculations are based on "proved resources," or the amount of hydrocarbons that are reasonably recoverable under existing economic and operating conditions. Those figures come from per-acre performance data that oil and gas companies report to the Securities and Exchange Commission annually as part of an oil company's valuation, Daigle said, and can change from year to year based on new technologies, operating costs and other factors.
USGS uses a geological systems approach to estimate the "undiscovered, technically recoverable continuous mean resources," or those that are believed to exist based on current geologic knowledge and already established production. Those predictions are generally larger than proven resources estimates, he said.
The Permian Basin province is "chock full of oil," he explained, because the depth of its rock formations are, in some cases, as much as 4 miles deep, Daigle said.
Although there is no debate among experts about the vast potential of the Permian's resources, he added, there is also no truly accurate way to calculate the years it might last. The 200-year figure touted by the meme seems both large and arbitrary, he said.
"I'm quite interested to know whoever originally came up with that number," Daigle said. "It almost seems as if this could have happened through a game of telephone, where somebody reads 50 years somewhere and it gets exaggerated to a hundred years and then exaggerated to 200," he said.