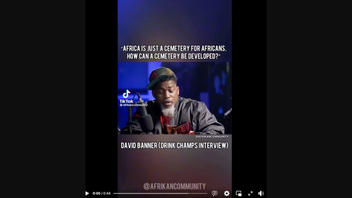 Did Russian President Vladimir Putin describe Africa as a "cemetery for Africans"? No, that's not true: No English or Russian credible sources confirm he ever said this.
The claim appeared in a TikTok video clip posted to Facebook on July 25, 2022. The caption said: "Africa is a cemetery to Africans."
The video opened with a man reading:
Vladimir Putin says Africa is a cemetery for Africans. Oh ya, listen to this shit!
The reading continued:
When an African becomes rich, his bank accounts are in Switzerland. He travels to France for medical treatment. He invests in Germany, he buys from Dubai, he consumes Chinese. He prays in Rome or Mecca. His children study in Europe. He travels to Canada, USA and Europe for tourism. If he dies, he will be burried in his native country. Africa is just a cemetery for Africans. How could a cemetery be developed?
Here is what it looked like at the time of writing:
(Source: Facebook screenshot taken on Wed Aug 3 15:55:51 2022 UTC)
David Banner, who appears in the frame, is an American rapper known for his philanthropic efforts and advocacy for the freedom of expression of music artists. On December 21, 2018, he was interviewed for a YouTube show, "Drink Champs," centered around social justice, Black culture and music, and the video clip is from that interview.
At the time, the claim Putin and Africa had already been circulating on social media since at least 2018 (for example, here and here). It resurfaced at least two times, in September 22, 2020, and in March 2, 2022. However, none of the variations involved any verifiable information on when or where Putin allegedly made such a statement. Moreover, some posts claimed he said the same words about Pakistan.
The official website of the Russian president shows no search results for the keywords from the claim. However, according to the same resource, the most recent Putin statement about the region as a whole was not critical at all. On May 25, 2021, he sent telegrams to heads of several African states. "Please, accept my heartfelt congratulations on Africa Day, a symbol of the victory of the peoples of your continent over colonialism and their quest for independence, peace, and prosperity," read the message.
The only search result for the key terms on the website of the state-owned Russian news agency TASS is a 2013 article about a representative's trip to Africa during which he planned to visit a historic Russian cemetery in Casablanca, Morocco.
Another state-owned Russian media enterprise, Ria Novosti, also does show any traces of the supposed Putin's statement.
No credible American sources reported that the Russian president criticized high-income Africans for spending outside their home countries.