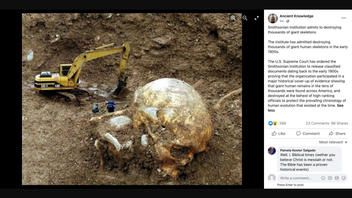 Did the Smithsonian Institute admit to destroying thousands of giant human skeletons? Did the U.S. Supreme Court order the Smithsonian to release classified documents that would prove this? No, neither are true: A representative for the Smithsonian told Lead Stories that the claim that they've destroyed thousands of giant human skeletons was not true. There are no press releases from the U.S. Supreme Court or news coverage of court actions that state the Smithsonian has been ordered to release documents related to the destruction of giant human skeletons.
The claim appeared in a Facebook post on July 30, 2022. The caption began:
Smithsonian Institution admits to destroying thousands of giant skeletons
This is what the post looked like on Facebook at the time of writing: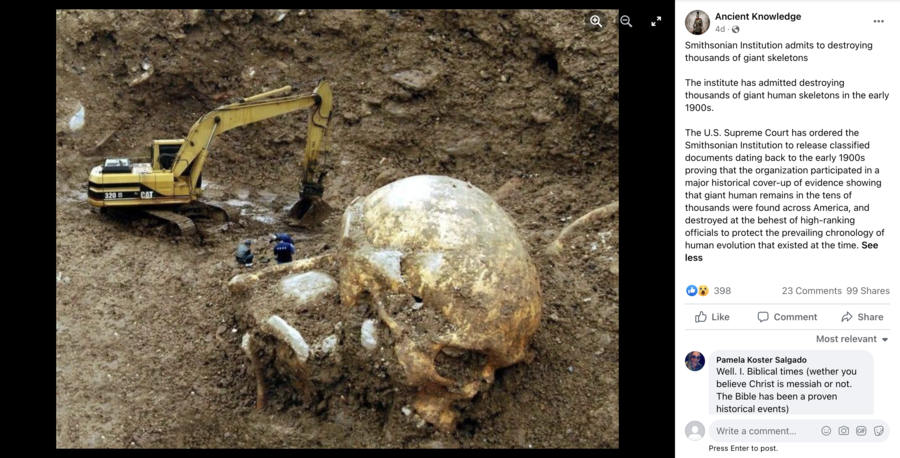 (Source: Facebook screenshot taken on Wed Aug 3 16:54:27 2022 UTC)
The caption says the Smithsonian found and destroyed thousands of giant human skeletons in the early 20th century, and the Supreme Court has ordered the Institute to release the documents that proved they destroyed the remains and covered it up.
A reverse image search did not reveal the origin for this image. National Geographic wrote in 2007 that giant skeletons are an internet hoax that started with a doctored photo from 2002 that later found a receptive online audience largely based on unintended religious meanings.
Asked if the claim in the Facebook post was accurate, a Smithsonian representative told Lead Stories via phone on August 3, 2022, "Yeah, definitely not." When we searched for a Supreme Court order regarding giant skeletons on SCOTUS blog, an independent news analysis blog on the Supreme Court, and other news sources like Reuters and The New York Times, we found no evidence supporting this claim.
Lead Stories has written other articles debunking "giant skeleton" claims, you can see those here and here.