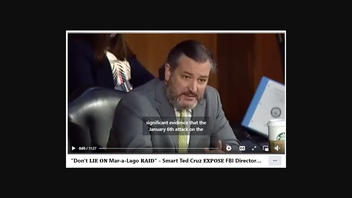 Does a video of Sen. Ted Cruz questioning current FBI Director Christopher Wray or former FBI Acting Director Andrew McCabe expose either man in a lie about the circumstances surrounding the August 8, 2022, search of Mar-a-Lago, the Florida home of former President Donald Trump? No, that's not true: The video of Cruz is spliced together from separate congressional hearings in 2020 and 2021 that have nothing to do with the Mar-a-Lago search, as they both occurred before the search.
The claim appeared in a Facebook video posted on August 17, 2022, under the title, "Don't LIE ON Mar-a-Lago RAID - Smart Ted Cruz EXPOSE FBI Director on Trump Raid at Heated Hearing."
Here's how it looked at the time of writing: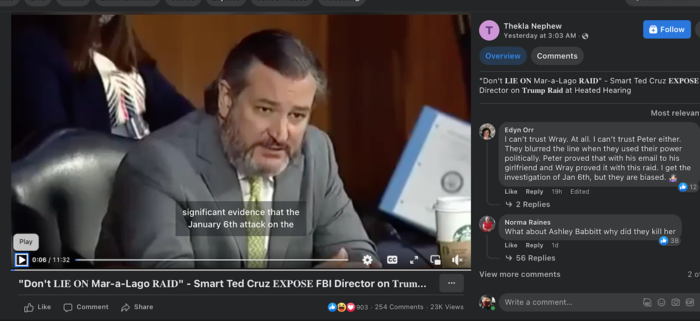 (Source: Facebook screenshot taken Thurs Aug 18, 15:57:20 2022 UTC)
The 11:32-minute Facebook video falsely labels outdated video from two FBI oversight hearings held by the Senate Judiciary Committee that predate the Mar-a-Lago search.
The first 8 minutes 12 seconds of the video is from a March 2, 2021, hearing titled, "Oversight of the Federal Bureau of Investigation: the January 6 Insurrection, Domestic Terrorism and Other Threats."
As seen in the Senate's recording of the hearing, Cruz is shown questioning Wray about the agency's investigation and whether there is significant evidence that the attack on the Capitol was premeditated, planned and coordinated. The exchange does not appear "heated," as the post's headline suggests.
The remaining 3 minutes 10 seconds of the Facebook video is from a November 10, 2020, hearing titled,"Oversight of the Crossfire Hurricane Investigation: Day 4." The recorded committee video shows Cruz aggressively asking McCabe about decisions he made to continue an agency investigation of disgraced Army Gen. Michael Flynn, who pleaded guilty to charges that he lied to the federal government.
Cruz's office issued a press release on November 10, 2020, about his questioning of McCabe about the Flynn investigation. That further confirms that the mislabelled video had nothing to do with the 2022 Mar-a-Lago search.