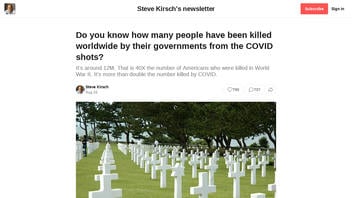 Did governments around the world kill 12 million people by giving them COVID-19 shots? No, that's not true: There's no evidence that anywhere near that number of people have died due to vaccination for the disease as of mid-August 2022. The U.S. Centers for Disease Control and Prevention (CDC) and the Food and Drug Administration (FDA) have only identified "nine deaths causally associated with ... COVID-19 vaccination." All of them involved people who received the Johnson & Johnson/Janssen COVID shot.
The claim appeared in a newsletter (archived here) published by Steve Kirsch to Substack on August 16, 2022, under the title "Do you know how many people have been killed worldwide by their governments from the COVID shots?" It opened:
It's around 12M. That is 40X the number of Americans who were killed in World War II. It's more than double the number killed by COVID.

Margaret Anna Alice asked if anyone could estimate the global death toll from the COVID shots.

In my opinion, a reasonable estimate is to divide the number of doses by 1,000.

If you do that for the 600M doses delivered in the US, you get 600,000 deaths which is right in the ballpark.
This is what Steve Kirsch's newsletter looked like on Substack on August 18, 2022: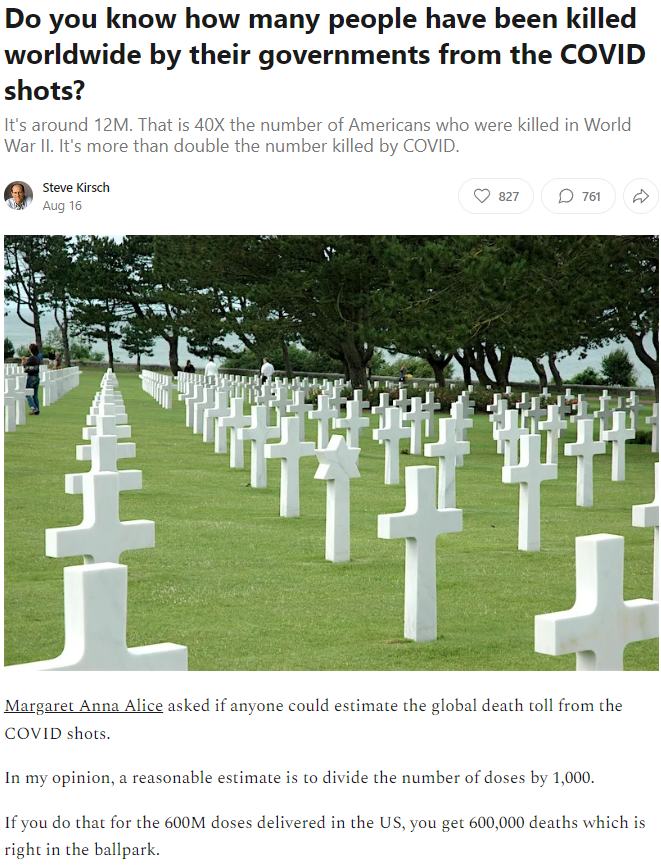 (Source: Substack screenshot taken on Thu Aug 18 18:35:45 2021 UTC)
U.S. COVID vaccine deaths: 9 versus 600,000
The Kirsch newsletter appears to pull its death rate associated with COVID vaccination out of thin air. In it he says:
In my opinion, a reasonable estimate is to divide the number of doses by 1,000.

If you do that for the 600M doses delivered in the US, you get 600,000 deaths which is right in the ballpark.

A more conservative number is to divide the number of doses by 2,500. This is the number Mathew Crawford estimated from global data: 411 deaths per Million doses. ...

So that conservative estimate gets you to 5M killed (only 16X the number killed in World War II).
The figures alluded to by Kirsch are not backed by global public health officials, the CDC or any other data.
An August 18, 2022, email from the CDC's Immunization Safety Team said, "There are several misconceptions at work with the report," referring to the newsletter:
The first is the assumption that the Vaccine Adverse Events Reporting System (VAERS) captures less than 1% of reported adverse events, suggesting that the actual occurrence of a given reported adverse event is over 100 times the count of reports in VAERS. However, a number of studies, (e.g., Verstraeten et al, Miller et al) have demonstrated that for serious adverse events, VAERS captures a much greater proportion of adverse events, up to 76% for some adverse events like intussusception and Guillain-Barre Syndrome.

Enhancing vaccine safety surveillance: a capture-recapture analysis of intussusception after rotavirus vaccination - PubMed (nih.gov)

The reporting sensitivity of the Vaccine Adverse Event Reporting System (VAERS) for anaphylaxis and for Guillain-Barré syndrome - PubMed (nih.gov)
According to the CDC website, "Reports of adverse events to VAERS following vaccination, including deaths, do not necessarily mean that a vaccine caused a health problem":

More than 606 million doses of COVID-19 vaccines were administered in the United States from December 14, 2020, through August 10, 2022. During this time, VAERS received 15,930 preliminary reports of death (0.0026%) among people who received a COVID-19 vaccine. CDC and FDA clinicians review reports of death to VAERS including death certificates, autopsy, and medical records.

Continued monitoring has identified nine deaths causally associated with J&J/Janssen COVID-19 vaccination. CDC and FDA continue to review reports of death following COVID-19 vaccination and update information as it becomes available.
VAERS data
In the United States, data on adverse events come from VAERS. It is co-managed by the CDC and FDA as a crude early warning system and not as a database for the quantification of specific outcomes.
Anyone with internet access can add a report to the VAERS list of reports. The public access link to it expressly warns against unwarranted conclusions based on VAERS material because the list only provides a tally of unverified notes about any health event people experience after they are vaccinated.
The list itself cannot be used to prove or quantify, since all it shows is a chronological correlation, not the causal link that would be more difficult to establish. It's the equivalent of a police precinct's running "blotter" reports that may serve as a starting point for police work, not an endpoint.
Continuing in its email, the CDC's Immunization Safety Team said the newsletter has other issues:
Another common misconception is that reports to VAERS mean the adverse event was caused by the vaccine. This misconception is not true. Generally, demonstrating that a vaccine directly caused an adverse event is very difficult. Such a determination is based upon rigorous epidemiologic analysis and review of patient data. To date, the only deaths directly attributable to COVID-19 vaccination resulted from thrombosis with thrombocytopenia syndrome (TTS) after vaccination with the Ad26.COV2.S vaccine (from Janssen). ...

Additionally, Vaccine Safety Datalink data actually show that there is no increased risk for mortality among COVID-19 vaccine recipients. This finding reinforces the safety profile of currently approved COVID-19 vaccines in the United States. All persons aged ≥12 years should receive a COVID-19 vaccine.

COVID-19 Vaccination and Non-COVID-19 Mortality Risk -- Seven Integrated Health Care Organizations, United States, December 14, 2020-July 31, 2021 | MMWR (cdc.gov)

VAERS was designed to detect rare (sometimes previously unobserved) adverse events, and changes in reporting patterns, which might indicate a potential safety concern. If such a concern is detected, data from more robust surveillance systems can be used to determine if an adverse event is associated with a given vaccine. One such system is the Vaccine Safety Datalink (https://www.cdc.gov/vaccinesafety/ensuringsafety/monitoring/vsd/index.html