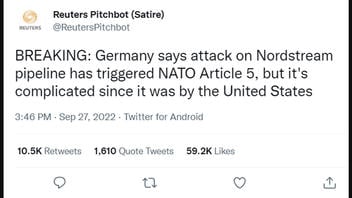 Did Reuters publish a tweet claiming that Germany has invoked NATO's collective defense provision since the United States attacked the Nord Stream pipeline? No, that's not true: This tweet was not published by Reuters news agency, but by a satirical parody account. Although the account is clearly marked "(Satire)," it uses the real Reuters logo. Some users don't notice the account's satire tag, while others are simply copying and pasting the tweet without the satire account's name.
The tweet (archived here) was published by the satire account @ReutersPitchbot on September 27, 2022. It opened:
BREAKING: Germany says attack on Nordstream pipeline has triggered NATO Article 5, but it's complicated since it was by the United States
This is how the tweet appeared at the time of writing: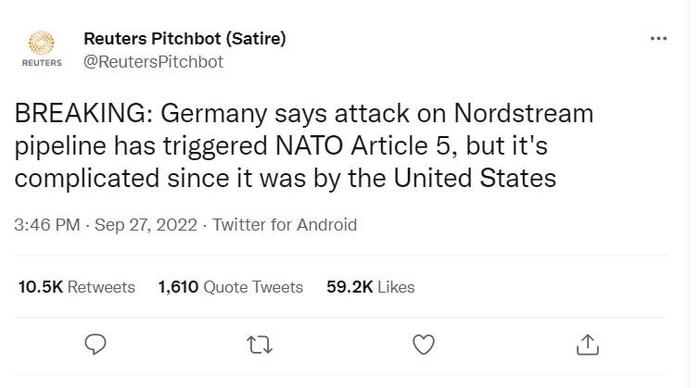 (Source: Twitter screenshot taken on Fri Sep 30 13:30:36 2022 UTC)
Advanced search results for tweets containing the words "Nord Stream" from the verified @Reuters Twitter account between September 26, 2022, and September 30, 2022, can be found here. There are no tweets that match the narrative of this post from the @ReutersPitchbot satire account.
Lead Stories has a satire policy and generally does not fact check well-marked or obvious satire. However, this claim is spreading without the context of the satire label and some social media users seem to think it really came from Reuters. It did not. The examples below were seen on Twitter and Facebook. (The image will open larger in a new window.)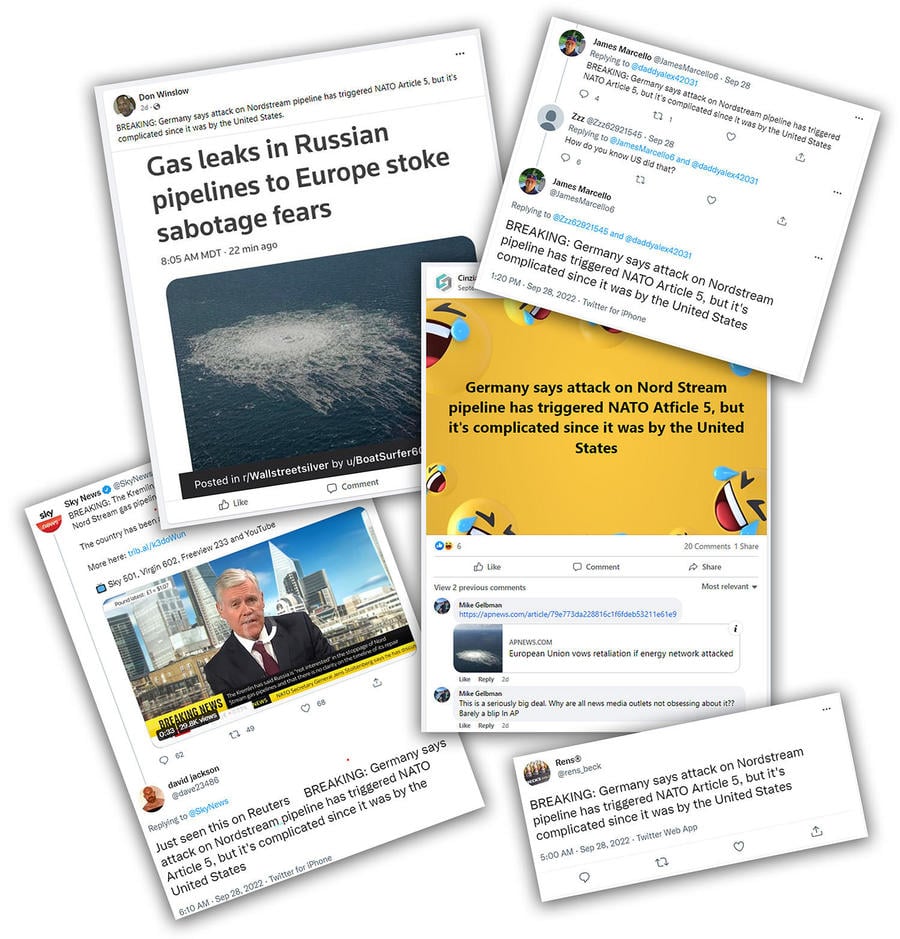 (Source: Lead Stories composite image of screenshots from Twitter (here, here and here) and Facebook (here and here) taken on Fri Sep 30 13:30:36 2022 UTC)