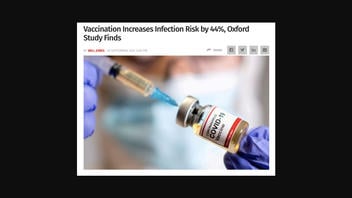 Does an Oxford University study say COVID-19 vaccination increases the risk of infection by 44 percent? No, that's not true: The figure comes from a small subsection of the study and doesn't represent its overall conclusions. One of the study's authors told Lead Stories in a September 29, 2022, email that "our study support[s] previous research that Covid vaccines are really working."
The claim appeared in an article (archived here) published by The Daily Sceptic on September 28, 2022, titled "Vaccination Increases Infection Risk by 44%, Oxford Study Finds." It opened:
Two doses of COVID-19 vaccine make you 44% more likely to be infected, a study from Oxford University has found, contradicting the basis of global vaccine policy, which assumes vaccination significantly cuts incidence and transmission.
This is what the article looked like on The Daily Sceptic website at the time of writing: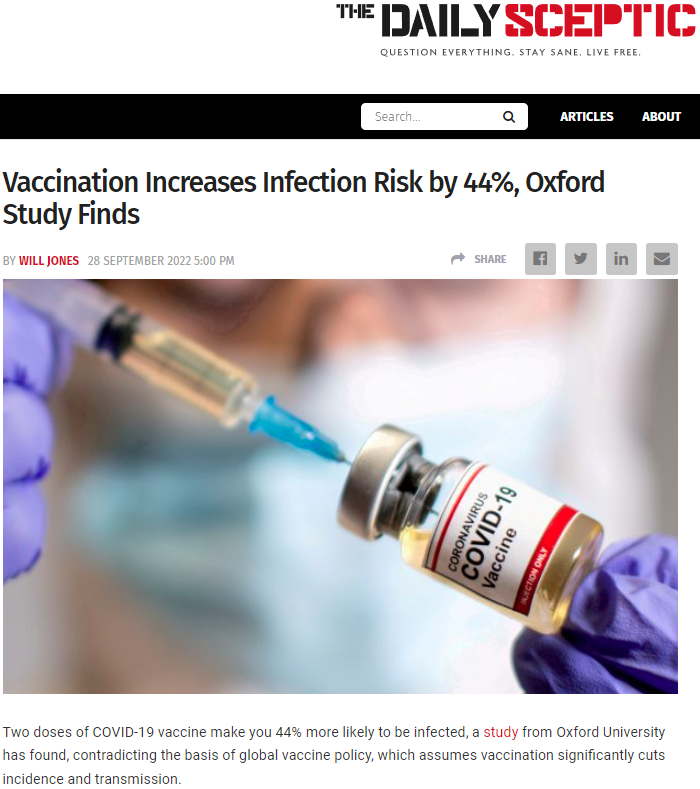 (Source: Daily Sceptic screenshot taken on Thu Sep 29 16:30:23 2022 UTC)
The study
The Oxford study cited in the article looked at how BMI (body mass index) impacted vaccine effectiveness. The detail about a 44 percent greater risk of infection after vaccination (circled in blue) was found in Table 7 of the supplemental material attached to it.
(Source: Screenshot taken from supplemental material attached to "Associations of BMI with COVID-19 vaccine uptake, vaccine effectiveness, and risk of severe COVID-19 outcomes after vaccination in England: a population-based cohort study.")
In her email to Lead Stories, study co-author Carmen Piernas, a postdoctoral researcher in Oxford University's Nuffield Department of Primary Care Health Sciences, critiqued the article that cited their work, saying "you can tell these people don't really understand scientific research." Piernas has a Ph.D. in nutrition and epidemiology. She wrote:
It makes me sad that these people are picking out a few specific points to make their anti-vaxx arguments ...

So while the 44% higher risk of infection is the result we got and reported, we don't think this means much because of the lack of negative-tests in our analyses.
Their data was dependent on COVID tests that were available to them and the people who chose to take them. In other words, a person who didn't feel sick and didn't take a test wouldn't be able to provide them with a negative test result.
Piernas acknowledges the limitations of the observational study, in which researchers observe the data collected, but have no role in determining who is involved or who take part in order to make it representative of the population as a whole. In addition, the data cited in the article was a subsection of the overall data. It only included "healthy weight" people, but did not include those who were underweight, overweight or obese. The study's final conclusions took all these factors into account, Piernas said:
In any case, our study support[s] previous research that Covid vaccines are really working - most importantly for preventing severe disease and death. There is no doubt about this based on our research and others so people who are making arguments to undermine these messages are completely biased and often misuse scientific research to support their claims.
Asked whether its data supports a 44 percent increase in COVID infection risk after vaccination, the U.K. Office of National Statistics said in a September 29, 2022, email that it couldn't comment on an Oxford study:
However, our data would suggest that those who are unvaccinated are more likely to be infected and be subsequently re-infected by Covid, compared to those who have been vaccinated.
Additional Lead Stories fact checks related to COVID vaccines can be found here.