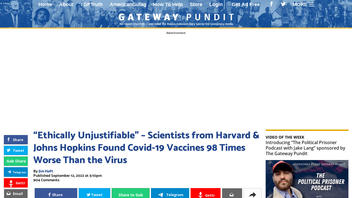 Are COVID-19 vaccines 98 times worse than the virus itself? No, that's not true: There's no evidence to suggest that getting sick with coronavirus is a better option for the population as a whole than the benefits of immunization. While a pre-print (non-peer-reviewed) draft of an article discusses the ethics of vaccine booster mandates for university students and their possible impact on young adults, some online publications have used it as a denunciation of COVID shots in general and as a measurement of actual harms. A co-author of the article, which is an ethics paper and not a lab study, takes issue with these published claims about the contents of the paper.
The claim appears in an article (archived here) published by The Gateway Pundit on September 12, 2022, titled "'Ethically Unjustifiable' - Scientists from Harvard & John's Hopkins Found Covid-19 Vaccines 98 Times Worse Than the Virus." It opened:
A new pre-print study by nine health experts from major universities showed that the COVID-19 vaccines are 98 times worse than the virus, and mandatory booster vaccination in college is "ethically unjustifiable," as reported by Epoch Times.

The study was posted on The Social Science Research Network (SSRN) in September, titled, "COVID-19 Vaccine Boosters for Young Adults: A Risk-Benefit Assessment and Five Ethical Arguments against Mandates at Universities."
This is what the aricle looked like on The Gateway Pundit website at the time of writing: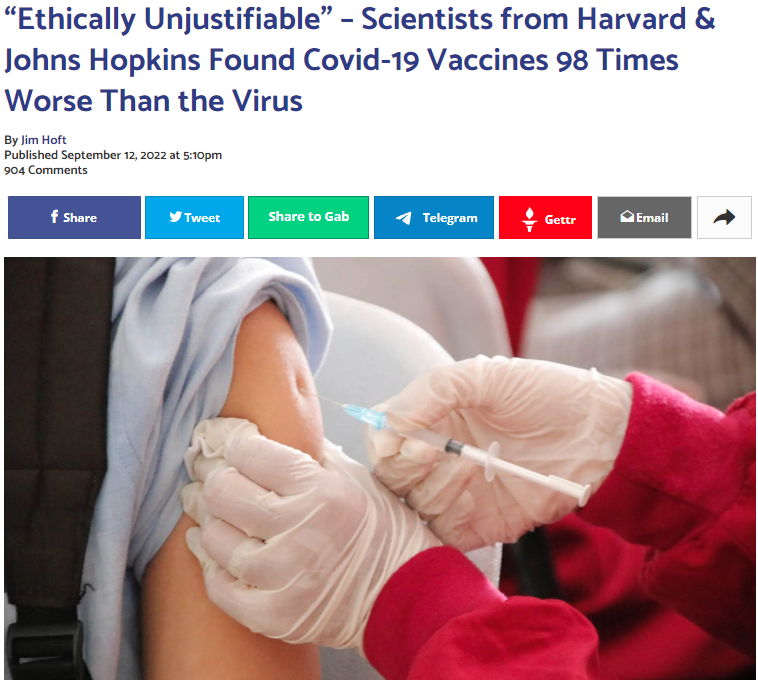 (Source: Gateway Pundit screenshot taken on Wed Sep 14 20:57:03 2022 UTC)
Words matter
In a September 14, 2022, email to Lead Stories, study co-author Allison Krug took issue with the wording of the headline, saying it excluded crucial words:
By leaving out 'boosters' and 'young adults' the article implied that the Covid-19 vaccines were harmful overall when in fact our research is specifically focused on 18-29 year-olds. We do not want misrepresentation of our work to imply that those at risk due to medical conditions or age should avoid vaccination.
The Gateway Pundit article also cites another article based on the draft ethics study. The second article was published (archived here) in The Epoch Times on September 10, 2022, titled, "'Unethical' and up to 98 Times Worse Than the Disease: Top Scientists Publish Paradigm-Shifting Study About COVID-19 Booster for Young Adults." The headlines for both articles highlight potential extremes of a variety of harms noted in the pre-print study, but not the lower end of the range of possible outcomes. Krug said that wasn't their intent:
We were careful to note in our limitations that our analysis is restricted to the CDC and FDA reports, clinical trial adverse event data and in some cases (such as reactogenicity or overall serious adverse events (SAEs) in figure 1) we do not know age and sex of the person affected because individual-level data has not been released. The myopericarditis rates are age- and sex-stratified, though (figure 2).
The entire 50-page pre-print study is embedded below.
COVID-19 Vaccine Boosters f... by Jim Hoft
'Misleading'
A key line in The Gateway Pundit article turns possible harm into actual harm: "According to the study, for every one COVID hospitalization prevented in previously uninfected young adults, '18 to 98 actual serious adverse events' have been caused." In her email, Krug called the sentence "misleading," specifically highlighting the phrase "have been caused":
This study presents an estimate of how many serious adverse events MIGHT take place if an entire university campus of 30,000 students were boosted (not "have been caused"). Our risk-benefit analysis considered a university cohort because the topic is whether booster mandates are ethically justifiable. We used this population to illustrate the potential for net harms. On a much broader scale, such as a boosting ~25 million young adults in this age group, obviously the 18-98 SAEs would scale to many more people.
Serious adverse events
An SAE, or serious adverse event, is any undesirable experience associated with the use of a medical product in a patient where the outcome is: death, life-threatening, hospitalization or disability. The U.S. Food and Drug Administration (FDA) website has more on SAEs.
For its part, the FDA says the shots are safe for the vast majority of people:
Vaccines are licensed, after stringent testing and study, because the benefits offered to the individual far outweigh the risk of serious health effects. In fact, some risks for serious health effects following vaccination are so rare that they currently cannot be measured.
The Centers for Disease Control and Prevention (CDC) website says something similar:
In rare cases, people have experienced serious health events after COVID-19 vaccination. Any health problem that happens after vaccination is considered an adverse event. An adverse event can be caused by the vaccine or can be caused by a coincidental event not related to the vaccine, such as an unrelated fever, that happened following vaccination. ...

Serious side effects that could cause a long-term health problem are extremely rare following any vaccination, including COVID-19 vaccination. The benefits of COVID-19 vaccination outweigh the known and potential risks.
VAERS data
In the United States, data on adverse events come from the Vaccine Adverse Event Reporting System (VAERS). It is co-managed by the CDC and FDA as a crude early warning system and not as a database for the quantification of specific outcomes.
Anyone with internet access can add a report to the VAERS list of reports. The public access link to it expressly warns against unwarranted conclusions based on VAERS material because the list only provides a tally of unverified notes about any health event people experience after they are vaccinated.
The list itself cannot be used to prove or quantify, since all it shows is a chronological correlation, not the causal link that would be more difficult to establish. It's the equivalent of a police precinct's running "blotter" reports that may serve as a starting point for police work, not an endpoint.