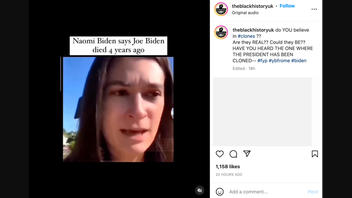 Did Joe Biden's granddaughter, Naomi Biden, say he "died 4 years ago"? No, that's not true: The woman speaking in a video that makes this claim is not Naomi Biden, but a social-media user with a TikTok account labeled "satire." Joe Biden is alive and well, as of September 15, 2022.
One version of the claim appeared in an Instagram post from the account of @theblackhistoryuk on September 14, 2022. The caption opens:
do YOU believe in #clones ??
Are they REAL?? Could they BE??
HAVE YOU HEARD THE ONE WHERE THE PRESIDENT HAS BEEN CLONED-- #fyp #ybfrome #biden
As a woman in the video speaks, text appears on screen saying:
Naomi Biden says Joe Biden died 4 years ago
This is how the post appeared at the time of writing: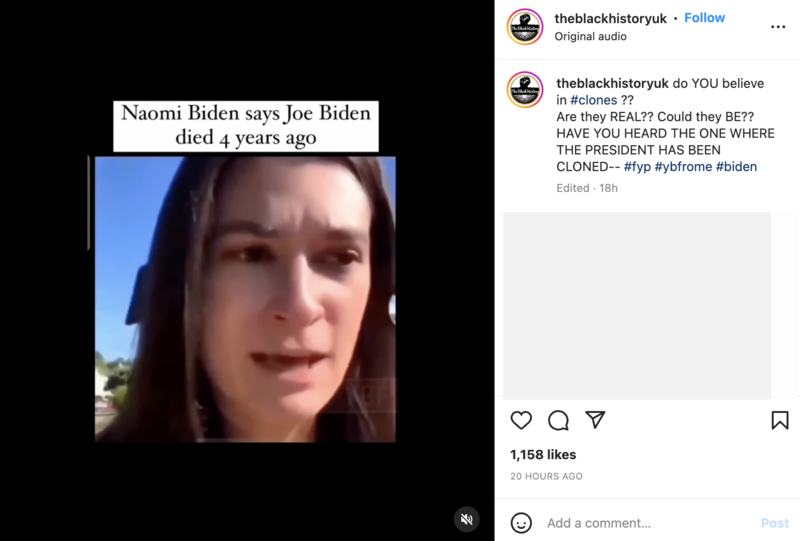 (Image source: Instagram screenshot taken on Thur Sept 15 17:27:30 2022 UTC)
The Instagram clip appears to be a version of a June 11, 2022 post on a TikTok account called @isatandstared. The account bears the name "Kass Theaz."

On Instagram, @isatandstared is described as a "SATIRE ACCOUNT."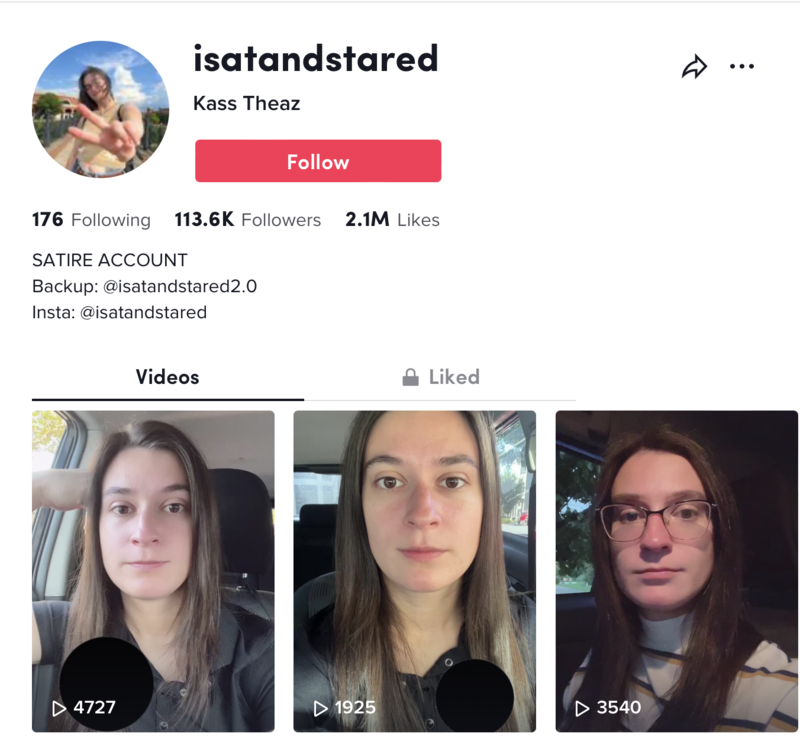 The image of Joe Biden and his "twin" in the Instagram video was taken from a March 31, 2022 Washington Post article titled "James Biden -- presidential brother, family helper, political wild card," which displays the image of "Jim" Biden, who is several years younger than Joe Biden.
A Google news search using the keywords "Joe Biden Has A Twin" produced no results. A general Google search of "Joe Biden" shows that he was alive as of September 15, 2022. On that date, in fact, President Biden made televised remarks about a possible deal to avoid a potential labor strike on U.S. railways.
(Image source: Screenshot taken on Thur Sept 15 17:27:30 2022 UTC)
Below is an August 17, 2022 post on the verified Instagram account of the real Naomi Biden.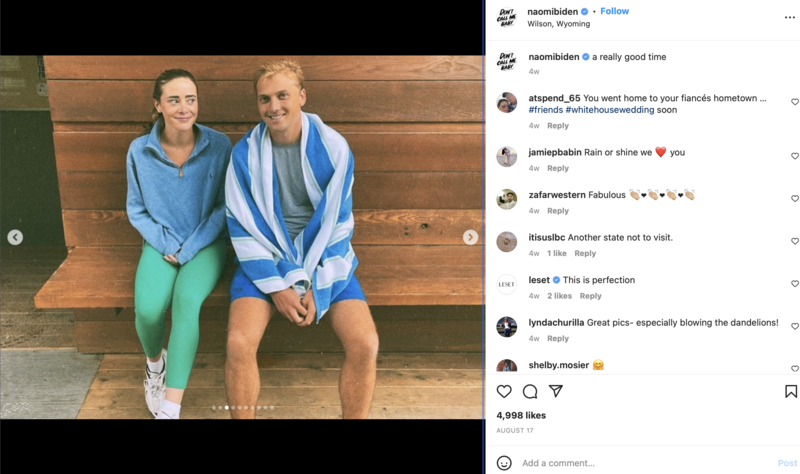 (Image source: Screenshot taken on Thur Sept 15 17:27:30 2022 UTC)
Lead Stories has debunked other claims concerning Joe Biden's family members, his purported "body double" or other false reports about his death. These fact checks can be found here, here, and here.