STORY UPDATED: check for updates below.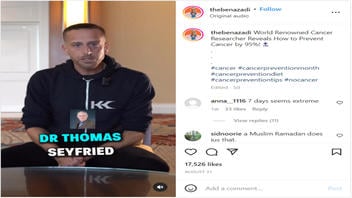 Does a seven-day, once-a-year, water-only fast reduce your risk of cancer by 95%? No, that's not true: There is no scientific evidence to support this claim and Lead Stories spoke to experts who refuted it.
The claim appeared in an Instagram post and video published on September 5, 2022 by Ben Azadi with the title "World Renowned Cancer Researcher Reveals How to Prevent Cancer by 95%!" It opened:
Fasting is one of the most ancient healing strategies we have to date and it is one of the best ways to prevent disease and heal your body. That's why world renowned oncologist Dr. Thomas Seyfried ... he said if you completed a 7 day water only fast once a year you would reduce the risk of cancer by 95%.
This is what the post looked like on Instagram at the time of writing: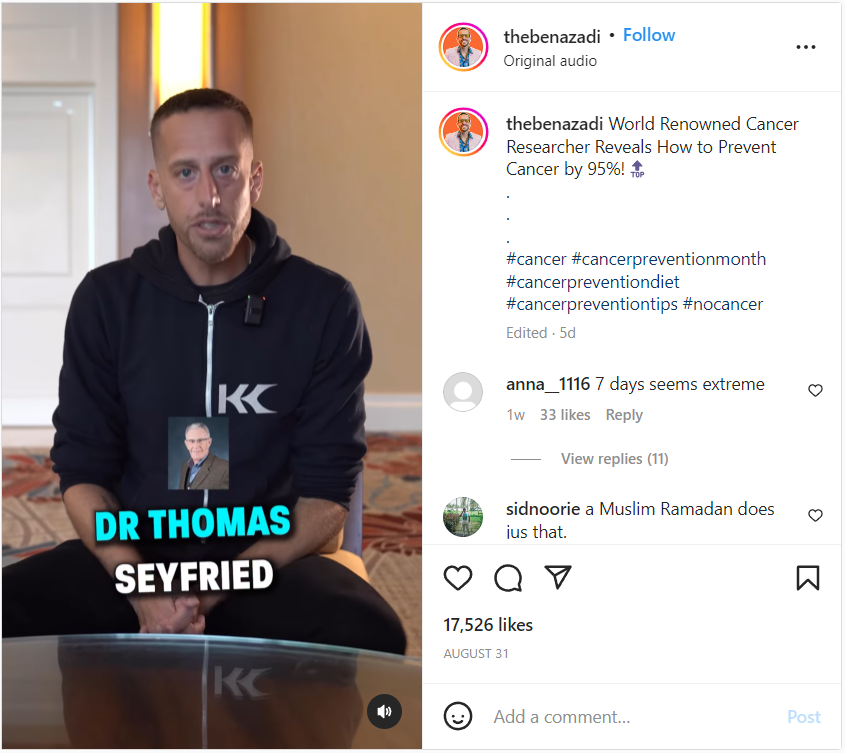 (Source: Instagram screenshot taken on Fri Sep 16 15:46:06 2022 UTC)
The Thomas Seyfried mentioned and pictured in the 20-second video is a professor in the biology department at Boston College, but, contrary to the video's claim, he is not an oncologist. He received his Ph.D. in genetics and biochemistry from the University of Illinois, Urbana. And to be clear, Seyfried never made the claim attributed to him in the video. That was made up. In a September 17, 2022, email to Lead Stories, he said:
The social media news video is also news to me. I never said that a 7-day water only fast could prevent 95% of cancers. While therapeutic fasting can help prevent cancer along with the avoidance of cancer risk factors that would increase systemic inflammation, I did not link this to a % reduction in cancer incidence.
Seyfried is the author of the book "Cancer as a Metabolic Disease: On the Origin, Management, and Prevention of Cancer," which promotes the theory that "cancer can be best defined as a mitochondrial metabolic disease rather than as a genetic disease. This new concept has implications for the development of new non-toxic cancer therapies including the ketogenic diet."
His theory does include some fasting and a healthier diet, according to the Diagnosis: Diet website:
Dr. Seyfried says the fastest way to achieve optimal blood glucose and ketone levels is to begin with a water-only fasting jump-start to ketosis for 3-5 days. Then embark on a low-calorie 'ketogenic' diet ...
The Paleo Diet website goes into additional details:
Seyfried's recommended ketogenic diet is 'calorie restricted,' ideally preceded by three to five days of water fasting. Calories should be reduced to 30-40 percent of normal intake. The diet should consist mostly of fat (up to 80 percent of calories), along with protein. The idea is to aggressively trigger and maintain therapeutic ketosis. It is not a lifestyle or dietary change one should make casually.
Cancer Researchers
"Fasting ... alone is not an effective means to reduce cancer risk," Timothy Rebbeck, a professor of medical oncology at the Dana-Farber Cancer Institute at Harvard University, told Lead Stories in a September 16, 2022 email. Rebbeck also said:
There is no scientific evidence to support the claim of 95% cancer risk reduction after a one-week water fast. It is well known that obesity is associated with risk for many cancers. Thus, maintaining a healthy weight is a useful tool in reducing cancer risk. However, sustained weight loss may involve many factors, including changes in diet, lifestyle, and physical activity. Fasting itself is not an effective mode of long-term weight loss, and therefore alone is not an effective means to reduce cancer risk.
Harvard's T.H. Chan School of Public Health says "An overall healthy dietary pattern has the potential to lower cancer risk by 10-20%." It makes no mention of fasting.
Marcelo Bonini, a professor of medicine in hematology and oncology at Northwestern University's Feinberg School of Medicine, said in a September 16, 2022 email to Lead Stories that while there is "some evidence that caloric restriction extends the lifespan (in insects and mice) no such evidence exists for humans":
I am aware of some 'diets' that propose cancer cells 'eat themselves' when the patient starves but in my opinion these are tricks by ill-intended 'pseudo doctors' that sell these lies to the public to make money since they are devoid of any scientific basis - basic science or clinical study.
In the same email, Dr. William Gradishar, chief of hematology and oncology at Northwestern University's Feinberg School of Medicine, said there's no evidence backing the video's claim:
I am not aware of any substantive clinical data, NOT Mouse data, that supports any of this. The world is full of anecdotes. If you are overweight exercise and dietary maneuvers are healthy, but any claims like [this one] are not supported by anything I am aware as it relates to fasting.
And in a September 19, 2022, email to Lead Stories, Linda Van Horn, chief of nutrition at Northwestern University Feinberg School of Medicine, said there is no one simple cause or solution to cancer:
In general, the most important factor to address in cancer prevention is avoidance of overweight/obesity. Some people have experienced weight loss and/or weight control through "intermittent fasting" than can relate to eating only at certain times of the day or going without food for an entire day or more. Many people find that more convenient than counting calories or other approaches to modifying food intake. Weight control is key to cancer prevention and is best addressed through healthy diet, physical activity, sleep and regular visits to your health care provider.
Additional Lead Stories fact checks of cancer-related claims can be found here.
2022-09-19T14:13:05Z

2022-09-19T14:13:05Z

Adds comments from professor Thomas Seyfried, adds analysis from professor Linda Van Horn and edits for clarity