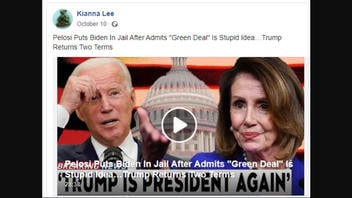 Did House Speaker Nancy Pelosi put President Joe Biden in jail and restore Donald Trump to the presidency for two terms? No, that's not true: Pelosi has no authority to remove the president from office.
The claim appeared in an October 9, 2022, Facebook post with a video under the title "Pelosi Puts Biden in Jail After Admits 'Green Deal' is Stupid Idea...Trump Returns Two Terms."
Here's how it looked on the day of writing: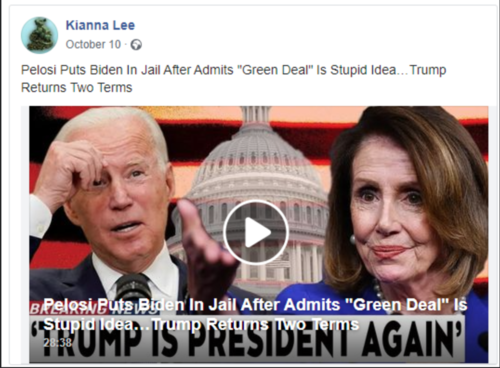 (Source: Facebook screenshot taken on Mon Oct 17 04:00:11 2022 UTC)
Lead Stories could find no credible media reports substantiating the claim, and neither the White House, the president nor Pelosi have issued press releases or statements about such a claim.
The headline does not summarize what's in the video. Instead, it links to a video clip from a Newsmax weekend news program and a story about Tesla founder Elon Musk's effort to buy Twitter. Pelosi, Biden and the president's "Green New Deal" proposal are not mentioned.
Pelosi could not single-handedly remove Biden from office.
Presidents can only be removed from office through death, resignation, impeachment and conviction, or, under the rules of the 25th Amendment, if the vice president and majority of the president's Cabinet indicate to the speaker and the Senate president that he or she is disabled or otherwise unable to carry out the duties of the office.
Article II, Section 1 of the Constitution, which spells out the qualifications for the president and the rules of succession, does not mention or provide a mechanism for reinstating a president who is no longer in office.