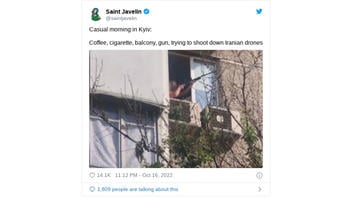 Is this a recent photo from Kyiv, Ukraine, of a man shooting at Iranian drones from his balcony window? No, that's not true: This photo is from a Twitter account that acknowledges this tweet is an old picture and a meme.
The claim appeared in a tweet on October 17, 2022 (archived here), that opened:
Casual morning in Kyiv: Coffee, cigarette, balcony, gun, trying to shoot down Iranian drones
This is what the post looked like on Twitter at the time of writing:
(Source: Twitter screenshot taken on Mon Oct 17 16:34:31 2022 UTC)
The Twitter account describes itself as:
The Official Saint Javelin account. We sell things so we can help Ukraine. Shop on our website to support the effort
Below you can see in the full tweet the sub-tweet saying, "Yes, this is an old picture. Yes, this is a meme."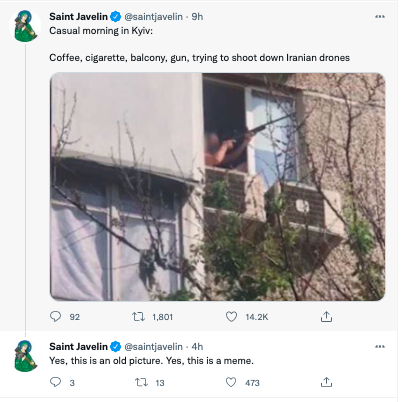 Russia started using Iranian-made drones about mid-August, most likely because Russia may be running low on supplies of precision weapons, according to The New York Times. Iran's Shahed-136 drone can dive-bomb a target and explode on impact, but they are noisy and easy to target with conventional weapons.
The United Kingdom's Ministry of Defense tweeted that they are easily targeted. One of the tweets said:
These UAVs [unmanned aerial vehicles] are slow and fly at low altitudes making lone aircraft easy to target using conventional air defences. There is a realistic possibility that Russia has achieved some success by attacking with several UAVs at the same time.
Throughout this conflict, Ukrainians have used humor as part of the way they show strength and unity during Russian attacks. A morning coffee and cigarette while shooting down "kamikaze" drones from an apartment balcony window fits in the same vein.
Additional Lead Stories fact checks about the conflict between Russia and Ukraine can be found here.