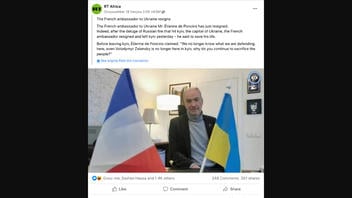 Did France's ambassador to Ukraine, Etienne de Poncins, resign his post from fear of Russian bombardments on the Ukrainian capital, Kyiv? No, that's not true: "This is fake news," Ambassador de Poncins posted on his official Twitter account on October 19, 2022.

A Facebook account called RT Afrique, which describes itself as a personal blog, posted the French-language claim on October 18, 2022. This account (in English, RT Africa) bears the same name and logo as an unverified French-language Facebook account that appears to represent the website of the Kremlin-controlled broadcaster RT, which has been considering expansion into francophone Africa.
The post (archived here) opened:
L'ambassadeur de France en Ukraine démissionne
L'ambassadeur de la France en Ukraine Mr Étienne de Poncins vient de démissionner.

As translated by Lead Stories, the post reads:
The French ambassador to Ukraine resigns
The French ambassador to Ukraine, Mr. Etienne de Poncins, just resigned.


This is the text of the post in French as it appeared on October 18, 2022: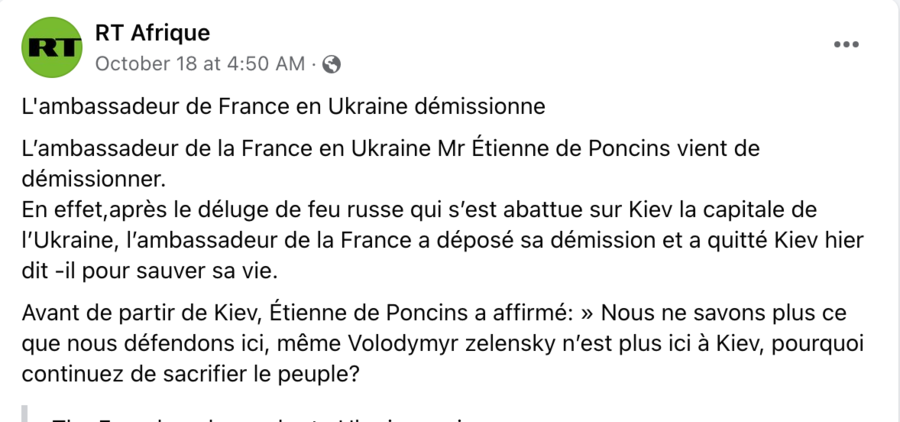 (Source: Facebook screenshot taken on Thu Oct 20 23:35 2022 UTC)
The post, as translated by Lead Stories, continued:
In fact, after the deluge of Russian fire that struck Kyiv, the capital of Ukraine, the French ambassador submitted his resignation and left Kyiv yesterday - to save his life, he says.

Before leaving Kyiv, Etienne de Poncins stated, "We no longer know what we're defending here. Even Volodymyr Zelenskyy is no longer here in Kyiv. Why do you continue to sacrifice the people?"

As of October 20, 2022, the Facebook page of RT Afrique, which identifies itself as the "News and information page for RT Russia Today," did not feature this post.

(RT recently set up a bureau in South Africa, as Bloomberg News reported here. It is considering opening a bureau in one of the francophone countries of Mali, Guinea or the Central African Republic, Afrique Sur 7, a news site that covers francophone Africa, reported on July 27, 2022. )

On October 19, 2022, in response to a tweet by French politician Jean-Michel Cadenas, de Poncins denied on Twitter that he had resigned, as this screenshot of the archived, translated page shows: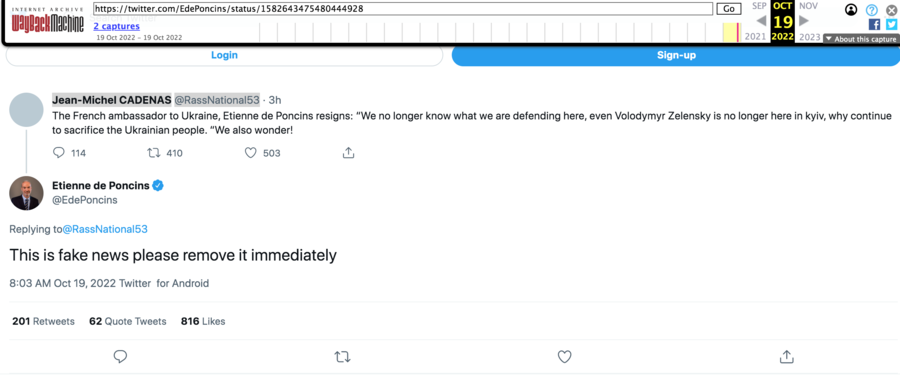 (Source: Internet Archive screenshot taken on Thu Oct 20 17:22:44 2022 UTC)

Anne-Claire Legendre, spokesperson for France's Ministry for Europe and Foreign Affairs, tweeted on October 20, 2022 that de Poncins "never left Ukraine." (Legendre's tweet is archived here.)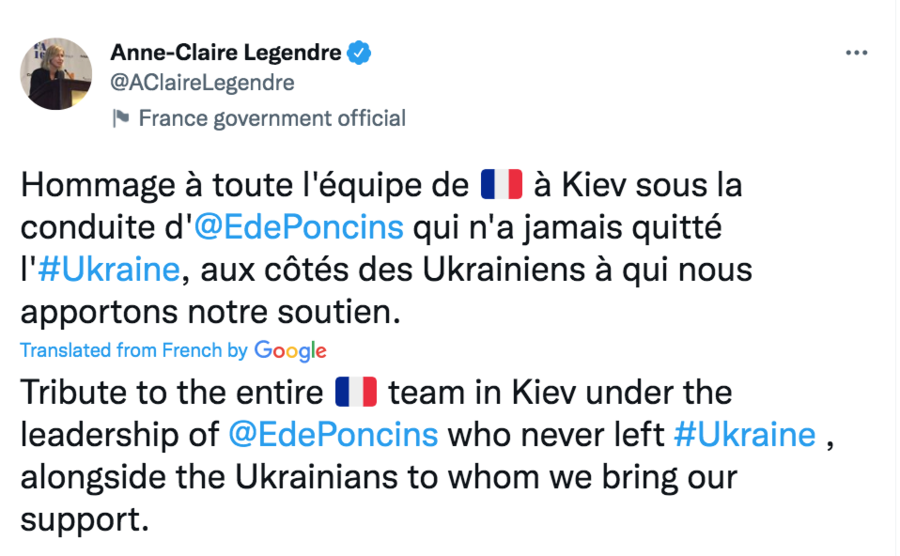 (Source: Twitter screenshot taken on Thu Oct 20 17:26:12 2022 UTC)
There have been no credible news reports about de Poncins' resignation. A political move of this importance would have gained international attention.
Additional Lead Stories fact checks about the war between Russia and Ukraine can be found here.