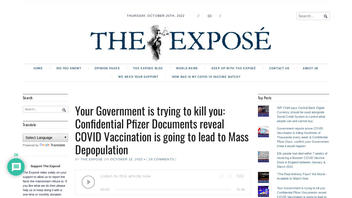 Do Pfizer documents reveal that 90 percent of pregnant women vaccinated against COVID lost their babies, and that COVID vaccination is going to lead to "mass depopulation"? No, that's not true: There's no evidence to support that claim. Extrapolations from a small data subset don't warrant application of non-professional assumptions about effects of vaccines in the absence of data.
The nation's vaccination expert, Centers for Disease Control and Prevention (CDC) Director Dr. Rochelle Walensky, said "CDC encourages all pregnant people or people who are thinking about becoming pregnant and those breastfeeding to get vaccinated to protect themselves from COVID-19."
The claim appeared in an article (archived here) published by The Exposé on October 15, 2022, under the title "Your Government is trying to kill you: Confidential Pfizer Documents reveal COVID Vaccination is going to lead to Mass Depopulation" It opened:
Covid-19 vaccination is going to lead to mass depopulation.

This is a pretty bold claim to make. 'Your Government is trying to kill you' is even bolder.

But unfortunately, these bold claims are now backed up with a mountain of evidence, and most of that evidence can be found in the confidential Pfizer documents that the U.S. Food & Drug Administration has been forced to publish by court order.
This is what The Exposé article looked like at the time of writing: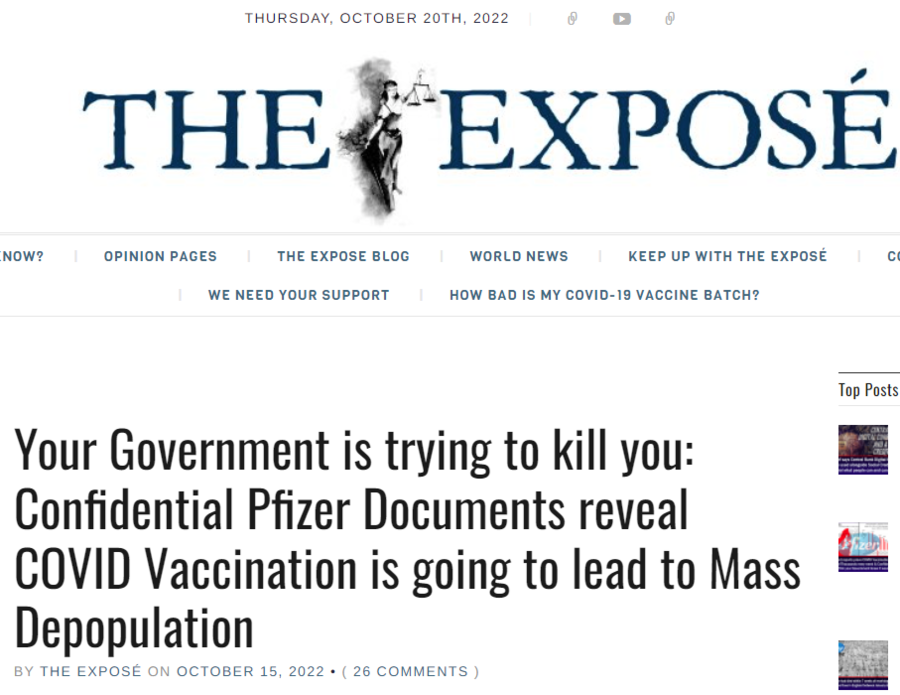 (Source: The Exposé screenshot taken on Thu Oct 20 15:10:37 2022 UTC)
To support its claim that Pfizer COVID vaccines are going to lead to "mass depopulation," The Exposé article makes a bold declaration that "Confidential Pfizer Documents reveal 90% of Covid Vaccinated Pregnant Women lost their Baby." In making its case, The Exposé said:
Pfizer state in the document that by 28th February 2021 there were 270 known cases of exposure to the mRNA injection during pregnancy. ...

But here's where things get rather concerning. Pfizer state that of the 270 pregnancies they have absolutely no idea what happened in 238 of them.
That's not exactly right. On page 12 of the Pfizer document linked to in the story, Pfizer's document says: "No outcome was provided for 238 pregnancies ..." There's no evidence to suggest that any of those pregnancies were lost and that flawed assumption is the basis for the declaration made by The Exposé.
The Exposé gets such a tremendous death rate and "mass depopulation" by assuming every unreported outcome is a death and then extrapolating that to everyone who gets a Pfizer COVID shot and has a baby. If you divide 238 by 270, the answer is .88, which converts, with rounding, to 90 percent. But The Exposé's assumption that all unreported outcomes are deaths is not supported by evidence and is not an accepted statistical analysis.
Miscarriages
Spontaneous abortions or miscarriages, pregnancies that are lost before the 20th week, are no more common among women who get the Pfizer COVID vaccine than those who don't. The CDC says data are clear that COVID-19 vaccines are safe and effective. It recommends them for everyone 6 months and older and boosters for everyone 5 years and older, if eligible. That includes those who are pregnant. The public health agency's website says:
A new CDC analysis of current data from the v-safe pregnancy registry assessed vaccination early in pregnancy and did not find an increased risk of miscarriage among nearly 2,500 pregnant women who received an mRNA COVID-19 vaccine before 20 weeks of pregnancy. Miscarriage typically occurs in about 11-16% of pregnancies, and this study found miscarriage rates after receiving a COVID-19 vaccine were around 13%, similar to the expected rate of miscarriage in the general population.

Previously, data from three safety monitoring systems did not find any safety concerns for pregnant people who were vaccinated late in pregnancy or for their babies. Combined, these data and the known severe risks of COVID-19 during pregnancy demonstrate that the benefits of receiving a COVID-19 vaccine for pregnant people outweigh any known or potential risks.