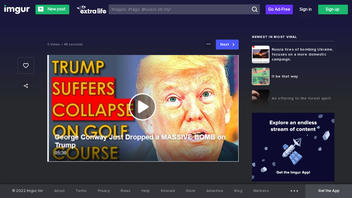 Did former President Donald Trump collapse on the golf course? No, that's not true: There is no evidence of his collapse and the assertion is a ruse used to entice readers into clicking on a video about a different Trump-related topic.
The claim appeared in a Facebook post from October 10, 2022, under the title "George Conway Just Dropped a MASSIVE Bomb on Trump" accompanied by an image the former president next to the headline, "TRUMP SUFFERS COLLAPSE ON GOLF COURSE."
Here's how it appeared on the day of writing: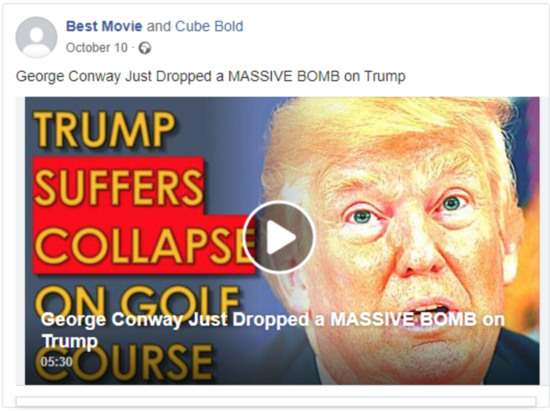 (Source: YouTube screenshot taken on Mon Oct 17 at 19:44:06 2022 UTC)
The post is misleading, a bait and switch for readers expecting a story about the former president's health or an incident on a golf course that resulted in his collapse.
Instead, the post's video is political commentary on Trump's mounting legal challenges followed by a clip from an August 23, 2022, CNN broadcast featuring a panel discussion about the Department of Justice's investigation into classified documents that were taken to Mar-a-Lago. Political commentator George Conway is among those on the panel.
The post's video comes from the YouTube channel of Christo Aivalis, who frequently uses sensational headlines -- include those claiming Trump has collapsed -- as clickbait for other content including in videos from July 6, 2022, and August 25, 2022.
Aivalis has an active YouTube channel that regularly posts false claims with sensational headlines to drive interest and clicks. The clickbait tactic is commonly used to increase the volume of traffic to posts on social media channels, which can enhance the air of credibility and draw advertisers.
Aivalis has also used clickbait on both of his Facebook pages: The Christo Aivalis Official Report, where he posts regularly, and The Christo Aivalis Show, which has not been updated since May 17, 2021.
Lead Stories has fact-checked other posts by Aivalis and found them to be false. Those stories can be seen here.