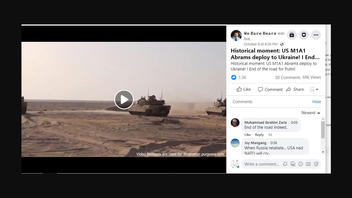 Did the U.S. deploy M1A1 Abrams tanks to Ukraine? No, that's not true: A video with a headline that makes this claim offers no proof. A tag in its lower right-hand corner says that "Video footages are used for illustration purposes only."
The claim appeared in the headline of a video posted on Facebook on October 9, 2022. The headline declared, "Historical moment: US M1A1 Abrams deploy to Ukraine! I End of the road for Putin!"
The video in the post opened with a narrator saying:
Welcome to the Eagle Claw channel. In the Ukraine-Russia war, the biggest difference between the two armies was seen as the inequality of tanks in the air force and the ground army.
This fact check does not deal with measuring the strength of either Ukraine's or Russia's military capabilities.
This is what the post looked like on Facebook at the time of writing: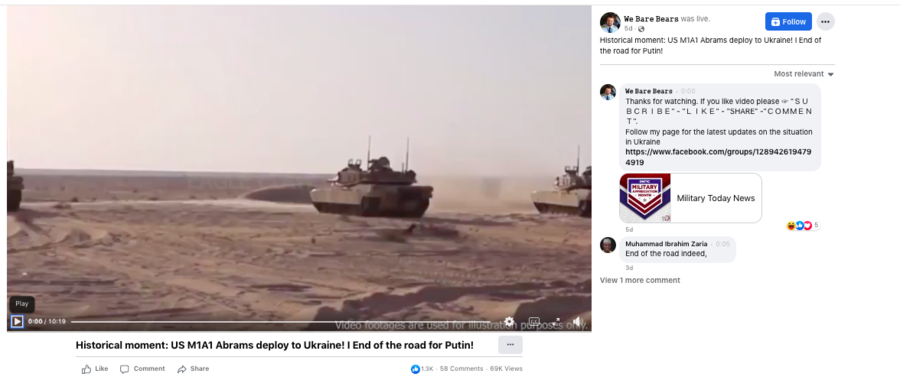 (Source: Facebook screenshot taken on Fri Oct 14 21:08:15 2022 UTC)
An October 4, 2022 U.S. Department of Defense press release addresses what military assistance the United States currently provides to Ukraine:
The Department of Defense (DoD) announces the authorization of a Presidential Drawdown of security assistance valued at up to $625 million to meet Ukraine's critical security and defense needs. This authorization is the Biden Administration's twenty-second drawdown of equipment from DoD inventories for Ukraine since August 2021.
There is no mention of any kind of tanks. The press release also says:
In total, the United States has committed more than $17.5 billion in security assistance to Ukraine since January 2021. Since 2014, the United States has committed more than $19.6 billion in security assistance to Ukraine and more than $16.8 billion since the beginning of Russia's unprovoked and brutal invasion on February 24.
U.S. military assistance to Ukraine continues to change as the battlefield shifts. In a September 19, 2022 background briefing for reporters, an unidentified "senior defense official" from the Pentagon said that "Tanks are absolutely on the table along with other areas."

At the time of this writing, however, they are not part of any U.S. military package to Ukraine.
The U.S. Department of Defense site also provides a link to a fact sheet that details all military equipment sent to Ukraine. There are no US M1A1 tanks on the list.
Both the U.S. Department of Defense and the U.S. Department of State offer updated information on military, humanitarian and economic aid sent by the U.S. to Ukraine.
Additional Lead Stories fact checks about the conflict between Russia and Ukraine can be found here.