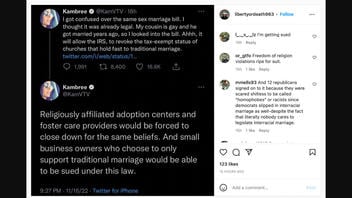 Does the Respect for Marriage Act passed by the U.S. House of Representatives and Senate remove the tax privileges of faith-based organizations, make it easier to sue them or jeopardize any other religious liberties? No, that's not true: The final version of the bill, which passed the Senate on November 16, 2022, codified same-sex marriage on the federal level, while simultaneously protecting religious liberties.
The claim appeared in a post published on Instagram on November 17, 2022. It showed a screenshot of a Twitter thread (archived here).
The first tweet said:
I got confused over the same sex marriage bill. I thought it was already legal. My cousin is gay and he got married years ago, so I looked into the bill. Ahhh, it will allow the IRS, to revoke the tax-exempt status of churches that hold fast to traditional marriage.
Another entry from the same thread continued:
Religiously affiliated adoption centers and foster care providers would be forced to close down for the same beliefs. And small business owners who choose to only support traditional marriage would be able to be sued under this law.
Here is what the post looked like at the time of the writing of this fact check: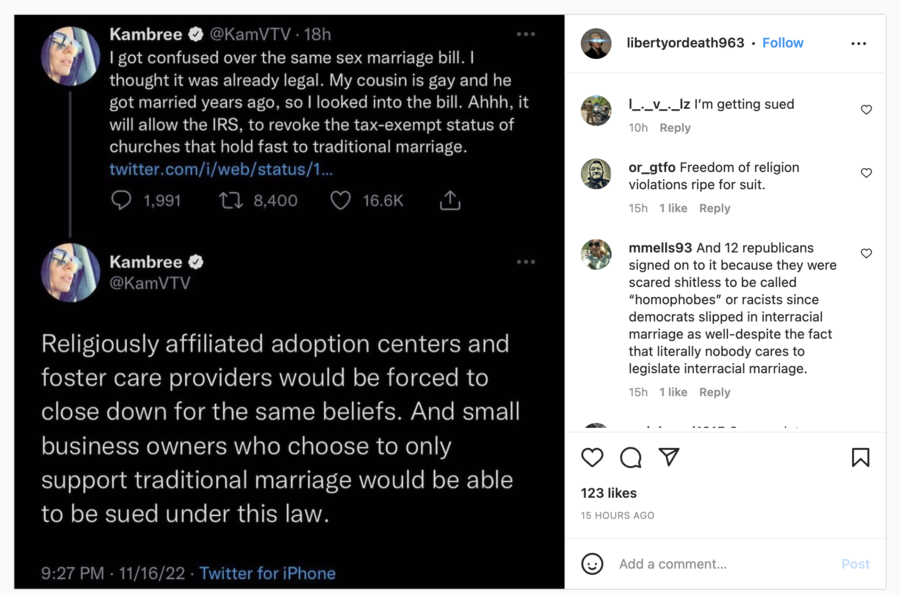 (Source: Instagram screenshot taken on Fri Nov 18 16:12:54 2022 UTC)
The House of Representatives passed the bill known as the Respect For Marriage Act in July 2022. That version focused on codifying same-sex marriage at the national level, regardless of what the Supreme Court might decide if it begins to overturn previous landmark decisions, including one that legalized same-sex marriages. The bill called for repealing a 1996 law that did not allow universal, national recognition of same-sex marriages, thereby limiting federal authorities to recognizing unions that were legal at the time and place when and where they were conducted. The Respect for Marriage Act also requires states to recognize marriages that took place in other states.

Introducing the bill on July 18, 2022, the House Judiciary Committee issued a press release that summarized its provisions:
The bill prohibits any person acting under color of state law from denying full faith and credit to an out of state marriage based on the sex, race, ethnicity or national origin of the individuals in the marriage, provides the Attorney General with the authority to pursue enforcement actions, and creates a private right of action for any individual harmed by a violation of this provision.
However, the next day, shortly before the House voted, Judiciary Committee Chairman Jerry Nadler (D-NY) verbally clarified:
I call up the bill (H.R. 8404) to repeal the Defense of Marriage Act and ensure respect for State regulation of marriage, and for other purposes...
That version of the bill did not discuss religious liberties at all.
The amended Senate bill, passed on November 16, 2022, by a bipartisan group of 50 Democrats and 12 Republicans, however, added explicit protections for faith-based organizations, including their tax-exempt status and protections against lawsuits.
Section 7, part (a) now says:
NO IMPACT ON STATUS AND BENEFITS NOT ARISING FROM A MARRIAGE.--Nothing in this Act, or any amendments made by this Act, shall be construed to deny or alter any benefit, status, or right of an otherwise eligible entity or person, including tax-exempt status
Section 6, part (b) describes even broader protections of religious liberties:
GOODS OR SERVICES.--Consistent with the First 2 Amendment to the Constitution, nonprofit religious organizations, including churches, mosques, synagogues, temples, nondenominational ministries, interdenominational and ecumenical organizations, mission organizations, faith-based social agencies, religious educational institutions, and nonprofit entities whose principal purpose is the study, practice, or advancement of religion, and any employee of such an organization, shall not be required to provide services, accommodations, advantages, facilities, goods, or privileges for the solemnization or celebration of a marriage. Any refusal under this subsection to provide such services, accommodations, advantages, facilities, goods, or privileges shall not create any civil claim or cause of action.
In November 16, 2022, remarks about the bill's passage of the Senate, Senator Susan Collins, a Maine Republican who co-sponsored the amendment that added protections for religious liberties, emphasized that the legislation:
Protects all religious liberty and conscience protections available under the Constitution or Federal law, including but not limited to the Religious Freedom Restoration Act, and prevents this bill from being used to diminish or repeal any such protection