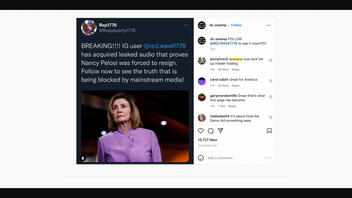 Did Instagram user @red.wave1776 acquire leaked audio that proves that House Speaker Nancy Pelosi was forced to resign? No, that's not true: Lead Stories has found no evidence on this Instagram user's account that would corroborate the claim. Also, there have been no reports of such audio by reputable media.
The claim appeared in a screenshot of a tweet posted on Instagram on November 17, 2022, with the caption "FOLLOW @RED.WAVE1776 to see it now!!!!!!!!" The tweet read:
BREAKING!!!! IG user @red.wave1776 has acquired leaked audio that proves Nancy Pelosi was forced to resign. Follow now to see the truth that is being blocked by mainstream media!
This is what the Instagram post looked like at the time of the writing of this fact check: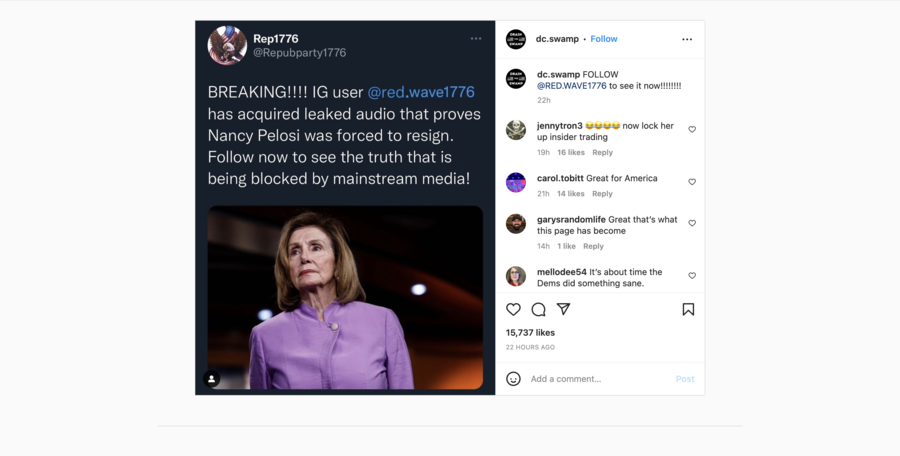 (Source: Instagram screenshot taken on Fri Nov 18 15:17:22 2022 UTC)
A press release from Pelosi, published on November 17, 2022, includes the statement, "And with great confidence in our Caucus, I will not seek re-election to Democratic Leadership in the next Congress."
Here is a recent screenshot of @red.wave1776's Instagram's account: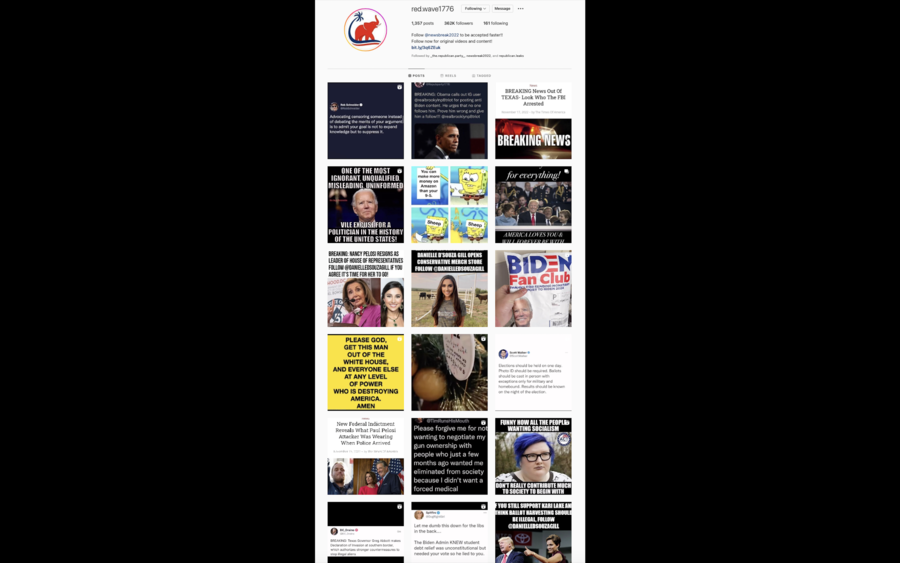 (Source: Instagram screenshot taken on Fri Nov 18 15:44:55 2022 UTC)
This account contains no evidence of "leaked audio" that proves Pelosi was forced to resign.
A recording like this would have been breaking news, but, at the time of writing, no major news outlets have reported on it.
Lead Stories has fact checked claims like this before. One Instagram user claimed to have posted the full Epstein clientele list, and @red.wave1776 also claimed to have audio of the 911 call from the October 28, 2022, attack on Nancy Pelosi's husband, Paul Pelosi.
We have contacted Pelosi's spokesperson about this claim. We will update this article as appropriate if a response is received.
Addtional Lead Stories fact checks of claims about Nancy Pelosi can be found here.