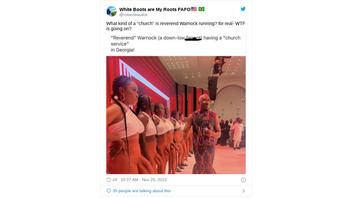 Does a photo on social media show Georgia's U.S. Sen. Raphael Warnock, clad in a jumpsuit, walking in front of a line of women wearing penis pants? No, that's not true: The image is of a Nigerian celebrity attending a funeral in Nigeria for a music executive's mother in October 2022.
The claim appeared in a tweet (archived here) on November 25, 2022. It opened:
What kind of a 'church' is reverend Warnock running? for real- WTF is going on?

This is what the post looked like on Twitter at the time of the writing of this fact check:
(Source: Twitter screenshot taken on Wed Nov 30 20:14:03 2022 UTC)
Social media posts claim that the man in the photo is Raphael Warnock, the Democratic senator from Georgia who faces a December 6, 2022, runoff for reelection. The posts allege that the church in the image is the church where he officiates as a minister. Neither claim is true.
The photos of a man in front of women wearing penis pants were published by the news site Ripples Nigeria (archived here) with an October 8, 2022, article titled, "Pretty Mike stuns guests at Don Jazzy's mother's funeral with women wearing 'pen*s pants." The article reported that Pretty Mike, identified as a "[c]ontroversial Nigerian socialite," was attending the funeral ceremony of the mother of music executive Don Jazzy in Nigeria's Lagos State. Here is a screenshot of the article: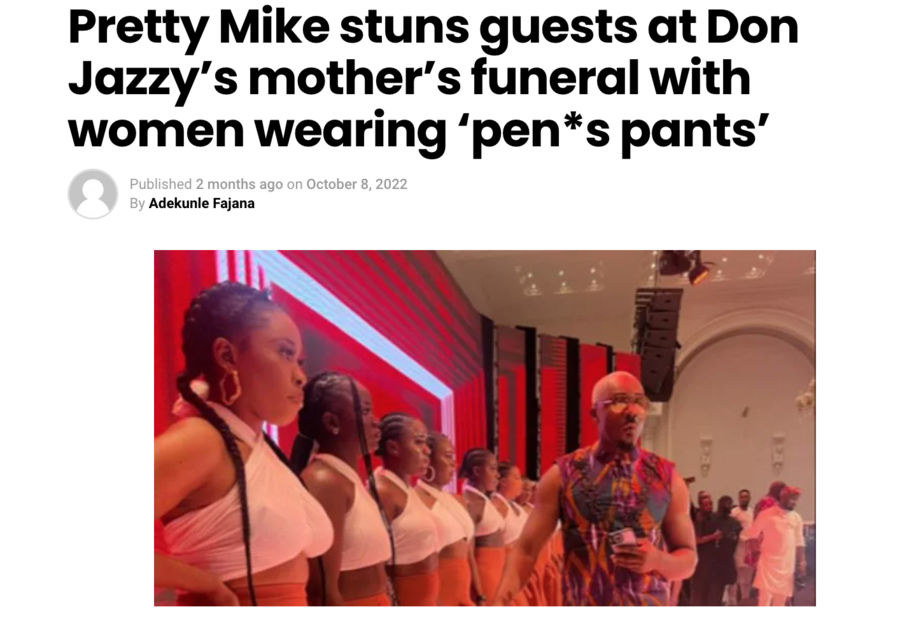 (Source: Ripples Nigeria screenshot taken on Wed Nov 30 20:19:32 2022 UTC)
The article noted:
The funeral ceremony took place in Lagos State on Friday. Making an attempt to steal the spotlight, Pretty Mike who has a reputation for employing bizarre gimmicks, decided to attend the funeral ceremony with eight women who were wearing long 'pen*s pants'.
Pretty Mike posted several images from the funeral on his official verified Instagram page on October 7, 2022. Here is a screenshot of his post: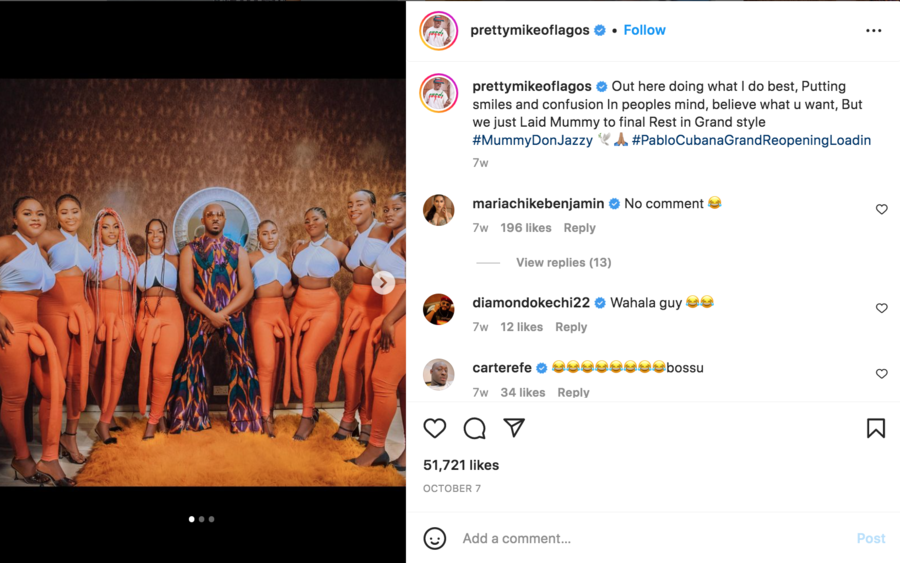 (Source: Instagram screenshot taken on Wed Nov 30 20:21:44 2022 UTC)
Other social media posts claimed that the photo showed "Dr. warnocks church." Warnock's biography on his website notes that, "For over 16 years, Senator Warnock has served as Senior Pastor at Ebenezer Baptist Church in Atlanta, the former pulpit of Reverend Dr. Martin Luther King, Jr."
A video of the Ebenezer Baptist Church service from November 27, 2022, shows the inside of the church, which does not match the interior of the Instagram image. A screenshot from 9:53 in the video shows the inside of the historic church: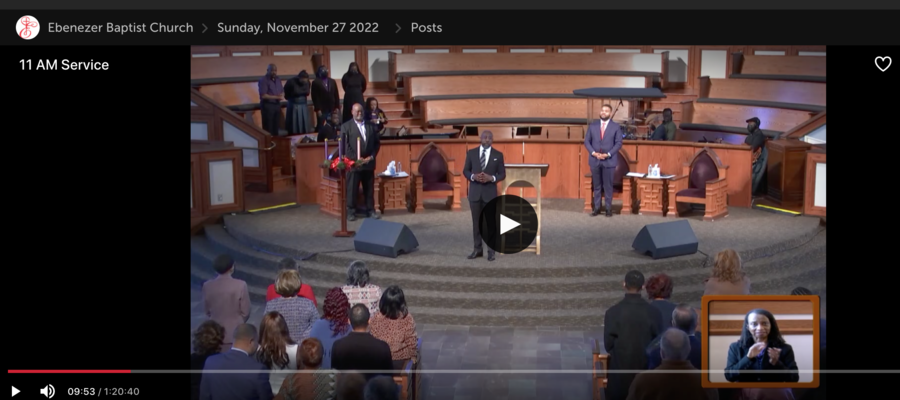 (Source: Historic Ebenezer Baptist Church screenshot taken on Wed Nov 30 20:23:51 2022 UTC)

Additional Lead Stories fact checks of claims related to Sen. Raphael Warnock can be found here.