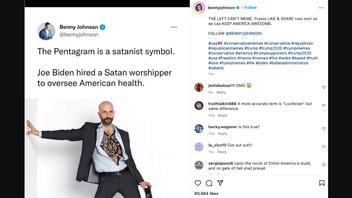 Did President Joe Biden choose a "Satan worshipper" to oversee the health of Americans? No, that's not true: Biden picked Dr. Demetre Daskalakis to serve as the deputy coordinator of a national health response team for a single disease, monkeypox. Daskalakis does have a tattoo of a pentagram -- a symbol that some associate with Satan and the occult -- but the doctor has denied his tattoo represents any such connection.
The claim appeared in an Instagram post from September 8, 2022. It opened:
"The Pentagram is a satanist symbol.

Joe Biden hired a Satan worshipper to oversee American health.

Here's how it appeared on the day of the writing of this fact check: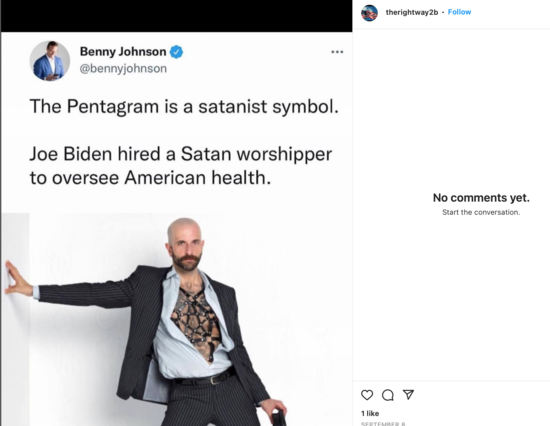 (Source: Instagram screenshot taken Tues Nov 29 at 18:11:03 2022 UTC)
The post -- a share from a September 8, 2022, Instagram post by Newsmax host Benny Johnson -- includes a photo of Daskalakis wearing a suit and an unbuttoned shirt that leaves his tattooed chest visible. Portions of a five-pointed star, often referred to as a pentagram, can be seen in the tattoo.
A leather harness is also seen stretched across the doctor's chest in the photo, which appeared on the cover of HIV Plus Magazine on February 24, 2021.
On August 2, 2022, Biden appointed Daskalakis, an expert in infectious diseases, HIV prevention and public health, to serve as the deputy coordinator of the White House National Monkeypox Response. His role in that specific regard does not put him in authority to "oversee American health," as the post claims.
Daskalakis denied being a "Satanist" in an interview with the news site Politico that was published on September 15, 2022.
"I wish I were that interesting," he told Politico's reporter.
Daskalakis also noted that none of those who write about him have mentioned he also has a large tattoo of Jesus on his torso or that a banner that wraps across the pentagram reads, "I believe that there's a light even in the darkest place."
Pentagrams have been used by human societies throughout history as symbols of magic, the supernatural and the occult. The symbol has also been used by numerous religious traditions, in architecture and on Greek coins. Its meaning has varied over time and, depending on its use, it has also been viewed as a symbol of protection, perfection and as a representation of the five elements of air, earth, fire, spirit and water.
Daskalakis's star appears inverted (two points facing upward) and is enclosed within a circle, a symbol which can be called a pentacle. Inverted pentagrams are a primary symbol of the Church of Satan, a "counterculture" movement that, according to its website, believes Satan is the truest representation of humans.
Conservatives appear to have seized on the "Church of Satan" connection to spread the Daskalakis-Satanist claim, which has been repeated many times on social media (here and here) and on conservative media sites.
Among them: a second September 8, 2022 Twitter post from Johnson that noted the White House had failed to mention Daskalakis' connection to satanism in announcing his appointment to oversee the response to monkeypox.
Monkeypox is a virus that can be transmitted to humans through close contact with an infected person or animal, or with material contaminated with the virus, such as bedding. A global outbreak of the virus, which can disproportionally affect men with multiple sex partners, including other men, was identified by the World Health Organization in May 2022.
In the White House statement on the monkeypox team appointments, Dr. Anthony Fauci, then a chief medical adviser to the president on COVID-19, said Daskalakis' "experience and leadership on health equity and STD and HIV prevention [with] this team will allow the Biden Administration to further accelerate and strengthen its monkeypox response."
In his role, Daskalakis serves under Robert J. Fenton, formerly the Region 9 administrator for the Federal Emergency Management Agency, whom Biden chose to lead the response team.
Daskalakis earned his medical degree from New York University and holds a master's degree in public health from Harvard's T.H. Chan School of Public Health.
At the time he was tapped by Biden to work on the administration's response to monkeypox, Daskalakis was director of the division of HIV/AIDS Prevention in the National Center for HIV/AIDS at the Centers for Disease Control and Prevention in Atlanta.
Lead Stories fact checks of claims related to monkeypox can be found here.