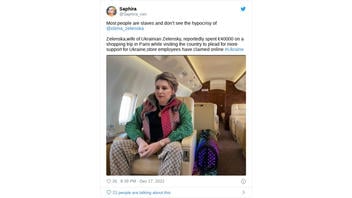 Does the image in this tweet document Ukrainian first lady Olena Zelenska on what appears to be a private jet after she spent "€40000 on a shopping trip in Paris"? No, that's not true: The image is a digital manipulation that puts her face on a selfie posted by a bitcoin promoter in August of 2022 on his Twitter feed.
The image appeared in a December 17, 2022, tweet (archived here) posted on the account of @Saphira_van.The doctored photo appeared under the title "Most people are slaves and don't see the hypocrisy of @olena_zelenska". The tweet continued:
Zelenska,wife of Ukrainian Zelensky, reportedly spent €40000 on a shopping trip in Paris while visiting the country to plead for more support for Ukraine,store employees have claimed online #Ukraine
This is what the post looked like on Twitter at the time of writing:
(Source: Twitter screenshot taken on Wed Dec 28 19:12:29 2022 UTC)
The image is an obvious combination of a headshot photo of Ukrainian President Volodymyr Zelenskyy's wife plastered over a selfie posted to Twitter on August 18, 2022, by Richard Heart, a YouTube bitcoin promoter. Every detail of the surroundings and clothing, hands, jewelry and luggage is identical, with the only difference being that the later image has been cropped to remove some details from the edges of the image.
Below is a montage of the original image and the manipulated version that was posted four months later: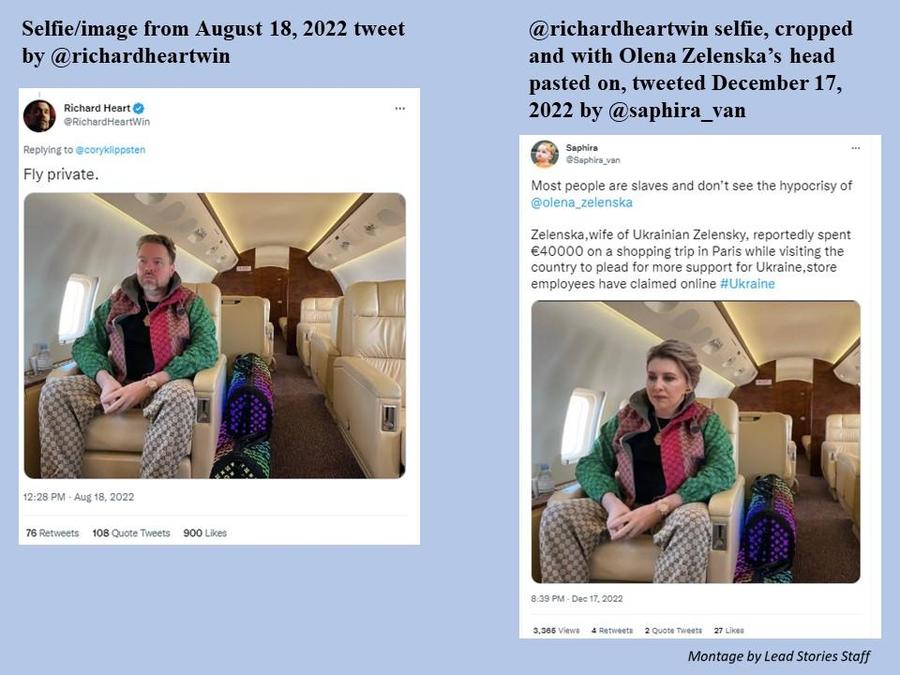 (Source: Twitter.com screenshots taken Wed. Dec. 28, 2022)
Just as the fake photo post does not offer anything to substantiate €40000 shopping trip in Paris, other claims about such a shopping spree are not supported by evidence. Other social media posts making similar claims, such as this article in The Gateway Pundit, do not offer receipts or named sources to support such a claim.