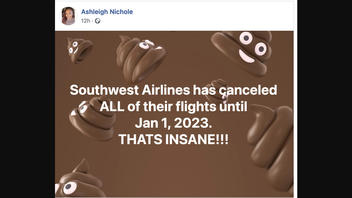 Did Southwest Airlines cancel all of its flights until January 1, 2023? No, that's not true: In the final week of 2022, Southwest Airlines experienced major delays and widespread flight cancellations, but it did not cancel all of its flights until the new year. The airline continued to operate at the time of this writing, albeit at an extremely reduced schedule.
The claim appeared in a Facebook post published on December 27, 2022. It read:
Southwest Airlines has canceled ALL of their flights until Jan 1, 2023. THATS INSANE!!!
This is what the post looked like on Facebook at the time of writing: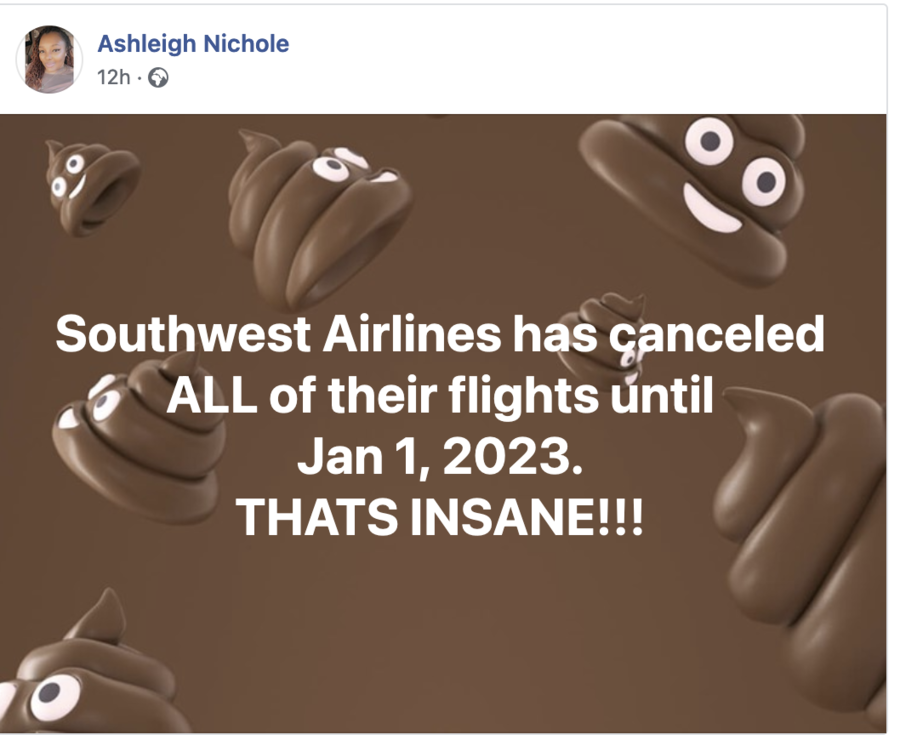 (Source: Facebook screenshot taken on Wed Dec 28 16:21:26 2022 UTC)
The post did not cite any source or attribution for the claim.
In a press release, dated December 27, 2022, Southwest acknowledged major delays and cancellations, but it stopped short of canceling all flights. Specifically, the release read:
As we continue the work to recover our operation, we have made the decision to continue operating a reduced schedule by flying roughly one third of our schedule for the next several days.
In a separate release, also dated December 27, 2022, the airline added:
Our plan for the next few days is to fly a reduced schedule and reposition our people and planes, and we're making headway and we're optimistic to be back on track before next week.
According to FlightAware, a flight-tracking service, Southwest cancelled 62 percent of its scheduled flights (archived here) on December 28, 2022. Roughly 58 percent of the airline's flights (archived here) were cancelled for December 29, 2022.
Southwest Airlines was operating at a vastly reduced schedule as 2022 neared an end, but the airline continued to fly.