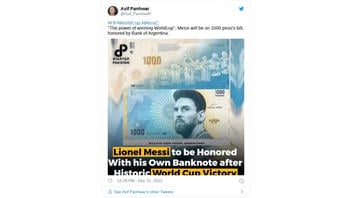 Will the likeness of Lionel Messi, captain of Argentina's national soccer team, be featured on an Argentine 1,000 pesos banknote after the team's win at the 2022 World Cup? No, that's not true: There is no evidence at the time of this writing that Messi's face will be featured on Argentina's 1,000 pesos banknote.
The claim appeared in a tweet (archived here) posted on December 22, 2022. The tweet read:
#FIFAWorldCup #Messi𓃵
"The power of winning Worldcup", Messi will be on 1000 peso's bill, honored by Bank of Argentina.
It also featured a graphic with a similar claim.
This is how the tweet looked at the time of writing: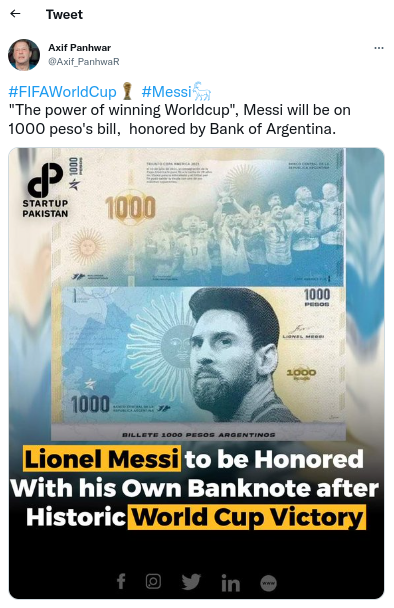 (Source: Twitter screenshot taken on Wed Dec 28 16:34:15 2022 UTC)
The Banco Central de la República Argentina (translated from Spanish to English as the "Central Bank of the Argentine Republic"), the financial institution that produces banknotes for Argentina, does not include any information on its website about Messi being the new face of the 1,000 pesos banknote. At the time of writing, the 1,000 pesos banknote is a part of the Argentina native fauna series launched by the BCRA beginning in June 2016. The bill features a portrait of a rufous hornero, Argentina's national bird. More information about the 1,000 pesos banknote can be found here.
A search of the news included on the BCRA's website (archived here) also does not reveal any plans to make Messi the face of the 1,000 pesos banknote. Lead Stories reached out to the BCRA and will update this story with any relevant response.
Messi's Instagram account makes no mention of any such development.
The claim seems to have originated from an article published on December 19, 2022, on El Financiero, a Mexican news publication, which claimed that the Messi banknote idea "was 'jokingly' proposed by members of the Argentine Central Bank" (translated from Spanish to English using Google Translate). However, this clarification is only made toward the end of the story.
Other Lead Stories fact checks related to the World Cup can be found here.