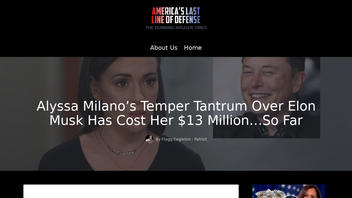 Did Alyssa Milano's "temper tantrum" over Elon Musk cost her $13 million? No, that's not true: This satirical article was published by a website connected to the satire network, America's Last Line of Defense, which clearly identifies its content as untrue and not to be taken seriously.
The story appeared in an article published by dunning-kruger-times.com on January 8, 2023, titled "Alyssa Milano's Temper Tantrum Over Elon Musk Has Cost Her $13 Million...So Far" (archived here). It opened:
She just couldn't stay out of it. Alyssa Milano, who nobody would remember at all if it weren't for her crazy left-wing extremism, has sent her life into ruin just to try to make a point. She traded in her Tesla for a Volkswagon, which didn't turn out well, then she challenged the most powerful man in the world to a battle of wits.
Users on social media only saw this title, description and thumbnail:
She barked up the wrong tree for sure.
The satirical story is spun from a real tweet posted by Milano on November 26, 2022, embedded below (archived here). Critics, including conservative comedians the Hodgetwins, as well as Elon Musk, responded to Milano as reported on mediaite.com in an article, "Crowd Brutally Mocking Alyssa Milano for Giving Back Tesla to Protest His Twitter Takeover." Milano had tweeted:
I gave back my Tesla.

I bought the VW ev.

I love it.

I'm not sure how advertisers can buy space on Twitter. Publicly traded company's products being pushed in alignment with hate and white supremacy doesn't seem to be a winning business model.

-- Alyssa Milano (@Alyssa_Milano) November 26, 2022
The Dunning-Kruger Times is a satirical website with an about page (archived here) that has following disclaimer:
About Us

Dunning-Kruger-Times.com is a subsidiary of the 'America's Last Line of Defense' network of parody, satire, and tomfoolery, or as Snopes called it before they lost their war on satire: Junk News

About Satire

Before you complain and decide satire is synonymous with 'comedy':

sat·ire ˈsaˌtī(ə)r noun: The use of humor, irony, exaggeration, OR ridicule to expose and criticize people's stupidity or vices, particularly in the context of contemporary politics and other topical issues.

Everything on this website is fiction. It is not a lie and it is not fake news because it is not real. If you believe that it is real, you should have your head examined. Any similarities between this site's pure fantasy and actual people, places, and events are purely coincidental and all images should be considered altered and satirical. See above if you're still having an issue with that satire thing.
The website is named after the Dunning-Kruger effect, a term from psychology that describes the phenomenon of being ignorant of one's own ignorance.
Dunning-kruger-times.com is part of a network of websites run by self-described liberal troll Christopher Blair. Content created by Blair is frequently copied and reused by other websites without the disclaimers or tongue-in-cheek clues that might reveal to the reader that the story isn't factual. This article has appeared without disclaimers on queenstories.com and spacexmania.com.
Other Lead Stories fact checks about Dunning-Kruger-Times articles are here.