STORY UPDATED: check for updates below.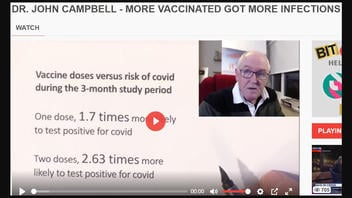 Does each dose of the COVID-19 vaccine increase a person's chance of getting the COVID-19 virus? No, that's not true: While data from a preprint (not-peer-reviewed) study posted on December 19, 2022, suggests that the "higher the number of vaccines previously received, the higher the risk of contracting COVID-19," medical experts contacted by Lead Stories cast doubt on coming to such a conclusion. In an earlier study with similar findings, for instance, the authors said the data demonstrated the need for up-to-date boosters to protect against new variants, not that vaccines increase infections.
The claim appeared in a video on BitChute (archived here) published on January 5, 2023, under the title "DR. JOHN CAMPBELL - MORE VACCINATED GOT MORE INFECTIONS." The information presented in it came from the 22-hospital-Cleveland Clinic's study of its own workers. The video's description includes the following:
The risk of COVID-19 also varied by the number of COVID-19 vaccine doses previously received. The higher the number of vaccines previously received, the higher the risk of covid infection.
Vaccine doses versus risk of covid during the 3-month study period

One dose, 1.7 times more likely to test positive for covid

Two doses, 2.63 times more likely to test positive for covid

Three doses, 3.1 times more likely to test positive for covid

More than three doses, 3.8 times more likely to test positive for covid

So compared to the unvaccinated

1, x 1.7

2, x 2.36

3, x 3.1

4, x 3.38
This is what the video looked like on BitChute at the time of writing: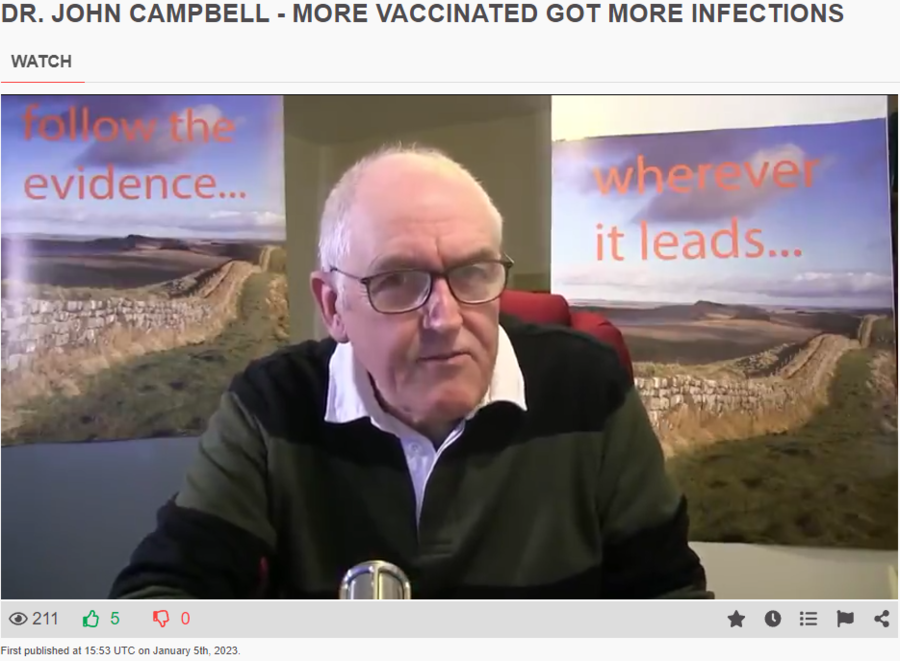 (Source: BitChute video screenshot taken on Thu Jan 5 23:20:05 2023 UTC)
In a January 5, 2023, email to Lead Stories, the Cleveland Clinic's director of public and media relations, Andrea Pacetti, confirmed that the data cited "is correct, per the preprint." Pacetti added, however:
It is unclear at this time why this was observed and how it should be interpreted, and more research is needed to either confirm or refute this finding. It's important to note that this paper has not yet been peer reviewed.
John Campbell
Campbell is a popular YouTube host with more than 2.6 million subscribers to his channel. Campbell is not a physician but a retired emergency department nurse. According to the About section of his YouTube channel, his Ph.D. "focused on the development of open learning resources for nurses nationally and internationally." Since starting his channel in 2007, he has posted thousands of videos on a variety of medical topics but has focused primarily on COVID since the start of the pandemic, promoting unproven treatments like ivermectin, spreading misleading death statistics minimizing the number of victims and misinterpreting data about vaccine safety.
The About page (archived here) on Campbell's YouTube channel features a disclaimer that states:
These media including videos, book, e book, articles, podcasts are not peer-reviewed. They should never replace individual clinical judgement from your own health care provider. No media-based material on this channel is suitable for using as professional medical advice. All comments are also for educational purposed only and must never replace advice from your own health care provider.
Campbell's original video about the study on YouTube was deleted, but can still be found on the Internet Archive, a digital library of Internet sites. Campbell said on Twitter that he removed the video, but did not explain why. He did say it could be found elsewhere. Here's his post: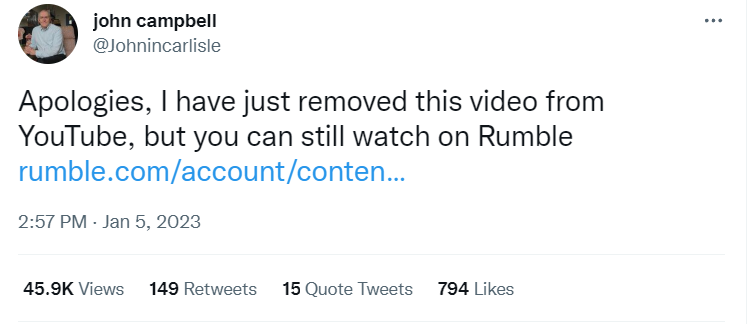 (Source: Twitter screenshot taken on Fri Jan 6 00:00:15 2023 UTC)
The study
The Cleveland Clinic study is a preprint, which means it's a full draft research paper that is shared publicly before it has been peer-reviewed. After peer review, it may undergo substantial editing.
Pacetti said the primary purpose of the retrospective study was to examine the effectiveness of the bivalent COVID-19 booster vaccine among a group of approximately 50,000 healthcare workers over a three-month period, which took place between September 2022 and December 2022. The study found, based on the observed COVID cases, that the bivalent vaccine was about 30% effective in preventing infection from COVID-19. The study did not examine the vaccine's effectiveness in preventing severe illness or hospitalization.
In her email to Lead Stories, Pacetti added:
It's important to note that the study was done in a younger, relatively healthy, healthcare employee population. It included no children, very few elderly individuals and likely few immunocompromised individuals. Therefore, we urge caution in generalizing the findings to the public, which can include different populations than was in this study.
Pacetti confirmed one of the study's conclusions highlighted by Campbell in his video. She said, "It ... found that the higher the number of vaccine doses an individual previously received, the higher the risk of contracting COVID-19."
But in a January 6, 2023, email to Lead Stories, Dr. James Lawler with the Division of Infectious Diseases at the University of Nebraska Medical Center said the study's data is being misinterpreted:
This study does NOT show that people who received more COVID vaccinations were more likely to get COVID. This study DOES show that people who received more COVID vaccinations were more likely to have a positive COVID PCR documented during the timeframe of the study ...
A PCR test for COVID-19 is a molecular test that analyzes an upper respiratory sample, looking for the genetic material of the virus that causes the disease.
Later in his response, Lawler noted:
Having a positive PCR for COVID is very much dependent on presenting yourself for testing. I have seen recent expert assessments that put our case ascertainment proportion anywhere between 1:10 and 1:30. That means for every PCR-documented case, there are somewhere between 10 and 30 undocumented cases. The fact is, the vast majority of COVID infections in late 2022 never presented themselves for testing. That fact presents tremendous potential bias for a retrospective study.
Retrospective studies are conceived after the fact. They are not preplanned. The investigators jump back in time to analyze, in this case, medical outcomes. Lawler continued with his response, discussing the possibility for prejudice in the results:
One might assume that people who are not concerned enough about the health risk of COVID to get vaccinate would also not be concerned enough to get tested when they have an upper respiratory infection.
Lawler said the vast majority of people with COVID infections in late 2022 were never tested. He told Lead Stories that a study from Australia illustrates this phenomenon.
In a separate January 6, 2023, email, Dr. Egon A. Ozer, director of the Robert J. Havey, MD Institute for Global Health - Center for Pathogen Genomics and Microbial Evolution at Northwestern University, said the study doesn't connect the dots:
It's an interesting finding and after reading the pre-print I have little obvious reason to doubt the data. The conclusion that more vaccine doses somehow reduce a person's resistance to COVID-19 infection is an extra step that is not directly supported by the data as presented, however. ...

There is also other (published) data that is different than this pre-print's findings in that it was observed that there were lower infection rates among those who had been vaccinated and boosted than non-vaccinated or non-boosted in late-2020 / early-2021 with the emergence of Omicron in the US.
Ozer said he hopes reviewers will seek more clarification from the authors of the preprint as it goes through the peer-review process.

Additional Lead Stories fact checks of claims about COVID-19 vaccination can be found here.


2023-01-10T00:45:44Z

2023-01-10T00:45:44Z

Adds context from Lawler and edits for clarity.