Does this video of President Joe Biden speaking show that his face was twisted in a squinty sneer when he misspoke and accidentally referred to January 6th as "July the 6th"? No, that's not true: While Biden did misspeak and the audio track of this video does not appear to be changed, features of Biden's face -- his eyes, nose and mouth, have been digitally altered and do not match the original version of the video.
Biden spoke at a Presidential Citizens Medal ceremony on January 6, 2023. A short 24-second clip from the event was posted to YouTube by Fox News, highlighting a gaffe Biden made, referring to January 6 as "July the 6th." A portion of that video clip was digitally modified and was posted on Twitter (archived here) by "Now The End Begins" on January 9, 2023. It was captioned:
Can someone help me here? What on earth is this?? He looks like the demon inside his body is trying to get out.

#JoeBiden

#JulyThe6th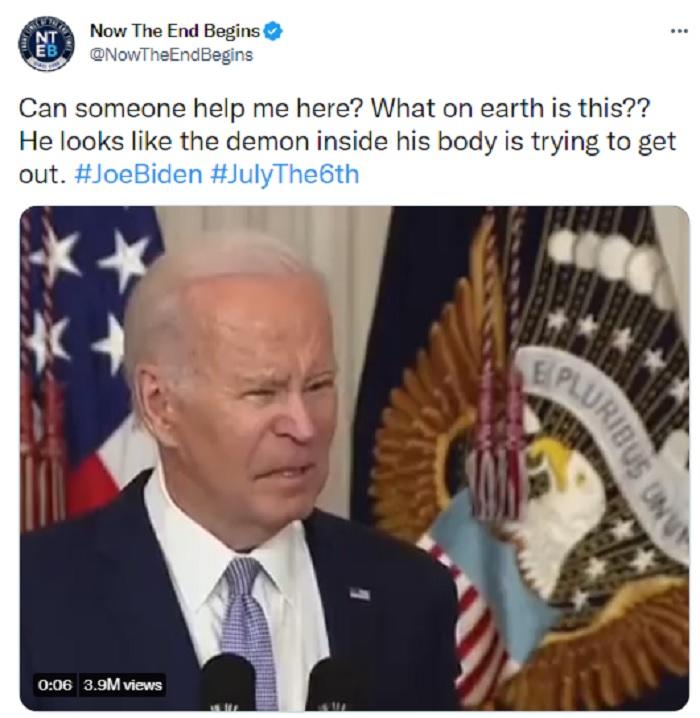 (Image source: Twitter screenshot taken on Thu Jan 12 22:06:11 2023 UTC)
A comparison image (below) shows stills taken from the same moment in the video posted on Twitter and the Fox News footage on YouTube. The image on the left has been altered and Biden's eyes, nose and mouth have been changed to make his expression appear to be a scowl.

(Image source: Lead Stories Composite image showing Twitter and YouTube screenshots taken on Thu Jan 12 22:37:29 2023 UTC)
Biden misspoke at about the 3:34 second mark of the White House livestream, which was broadcast on January 6, 2023. The video embedded below shows the full event filmed from a slightly different camera angle than the clip aired by Fox News. It is cued to begin at the point Biden misspoke. The transcript included with the YouTube video includes a bracketed notation adding "[January]" to make clear the month which was intended.