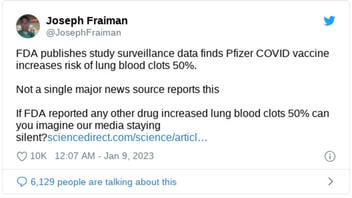 Does a U.S. Food and Drug Administration (FDA) study prove the Pfizer COVID vaccine increases the risk of lung blood clots in the elderly by 50 percent? No, that's not true: The study does not establish a causal relationship between the vaccine and the adverse event in people 65 and older, the FDA told Lead Stories.
The claim appeared in a post on Twitter (archived here) published on January 9, 2023. It opened:
FDA publishes study surveillance data finds Pfizer COVID vaccine increases risk of lung blood clots 50%.

Not a single major news source reports this

If FDA reported any other drug increased lung blood clots 50% can you imagine our media staying silent?
This is what the post looked like on Twitter at the time of writing: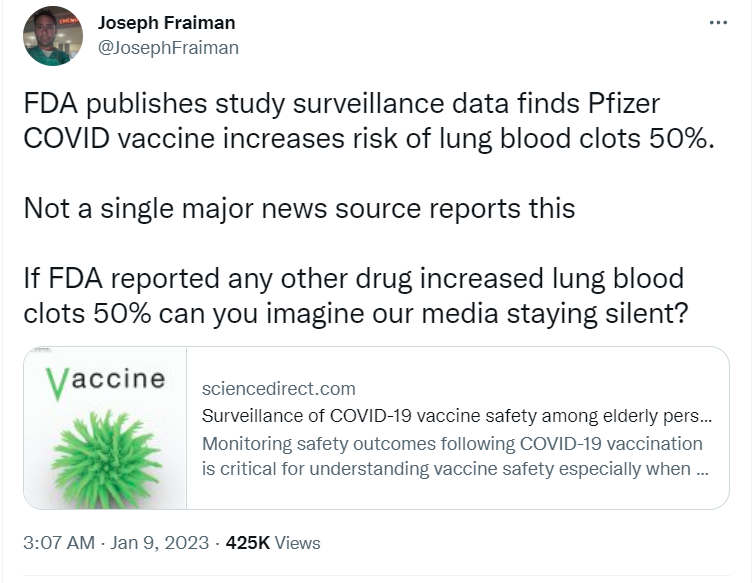 (Source: Twitter screenshot taken on Thu Jan 12 21:09:18 2023 UTC)
The post cites the FDA study "Surveillance of COVID-19 vaccine safety among elderly persons aged 65 years and older." The study used a screening method called near real-time surveillance to detect potential safety concerns that could be flagged early for further investigation after exposure to the Pfizer-BioNTech, Moderna or Janssen COVID-19 vaccines. However, this surveillance method does not establish an immediate causal relationship between a vaccine and an adverse event like blood clots.
After the FDA identified four potential adverse events of special interest (AESIs) in adults 65 years of age and older using near real-time surveillance, the agency initiated a more complex "fully adjusted epidemiologic study" to further evaluate their risk in elderly persons. The initial study found these four AESIs in this age group:
Following the fully adjusted epidemiologic study, the FDA found the results did not support an association between the vaccine and any of the four outcomes. The FDA said it planned to release the study findings in early 2023. As stated in a July 2021 FDA communication about the near real-time surveillance and the agency study cited in the Twitter post, the FDA is not currently taking any regulatory actions related to this ongoing surveillance work because the agency does not believe such action is warranted at this time.
In a January 12, 2023, email to Lead Stories, FDA press officer Abby Capobianco provided a statement from the federal agency:
The FDA continues to find that the Pfizer-BioNTech COVID-19 Vaccine meets the FDA's rigorous standards for safety and effectiveness and the agency strongly believes the potential benefits of COVID-19 vaccination outweigh the potential risks of COVID-19. The FDA has not found any new causal relationships between the Pfizer-BioNTech COVID-19 Vaccine and potential adverse events of special interest identified in 2021.
The Centers for Disease Control and Prevention recommends the COVID vaccine for everyone 6 months old and older.
Additional Lead Stories fact checks of claims about COVID-19 vaccination can be found here.