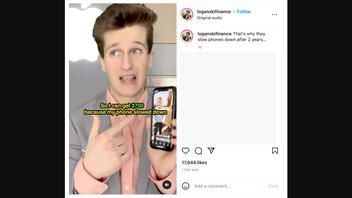 Does Apple have to pay $700 "to anyone with a slowed-down phone, if they claim it"? No, that's not true: There is no evidence that Apple has to pay $700 to anyone with a slowed-down iPhone. In 2020, the company settled a lawsuit for $310 million over the sluggish performance of certain older models of iPhones only. The text of the settlement does not refer to indiscriminate $700 payments to iPhone owners. After a federal appeals judge overturned that settlement in 2022, a lower court approved a renewed motion for a final settlement, but, as of February 21, 2023, payouts have not yet occurred.
The claim appeared in a video on Instagram on February 19, 2023. The video featured an unidentified man playing the roles of both Apple and a customer. It opened:
-Apple, why did my iPhone just become way slower?

-Because we just released a new phone.

-WHAT! That's illegal to slow down old products.

-We know, and that's why we have to pay anyone with a slowed-down phone $700, if they claim it.

This is what the post looked like at the time of the writing of this fact check:
(Source: Instagram screenshot taken on Tues Feb 21 16:12:41 2023 UTC)
There are no credible news reports that Apple has to pay "anyone with a slowed down phone $700, if they claim it."

However, national news outlets reported in 2020 that Apple had reached a $310 million settlement in a class action lawsuit for allegedly slowing down the operating systems in certain older iPhones to conceal performance problems. But those claims against Apple must have been submitted by October 6, 2020, according to the settlement website.

The settlement's text does not refer to $700 payments to claimants, however. It refers to "service awards" -- amounts paid to claimants in a class action lawsuit -- of between $1,500 to $3,500 and individual payouts of just $25 for each "eligible device." Those latter payments can be reduced if the total exceeds $500 million, the maximum amount of the lawsuit's settlement.
In September 2022, the U.S. Court of Appeals for the Ninth Circuit withdrew the decision approving the settlement agreement. The appeals court found that a lower court judge had applied the wrong legal standard, Bloomberg Law reported.

On February 17, 2023, a judge for the U.S. District Court for Northern California in San Jose, California approved a renewed motion by the plaintiff and defense for a final approval of the settlement. As of February 21, 2023, no public document confirms that payouts have begun.