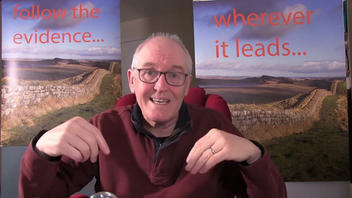 Do a paper published in a medical journal and a video based on it prove the Pfizer COVID-19 vaccine causes brain and heart damage? No, that's not true: The paper looks at the case of a single elderly man with Parkinson's disease who died weeks after his final vaccination. It doesn't establish a causal link between the vaccine and the damage to either the brain or the heart. A professor of infectious diseases at Vanderbilt University Medical Center dismissed the claim by paraphrasing a jumping-to-conclusions proverb attributed to Aristotle: "My sense is that one swallow does not make a summer."
The claim appeared in a video on YouTube published by John Campbell on February 16, 2023, under the title "Vaccine brain injury." The video opens with Campbell saying:
We're going to be looking at a case today of damage to the brain and damage to the myocardium after a COVID-19 vaccination. But the question is, is this damage to the brain and heart caused by the vaccine or is it caused by the natural infection. Well, we actually found out, all the researchers in this study found out, that the damage in the brain and the heart was caused by the vaccine not the infection.
This is what the post looked like on YouTube at the time of writing: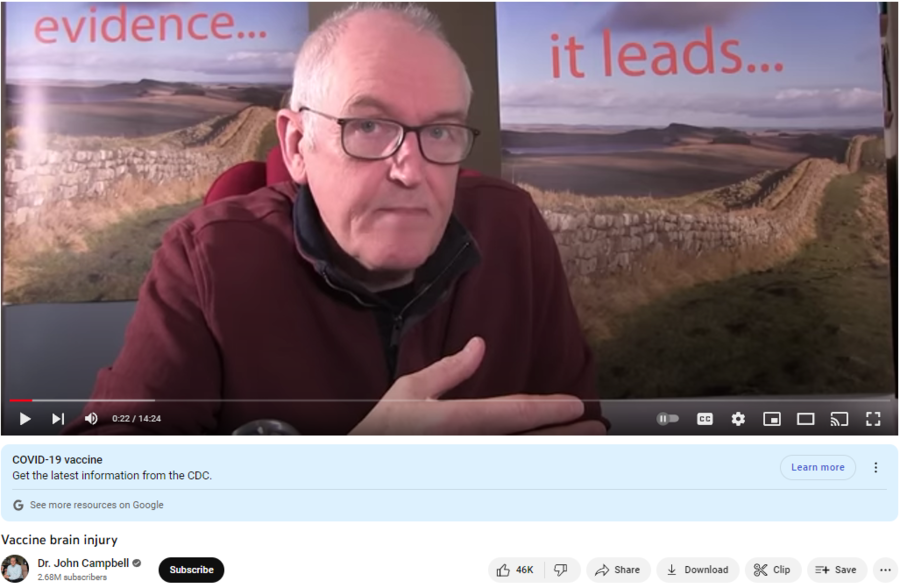 (Source: YouTube screenshot taken on Mon Feb 20 17:24:25 2023 UTC)
The argument Campbell makes is based on the assumption that brain and heart tissues would display a marker of previous COVID infection, known as a nucleocapsid protein, if the person had come down with the virus before. Otherwise, they would only have the spike protein from the mRNA vaccine because the shot doesn't contain the nucleocapsid protein.
Campbell's starting point is based on an October 1, 2022, paper titled "A Case Report: Multifocal Necrotizing Encephalitis and Myocarditis after BNT162b2 mRNA Vaccination against COVID-19." The paper, about one case, says, "Since no nucleocapsid protein could be detected, the presence of spike protein must be ascribed to vaccination rather than to viral infection."
Dr. William Schaffner, a professor of infectious diseases at Vanderbilt University Medical Center, told Lead Stories in a February 21, 2023, phone interview that the author of the case study overstated his findings:
I thought as soon as I read the paper that the author of the paper, the pathologist [Dr. Michael Mörz], drew an explicit conclusion that I think ought to have been modulated. It's fair to suggest that, but, I don't think on the basis of what they have they can draw that firm conclusion.
Susan Oliver, a Ph.D. in nanomedicine, took a stronger stand against the observations by the case study's author and Campbell in her own video, which was published on February 20, 2023. Three minutes into the video, she says the conclusion isn't valid:
To make a claim like this you first need to test tissue samples from the brains and hearts of people who are known to be infected with COVID and confirm that they always contain both spike and nucleocapsid protein. The author of the study didn't do this and John [Campbell] didn't pick up that they didn't do this, because he has no idea how to evaluate research. Luckily for us other researchers have done it so we can do what the study author and John [Campbell] didn't do and check whether spike protein is always accompanied by nucleocapsid protein in the brains and hearts of those infected.
A study cited by Oliver, "Neuropathology of patients with COVID-19 in Germany: a post-mortem case series," was published on October 5, 2020, months before COVID shots would be widely available. The study found that the spike protein was twice as common as the nucleocapsid protein in samples from 40 people after their deaths. The study said:
In the 16 (40%) cases positive for SARS-CoV-2 proteins on immunohistochemistry, spike protein was detected much more frequently (14 [88%] cases) than nucleocapsid protein (seven [44%] cases). ... Overall, SARS-CoV-2 RNA or proteins were detected in the brain tissues of 21 (53%) of the 40 investigated patients, with eight (20%) patients having both SARS-CoV-2 RNA and protein detected.
The results of the second study cast doubt on the argument that a person infected by COVID would absolutely have to have both the spike protein and the nucleocapsid protein present in their systems. This shows it's possible to have had COVID and still only have the spike protein present, which would mirror the results of the vaccine.
Pfizer response
In a February 21, 2023, email to Lead Stories, Pfizer media relations provided a response to the claim that the company's COVID vaccine caused brain and heart injuries. It said, "Pfizer is aware of rare reports of myocarditis and pericarditis in recipients of the Pfizer-BioNTech COVID-19 vaccine." The statement continued with the following:
People all over the world have received the Pfizer/BioNTech COVID-19 vaccine and a causal link to the vaccine has not been established. Serious adverse events unrelated to but close in timing to vaccination will likely occur at a similar rate in vaccinated individuals as they would in the overall population. With a vast number of people vaccinated to date, the benefit risk-profile of our vaccine remains positive.

We take adverse events that are potentially associated with our COVID-19 vaccine very seriously. To date, more than 4 billion of our COVID-19 vaccines have been delivered globally. It is important to note that serious adverse events that are unrelated to the vaccine are unfortunately likely to occur at a similar rate as they would in the general population.
Centers for Disease Control and Prevention
The U.S. Centers for Disease Control and Prevention (CDC) provided a response to the claim in a February 21, 2023, email. The public health agency's statement said:
To date, the CDC systems in place to monitor the safety of COVID-19 vaccines have found four serious types of adverse events following COVID-19 vaccination, with evidence that suggests, although rare, a link to certain types of COVID-19 vaccinations that were administered. They are:

Anaphylaxis - a severe type of allergic reaction with symptoms such as hives, difficulty breathing, low blood pressure, or significant swelling of the tongue or lips.
Thrombosis with thrombocytopenia syndrome (TTS) - a rare but serious adverse event that causes blood clots in large blood vessels and low platelets (blood cells that help form clots).
Myocarditis - inflammation of the heart muscle, and pericarditis is inflammation of the outer lining of the heart.
Guillain-Barré Syndrome (GBS) - a rare disorder where the body's immune system damages nerve cells, causing muscle weakness and sometimes paralysis.
The CDC recommends COVID vaccination for everyone 6 months and older.
In an October 15, 2021, article on the University of Utah Health website, Dr. Emily Sydnor Spivak, associate professor of medicine in the Division of Infectious Diseases at the school, said the benefits of vaccination outweigh the risks in the general population:
Letting people get COVID rather than a vaccine to protect them from COVID means they're at risk of severe disease, long COVID, and even death. I say this as we are seeing young, twenty-year-old patients being admitted with very severe disease. And even if only a few people have this unfortunate turn of events, it's not worth the risk. Please get your COVID vaccine.
About John Campbell
Campbell is a popular YouTube host with more than 2.6 million subscribers to his channel. Campbell is not a physician but a retired emergency department nurse. According to the About section of his YouTube channel, his Ph.D. "focused on the development of open learning resources for nurses nationally and internationally." Since starting his channel in 2007, he has posted thousands of videos on a variety of medical topics but has focused primarily on COVID since the start of the pandemic. He has promoted unproven treatments like ivermectin, spread misleading death statistics minimizing the number of victims and has misinterpreted data about vaccine safety.
Campbell's YouTube channel's about page (archived here) features a disclaimer saying:
These media including videos, book, e book, articles, podcasts are not peer-reviewed. They should never replace individual clinical judgement from your own health care provider. No media-based material on this channel is suitable for using as professional medical advice. All comments are also for educational purposed only and must never replace advice from your own health care provider.
Additional Lead Stories fact checks about Campbell can be found here.
Additional Lead Stories fact checks of claims related to COVID vaccines can be found here.