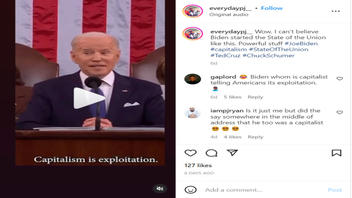 During his 2023 State of the Union address, did President Joe Biden say, "Capitalism is exploitation"? No, that's not true: The quote and the video it comes from have been edited. Biden said, "Capitalism without competition is exploitation," not "Capitalism is exploitation." Also, the president's altered words came from his State of the Union address about a year earlier in 2022, not 2023.
The claim appeared in a post and video on Instagram on February 8, 2023. The description of the post says:
Wow, I can't believe Biden started the State of the Union like this. Powerful stuff

#JoeBiden

#capitalism

#StateOfTheUnion

#TedCruz

#ChuckSchumer
This is what the post looked like on Instagram at the time of writing: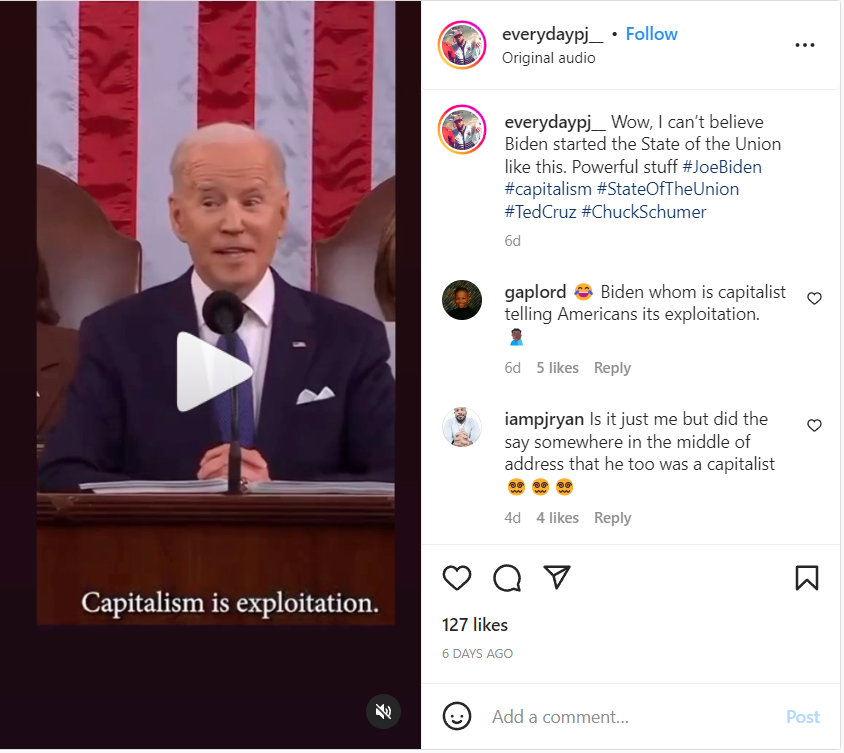 (Source: Instagram screenshot taken on Tue Feb 14 15:36:38 2023 UTC)
Altered clip
Although the 22-second edited and cropped clip was published the day after Biden's 2023 State of the Union address from February 7, it was instead from about 11 months earlier on March 1, 2022. The unedited quote appears about 57 minutes into the official White House video stream posted to YouTube. It appears below:
The White House also provided the complete transcript of the speech.
Biden's comments struck a similar theme during his 2023 speech, but still he didn't say, "Capitalism is exploitation." Instead, he said, "Look, capitalism without competition is not capitalism. It's extortion. It's exploitation." The president's remarks come around 42 minutes into the address:
2022 versus 2023
The altered clip has additional clues to its 2022 origin. It shows Vice President Kamala Harris and then-House Speaker Nancy Pelosi behind Biden (left). For the 2023 version of the speech, Harris and current Speaker of the House Kevin McCarthy are visible (right):

(Source: C-Span screenshots taken on Tue Feb 14 18:21 2023 UTC)
The House of Representatives website lists all the members who have served as speakers of the house and when they were elected.
Additional Lead Stories fact checks of claims related to President Joe Biden can be found here.