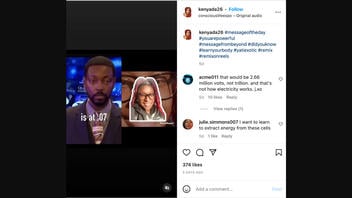 Does the human body contain 2 trillion volts of electricity in it? No, that's not true: A professor in electrophysiology told Lead Stories it "does not make sense" to talk of voltage of the human body. He likened the human body's electrical ability to a table with 1,000 batteries sitting on it, unconnected, with the negative ends of the battery covered.
The claim appeared on Instagram on February 8, 2023, with the hashtags "#messageoftheday #youarepowerful #messagefrombeyond #didyouknow #learnyourbody #yatiexotic #remix #remixonreels." The video opened with:
Every single cell in your body is at .07 millivolts of electricity and you have 35 billion cells. Multiply that, and you're at 2.65 or so trillion volts of electricity in your one body.
This is what the Instagram post looked like at the time of writing: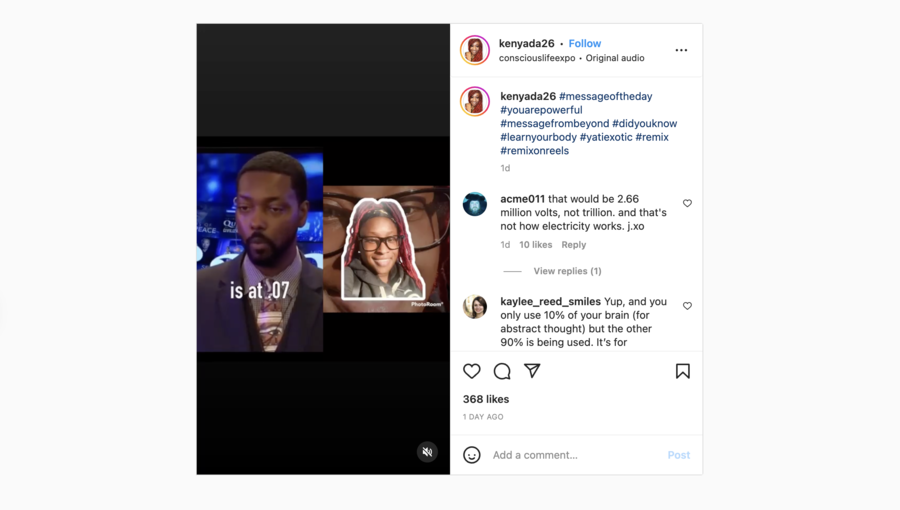 (Source: Instagram screenshot taken on Fri Feb 10 16:39:28 2023 UTC)
Billy Carson, the narrator in this video, says humans are a "walking nuclear explosion" and that the cells are where the qi gong and reiki energy comes from. Qi gong and reiki are two East Asian forms of nontraditional medicine that focus on claims of healing using calming movements. Carson ends by saying that once a person learns how to tap into the energy stored in their body, they will have healing powers.
July 8, 2021, was apparently the first time Carson posted this claim. It can be found here on his verified TikTok account. It was also posted on YouTube on July 19, 2021.
Carson, the CEO and founder of 4BiddenKnowledge, has a certificate from the Massachusetts Institute of Technology in science and one from Harvard in ancient civilization. These are not the equivalent of traditional degrees.
Michael Bach, a professor of electrophysiology, the study of the electrical properties of cells and tissues, at the University of Freiburg in Germany, responded to an inquiry from Lead Stories in a February 13, 2023, email, saying that the human body does not have 2 trillion volts in it and that this claim is incorrect on many levels:
[The cells are] actually around 70 millivolts ...

He notes that the electrical contact the few cells do have are in a parallel circuit, so that the voltages of all the electricity do not add up.
But what is the amount of voltage in the human body? Bach wrote it can't be answered that simply. He gave us an analogy for the human body:
Imagine a table strewn with 1000 batteries ... which are not connected. What would you say is the voltage of the table? ... Imagine all negative ends of those batteries are covered with plaster (or any insulator), you see only the positive poles. Just doesn't make sense to talk of the voltage of the body.
More Lead Stories fact checks about electricity can be found here.