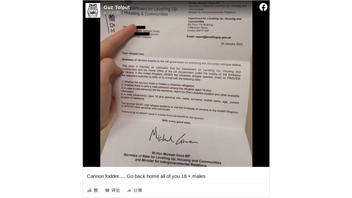 Did a British government department ask families hosting Ukrainian refugees to report adult males to the Ukrainian embassy in January 2023? No, that's not true. A spokesperson for the UK Department for Levelling Up, Housing and Communities told Lead Stories on February 6, 2023, that a letter shared online was a hoax.
In early February 2023, social media users posted a photograph of what appeared at first glance to be a letter from the Department for Levelling Up, Housing and Communities to UK residents providing temporary accommodation for refugees fleeing the Russian invasion of Ukraine, under the government's "Homes for Ukraine" program. The letter was especially popular on the 4chan/pol/ forum on February 5 and 6.
The letter appeared in a Twitter post (archived here) on February 5, 2023. It read, in part:
Dear refugee host,

Embassy of Ukraine inquiry to the UK governmen on precising the Ukrainian refugee status...

...The Department for Levelling Up, Housing and Communities and the Home Office of the UK government under the Inquiry of the Embassy of Ukraine in the United Kingdom URGES the Ukrainian refugee sponsor (host) to PROVIDE the respective authority by letter or by e-mail with the following data:

Whether the sponsor hosts or hosted a Ukrainian refugee(s)

Whether there is (are) a male person(s) among the refugees aged 18 plus

In case a male person(s) left the residence, report his (their) possible location and other and other available information

A male Ukrainian(s) aged 18 plus personal info: name, surname, middle name, age, current location of residence...
The letter also appeared on other social media. This is what the letter looked like on Facebook at the time of writing: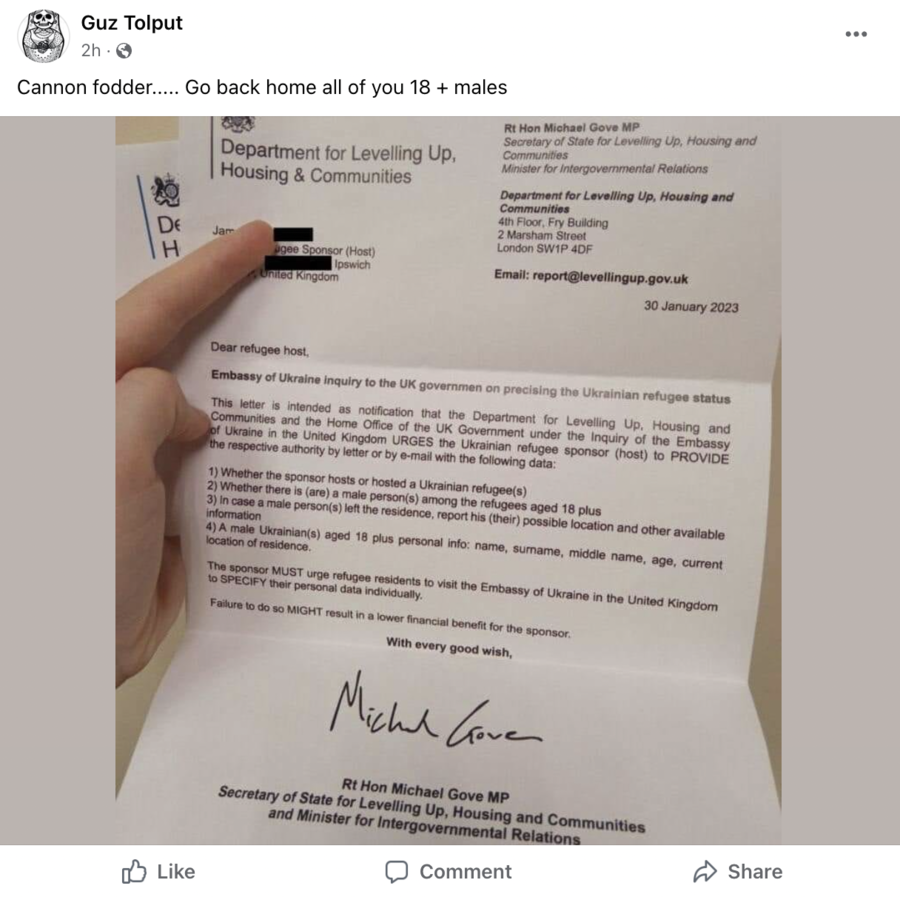 (Source: Facebook screenshot taken on Mon Feb 6 18:05:03 2023 UTC)
The fake letter featured what appeared to be official departmental letterhead and contact details, and was dated January 30, 2023. It purported to convey a Ukrainian embassy request that host families provide details about any Ukrainian adult males living with them, including their current location, and asked hosts to urge the men to report in person to the Ukrainian embassy, or risk "a lower financial benefit."
Under the program, hosts can receive monthly payments of £350 ($420) or more. Some observers cited the letter as evidence that the UK government was conspiring with counterparts in Kyiv to, in effect, conscript young men living overseas for military service in Ukraine.
The letter featured typos, errant capitalizations, unusual or confusing word choices, and poor grammar -- all telltale signs that it was not official correspondence produced by staff in a UK government department.
On February 6, 2023, a spokesperson from the Department for Levelling Up, Housing and Communities confirmed in an email sent to Lead Stories that the department had not written or sent out the letter, meaning it was no more than a hoax. On Twitter, the department's official account posted:
We are aware of fraudulent letters to Homes for Ukraine hosts circulating on social media. These are not from the Department...