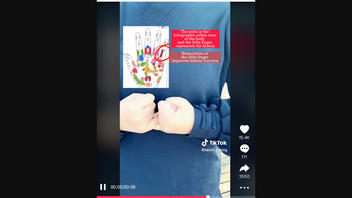 Does the reflexology practice of interlocking and tugging the little fingers improve kidney function? No, that's not true. No authoritative sources suggest that reflexology is an effective tool for enhancing kidney function.
The claim appeared on TikTok on February 1, 2023, under the title "The body is a system, recommended pull body practice, more healthy, #wudang #health #chineseculture #TCM #kedney #nighturine #nocturia #fyp #foryou" and includes a video of a man demonstrating the technique.
Here's how the TikTok post appeared on the day of this writing: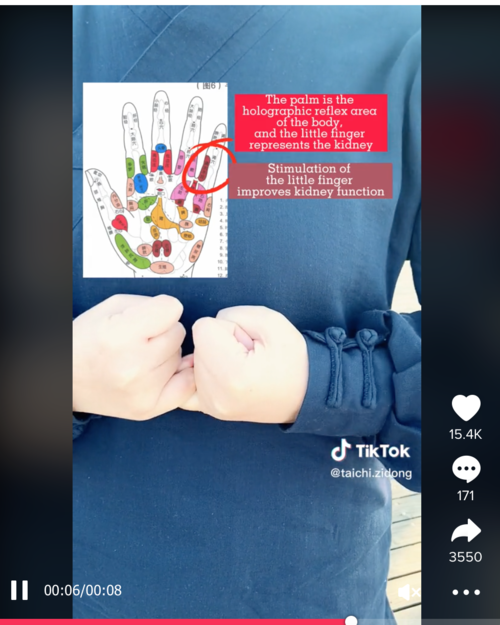 (Source: TikTok screenshot taken Fed 2, 2023 at 17:41:25 2023 UTC)
The post's video includes an embedded reflexology hand map with a caption that reads, "The palm is the holographic reflex area of the body," and "Stimulation of the little finger improves kidney function."
The claim is false. Although widely accepted as a non-invasive complementary therapy that relaxes patients, decades of reflexology studies have not identified any "concrete evidence for any specific effects" of the practice on any illness or medical condition, a 2015 review of the literature found.
As it relates specifically to the kidneys, some studies have shown reflexology may benefit dialysis patients suffering from itchy skin conditions and sleep disorders, but "it's important to note that these methods have not been shown in trials to impact one's kidney function," Julie Wright Nunes, a nephrologist and associate professor of internal medicine at the University of Michigan told Lead Stories.
"Anyone diagnosed with kidney disease or at risk for kidney disease should be seen by a physician to manage their kidney disease and try to prevent it from progressing into kidney failure," she said in a February 6, 2023, email to Lead Stories provided by the American Kidney Fund (AFK), where Nunes is also the chair of the medical advisory board.
As defined by the National Center for Complementary and Integrative Health (NICCIH) reflexology is a practice in which pressure is applied to specific points on the feet or hands, that are believed to be connected to other parts of the body.
This, however, has not been proven, an NICCIH spokesperson noted in a February 6, 2023, email to Lead Stories, and the agency advises that people should "never replace scientifically-based conventional treatments with unproven therapies."
Reflexology is said to be rooted in the ancient Chinese belief that illness and disease are the result of a block in the flow of the body's vital energy -- or qi (pronounced "chee"). Reflexologists believe the technique of applying massage-like pressure to the feet and hands restores energy flow and preserves health.
There is some evidence that reflexology may relieve anxiety, fatigue nausea, pain, stress and other symptoms experienced by patients with some cancers, multiple sclerosis and other conditions. However, the quality of such studies has been questioned for having too few participants ( 20-40 patients), inconsistencies among reflexology maps of the feet and hands, and high levels of bias in the data.
According to Nunes, some 37 million Americans have kidney disease and millions more are at risk. About 90 percent of people with kidney disease are unaware they have kidney disease because symptoms typically do not appear until the later stages she added, and information about prevention or disease management should be sought from trusted care providers and peer-reviewed scientific sources.