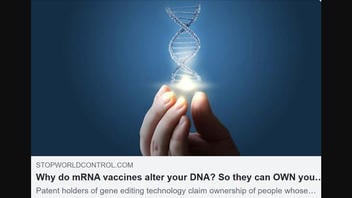 Do gene editing mRNA vaccine patent holders own vaccinated people outright once injected, and does mRNA alter natural human DNA? No, that's not true: A Stanford University professor of law specializing in bioethics told Lead Stories that these claims are "too absurd even to be wrong." Also, many credible medical organizations have debunked the claim that mRNA vaccines alter the DNA of human beings.
The claim about "mRNA altering DNA" appeared in an article (archived here) with embedded videos published by "Stop World Control" on February 20, 2023, titled "Why do mRNA vaccines alter your DNA? So they can OWN you..." The article opens with the following:
In this first video you can see Bill Gates and Mark Zuckerberg admit that the covid vaccines modify the human DNA. You will also hear form Dr. Carrie Madej how this is part of the transhumanist agenda to create a new breed of people, Human 2.0 When you scroll down, you will learn how genetically edited people become property of the patent holder of the technology used to edit their genome...
This is what the article looked like on the StopWorldControl website at the time of writing: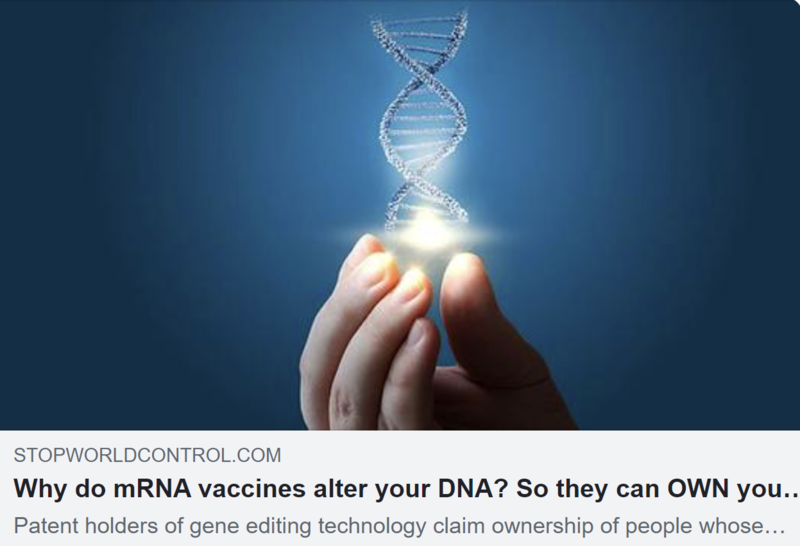 (Source: Screenshot taken on Mon Feb 27 18:34:39 2023 UTC)
The disclaimer page of "stopworldcontrol.com" does not cite any reliable sourcing that substantiates any of its findings that are supposed to be based on scientific research.
In a December 21, 2020, Nebraska Medicine article titled, "You asked, we answered: Can mRNA vaccines alter human DNA?" an infectious disease expert stated, "No, the vaccines cannot change your DNA," as DNA is located in the nucleus of a person's cells whereas messenger RNA (mRNA) vaccines are unable to venture into the nucleus and instead only exist outside of the nucleus. In a Centers for Disease Control and Prevention fact sheet from February 16, 2023, titled "Myths and Facts about COVID-19 Vaccines," the claim that COVID-19 vaccines can alter a person's DNA was discredited as the body discards all genetic material delivered from the mRNA vaccine after the body produces an immune response.
An "Understanding COVID-19 mRNA vaccines" fact sheet by the National Human Genome Research Institute displays a graphic that shows how this process works. It also states that the human body naturally creates mRNA. Thus vaccine mRNA is synthetic.
Henry T. Greely, professor of law and Director for the Center for Law and the Biosciences at Stanford University, responded to an inquiry from Lead Stories about the claims. In a February 24, 2023, email Greely said:
This is too absurd even to be wrong. Injection or implantation of a patented device, drug, or biological into a person (or a non-human animal for that matter) gives no ownership right over the injected organism.

And, mRNA does not alter DNA at all. If it did, the resulting 'new' DNA sequence might be patentable ... when isolated and purified, outside a person. Before the Supreme Court's Myriad decision, there were thousands of gene patents in the US; none of them gave anyone an ownership interest in the DNA inside a person. That decision did allow the patenting of DNA sequences altered to be different from those found in nature, but, again, only in their isolated and purified form. mRNA vaccine holders, and anyone else, can patent a DNA sequence that they have created and that is not found in nature, but although the case hasn't arisen (because patenting DNA sequences has turned out not to be good business), I do not believe they could patent and assert ownership over altered sequences in a person.
Lead Stories previously found that mRNA vaccines do not change DNA or cause congenital disabilities.
Additional Lead Stories fact checks regarding COVID-19 vaccine claims can be read here.