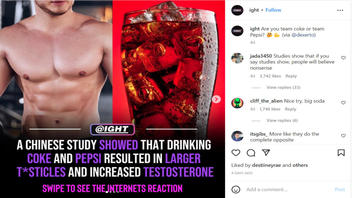 Does a study published by Chinese researchers prove that drinking Coke or Pepsi causes larger testicles and increases testosterone? No, that's not true: The study was only done on mice, not humans, so it doesn't directly apply. An associate professor of urologic surgery said a social media post characterizing the study in such a way "totally misses."
The claim appeared in a meme on Instagram on February 22, 2023, under the title "Are you team coke or team Pepsi? 🤔💪." The meme said:
A CHINESE STUDY

SHOWED

THAT DRINKING

COKE

AND

PEPSI

RESULTED IN

LARGER T*STICLES

AND INCREASED

TESTOSTERONE
This is what the post looked like on Instagram at the time of writing:
(Source: Instagram screenshot taken on Mon Feb 27 19:28:12 2023 UTC)
The post does not identify the study, but other articles making similar claims have cited this study out of China, "CARBONATED BEVERAGES AFFECT LEVELS OF ANDROGEN RECEPTOR AND TESTOSTERONE SECRETION IN MICE," which appeared in the July - September 2022 edition of the Romanian scientific journal Acta Endocrinologica. The researchers studied groups of male mice. The first group drank only water, while the remaining groups drank varying levels of Coca-Cola and Pepsi.
The "RESULTS" section of the study said:
The outcomes demonstrated a high dose of Pepsi-Cola or Coca-Cola could promote testis growth and development.
Dr. Chris Deibert, an associate professor of urologic surgery at the University of Nebraska Medical Center, told Lead Stories in a February 27, 2023, email that he's never seen "data to support this in humans." His response, which refers to the meme, also said:
It's funny, but totally misses the study, showing strong dudes and caffeine when the study is only done in mice.
In another February 27, 2023, email to Lead Stories, Dr. Amin Herati, director of male infertility and men's health at Johns Hopkins Medicine, said, "This study is not likely to represent humans." He continued:
Our metabolism responds adversely to high fructose corn syrup and sugary drinks, which would have the opposite effect - actually decreasing hormones and spermatogenesis - which could then affect the testicular volume.
Lead Stories asked both physicians, "Do men need to be worried about drinking Coke and Pepsi?" They replied:
Deibert: For diabetes yes (tongue in cheek), for testosterone directly no. That said there is structural evidence that men with diabetes do have a higher rate of low testosterone.

Herati: Yes, from a metabolism standpoint but not from a testicular function standpoint.
There are additional Lead Stories fact checks of claims related to testicles and testosterone.