Does a medical case study prove there's a link between the Pfizer COVID-19 vaccine and a fivefold increase in a cancer biomarker? No, that's not true: The case report looks at one person, a 79-year-old woman with ovarian cancer. It doesn't establish a causal link between the vaccine and the increased level of a biomarker, which are molecules that don't cause cancer but can be used to detect it.
A professor of infectious diseases at Vanderbilt University Medical Center said, "You cannot conclude anything from a case report and the authors [of the report] are rather careful about that."
The claim appeared in a meme on Instagram (archived here) published by American Faith Media on March 8, 2023, under the title "BREAKING COVID VAX LINKED TO FIVEFOLD INCREASE IN CANCER BIOMARKER REPORT FINDS." The description for the post says:
Link in bio for full story.




.




.


@hodgetwins

@general_anthony_tata_

@davidjharrisjr

@karilake

@foxnews

@realcandaceowens

@charliekirk1776

#rondesantis

#merica

#america

#takingbackcali

#holdtheline

#americanfaithmedia

#seanfeucht

#letusworship

#conservativeparty

#arizona

#conservatives

#trump2024

#frontlinedoctors

#trump

#stayinformed

#informedchoice

#tracybeanz

#davidjharrisjr

#socal

#conservative

#informedchoices
This is what the post looked like on Instagram at the time of writing: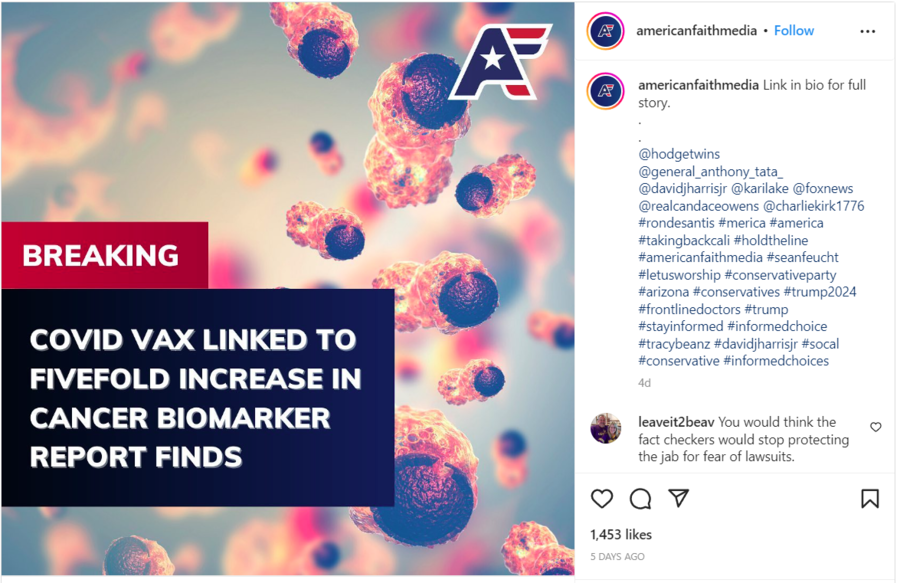 (Source: Instagram screenshot taken on Mon Mar 13 16:12:30 2023 UTC)
The "full story," as mentioned in the description, can be found on the American Faith website. It's titled "COVID Vax Linked to Fivefold Increase in Cancer Biomarker: Cureus Journal of Medical Science." The article cites a medical case report published in the journal Cureus.
Case Reports Are Not Definitive
The National Cancer Institute includes this definition for a case report on its website:
A detailed report of the diagnosis, treatment, and follow-up of an individual patient. Case reports also contain some demographic information about the patient (for example, age, gender, ethnic origin).
This particular case report notes a temporary rise in a biomarker (CA-125) used to monitor certain cancers during and after treatment. The "Discussion" section of the report says:
In the field of oncology, such after-effects of COVID-19 vaccines may sometimes be misinterpreted as cancer recurrence and lead to further investigations and procedures [6,7]. However, based on this case report, this brief rise in CA-125 levels may also be a vaccine-associated inflammatory response.
Ultimately, American Faith Media -- on Instagram and on its website -- overstates the findings found in the case report. Dr. Egon Ozer, an assistant professor at the Northwestern University Feinberg School of Medicine's Division of Infectious Diseases, said it should be noted that the report documents a single case and that the patient had not only been hospitalized with COVID-19 before the biomarker level temporarily increased but also had been vaccinated for the virus. Ozer continued:
Given that both events (severe COVID-19 and vaccination) occurred at around the same time in the patient in the current article, it's not clear which of these two events, or maybe another un-measured event or more than one event, was the cause of this one patient's temporary elevation in CA-125.
Dr. William Schaffner, a professor of infectious diseases at Vanderbilt University Medical Center, told Lead Stories in a March 13, 2023, phone interview that it's important not to draw too many conclusions from this case report:
There's no way of telling whether this is a coincidence or is causally related. So, further studies -- as the authors indicate -- would need to be done. And further, it's not clear even if it were causally related, whether it had any notable implications for the patient.
Both physicians agree that the evidence in the case report brought up interesting questions but offered limited evidence. Ozer continued:
[T]he direct correlation between vaccination and elevated CA-125 or other serum makers is far from proven with this report. We will need to wait to see if there are similar observations in other patients or larger studies. Finally, it needs to be noted that CA-125 and other cancer markers do not cause cancer themselves, nor are the markers always completely specific for cancer but can sometimes be influenced by other factors such as inflammation from diverse causes.
Schaffner said the case study is serving a particular purpose and has its limitations:
[T]hat's what case reports can do. They raise a question, they raise a hypothesis and, if the general scientific community thinks it's important enough, it will be pursued with further studies. But you can't draw conclusions from the single case report.
Additional Lead Stories fact checks related to COVID vaccines can be found here.