STORY UPDATED: check for updates below.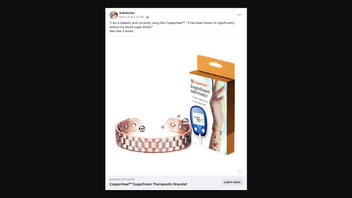 Have copper bracelets made by "CopperHeal" been shown to "significantly reduce" blood sugar and treat diabetes? No, that's not true: The U.S. Food and Drug Administration (FDA) confirmed to Lead Stories in an email that the agency had not approved such a product for these uses as of this publication. While there is preliminary evidence that copper ions may play a role in the development of diabetes, and as such might one day help scientists to develop treatments, this research has largely focused on ingested copper -- not wearable items. There is no conclusive evidence that wearing copper has any proven health benefits. Additionally, wearing copper bracelets without first consulting a medical provider may result in adverse health impacts for people with certain health conditions.
The claim originated in a post shared to Facebook on March 9, 2023, by the account Ddhdstion, that suggested "CopperHeal" cooper bracelets have been "significantly shown" to reduce blood sugar levels. Copy that accompanied the post read:
"I am a diabetic and currently using the CopperHeal™ . It has been shown to significantly reduce my blood sugar levels!"

See how it works:
Below is how the video appeared at the time of this publication: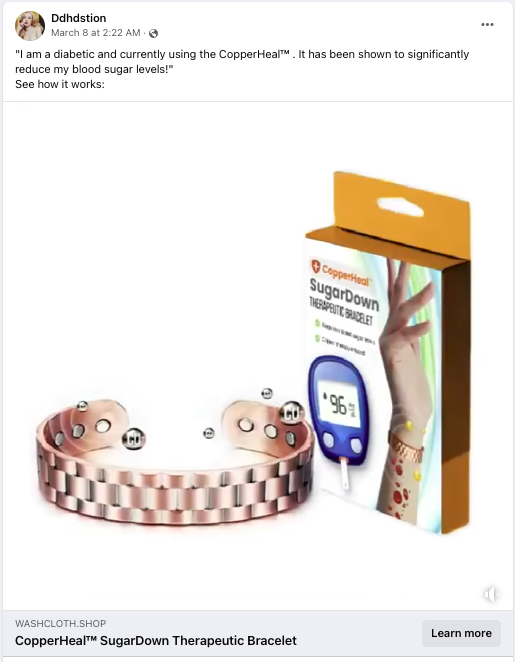 (Source: Facebook screenshot taken Mon March 13 21:57:47 UTC 2023)
"The FDA is not aware of any device authorized for marketing intended to reduce blood glucose or treat diabetes or its symptoms by wearing a therapeutic bracelet," wrote agency press officer Carly Pflaum. In a November 2011 media release, the agency flagged copper bracelets, specifically for the treatment of arthritis, as a health fraud scam that "could be harmful, are expensive, and aren't likely to help."
A voiceover of the 26-second video with the post featured recordings of two unidentified people whose videos appeared to have been spliced together with a voiceover narration to form the below script:
Lower blood sugar scientifically with copper. Copper can influence the metabolism of glucose in body. This bracelet is the best choice for improving diabetes by breaking down...

[First unidentified person on screen] ... can infiltrate

[Voice over] biological molecules like to reduce blood sugar that is... naturally

[Second unidentified person on screen] copper is very important when it comes down to energy manufacturing in the body...

[Voiceover] very good for glucose tolerance and for sucking glucose out of the blood stream and creating healthy patterns.
The above video was shared by the Facebook page Ddhdstion and was described in its "Page transparency" section as being a "clothing store" created on February 16, 2023 that is managed from Pakistan. Despite the page having three likes and six followers, the video in question had received more than 10,000 views at the time of this publication.
A link under the video post contained a "Learn More" link that directed users to a website washcloth.shop (archived here) where customers can purchase one bracelet for $24.97. The website is largely copied from another site, uubeskinny.com. For examples, the "About" section of both websites is described as:
Welcome to uubeskinny. By combining potent natural ingredients, ancient rituals, and modern science, fresh creates healthy products that perform with experiences that transform.
Washcloth.shop makes generalized and vague claims regarding the copper bracelet without presenting scientific evidence. It also presented uncited "studies" surrounding the efficacy of copper to imply that the CopperHeal bracelet products evoked a therapeutic response. Specifically, washcloth.shop claims without evidence that the CopperHeal™ SugarDown Therapeutic Bracelet "effectively regulates sugar level" and provides "anti-inflammatory and antioxidant benefits." This is said to be done by "releasing copper ions into the body"
Such claims have been made in advertisements posted on Facebook since at least March 2022, reported AFP. Using verbatim Google searches of various sentences taken from the washcloth.shop website, Lead Stories determined that the product was also being sold on other questionable websites.
Though there is evidence that copper levels in the body may play a role in the development of disease, there is no conclusive evidence that wearing copper has any proven health benefits. In fact, people diagnosed with Type 2 diabetes were shown to have higher levels of copper in their plasma and urine, according to reviews of existing scientific literature published in 2016 and 2017.
Lead Stories reached out to the World Health Organization, and the organization responded on March 22, 2023, saying in an email:
The WHO is unaware of any evidence indicating that wearing copper bracelets, or any other form of jewelry, lowers blood glucose levels in people living with diabetes. We do not recommend the wearing of copper bracelets for the treatment of hyperglycaemia or any form of diabetes.
Below is a quick look at several prominent studies that researched the connection between copper and diabetes:
Copper bracelets may also be harmful when used by people who have an electronic device or implant such as a pacemaker, use an insulin pump, are pregnant, or are allergic to metals like nickel, warns the FDA.
Lead Stories has previously debunked claimed health benefits of copper bracelets and other jewelry; you can see those stories here, here and here.
Lead Stories has also reported that black sesame seeds cannot heal "all chronic illnesses after 100 days," confirmed that there is no evidence 90-day diet of "herbs, water and juice" can eliminate diabetes, and shown that drinking Coke and Pepsi does not cause larger testicles and increases testosterone.
2023-03-22T18:13:24Z

2023-03-22T18:13:24Z

Adds comment from the World Health Organization.