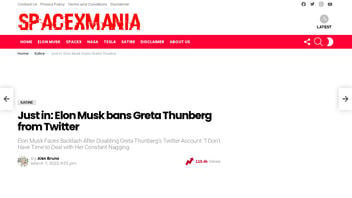 Did Elon Musk ban activist Greta Thunberg from Twitter? No, that's not true: Thunberg's Twitter account is still active. The claim appears in a publication with a disclaimer that its satirical articles are "not meant to be taken seriously" and "We make no claim that the information presented in these articles is true or accurate."
The claim appeared in a SpaceXMania article (archived here) on March 7, 2023, under the title "Just in: Elon Musk bans Greta Thunberg from Twitter." It opened:
In a stunning move that has shocked the world, Elon Musk has disabled Greta Thunberg's Twitter account.
This is what the article looked like at the time of writing: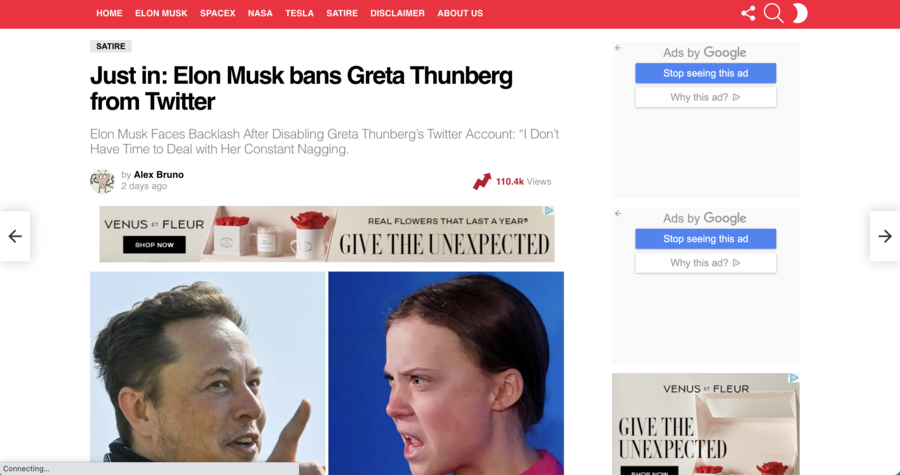 (Source: SpaceXMania screenshot taken on Thu Mar 9 14:30:18 2023 UTC)
The article claims that sources close to Musk say he was "fed up" with the 20-year-old's tweets about saving the planet, and that's why he banned her. The article also notes that Musk spoke to reporters about this ban. When we searched for news articles on this subject, no relevant results appeared on Google News, which indexes some 20,000 sites, experts estimate.
Thunberg's verified Twitter account has not been banned. The latest tweet from her is from March 3, 2023:
School strike week 237. Today, hundreds of thousands of people were once again climate striking all over the world, demanding an end to fossil finance! ✊✊#TomorrowIsTooLate #FridaysForFuture
Picture from FFF Torino pic.twitter.com/VvxthtgeZ0

-- Greta Thunberg (@GretaThunberg) March 3, 2023
At the end of the article is a disclaimer that reads, "Disclaimer: This is satire, not real news." In SpaceXMania's Disclaimer section, under "About Satire," they write that "Please note that some of the articles on this website are satirical in nature and are not meant to be taken seriously. These articles are meant to be humorous and are often entirely made up. We make no claim that the information presented in these articles is true or accurate."

SpaceXMania appears similar to fake news sites run by Christopher Blair, a self-described Internet troll who also runs dunning-kruger-times.com and queenstories.com, two other satirical sites that carry very similar disclaimer wordings on satire.
Christopher Blair is a self-professed liberal from Maine who for years has run networks of websites set up to troll conservatives with made-up news items in order to get them to share his posts. He often goes by the nickname "Busta Troll." A 2018 BBC profile called Blair "the Godfather of fake news," describing him as "one of the world's most prolific writers of disinformation."
Here you can find some of the many, many stories from Blair's websites Lead Stories debunked over the years.
More Lead Stories fact checks about Elon Musk can be found here.