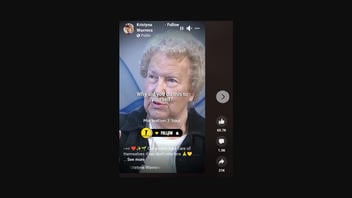 Are humans never supposed to get sick and does the power of the human mind heal all sickness? No, that's not true: Medical experts have identified several causes of diseases other than human thoughts that affect the human body.
The claim appeared in a reel published on Facebook on February 8, 2023. It featured a clip from an interview with Dolores Cannon, a self-proclaimed hypnotherapist who developed the "Quantum Healing Hypnosis Technique." In the clip, Cannon opened by saying:
You're not supposed to ever be sick. Never. The body is a miraculous machine that has been created to take care of itself and heal itself if we don't interfere. But you make yourself sick and if the mind is powerful enough to make yourself sick, it's also powerful enough to heal you. First, we gotta find out why -- why did you do this to yourself? What were you trying to tell yourself? Every disease is the body talking to you.
This is what the post looked like on Facebook at the time of writing: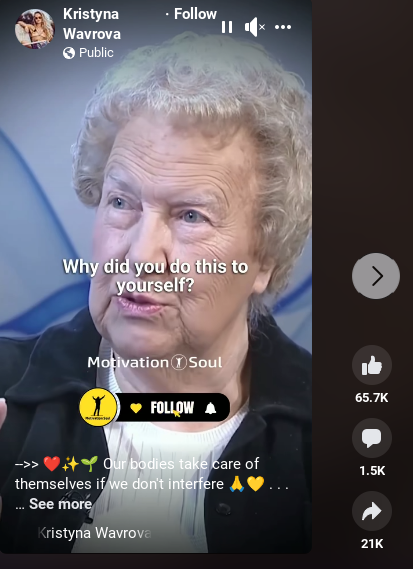 (Source: Facebook screenshot taken on Wed Mar 8 19:11:10 2023 UTC)
In an email sent to Lead Stories on March 8, 2023, Kenneth Buetow, a professor in the School of Life Sciences at Arizona State University and director of the university's Center for Evolution and Medicine, told us that he disagrees with the claim, saying that "it is clear that what we call disease...is a product of being a living thing and how we interact with other living things. Humans are not exempt from this." He went on:
While intriguing mind-body links are continuing to emerge...these connections do not obviate disease, but instead modify response. The brain (mind) is neither the sole source, nor resolution of all disease.
Buetow linked this article as an example of research that explores the "mind-body links" he referenced. Lead Stories also found that while some studies (here and here) have shown that health anxiety may be associated with some conditions, this link has not been established as the root cause of all illnesses.
There is no evidence that Cannon, who died in 2014, possessed any medical expertise that would be accepted by professionals established in the medical field. While her obituary did not include her cause of death, one report on her death said she passed away on October 18, 2014, "following a recent injury."
There are several reasons -- supported by scientific evidence -- why humans contract infectious or communicable diseases, which are caused by organisms originating from outside of the human body. A resource published by Arizona State University titled "Why Do We Get Sick?" explains several causes for diseases, according to evolutionary medicine, a scientific approach that uses evolutionary biology to better understand diseases. Those reasons include a mismatch of our bodies with our environments, varying speeds of coevolution between humans and other organisms and evolutionary trade-offs.
The World Health Organization (WHO), Cleveland Clinic and Mayo Clinic attribute infectious diseases to harmful organisms.
As for noncommunicable diseases such as cardiovascular diseases and cancers, WHO describes them as chronic and "the result of a combination of genetic, physiological, environmental and behavioural factors." WHO does not indicate that such diseases are simply a result of how a human thinks.
Lead Stories also reached out to other experts who specialize in genetics and disease about the claim. We will add their responses as we receive them.