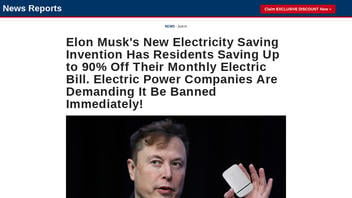 Did Elon Musk invent a ground-breaking plug-in device that helps lower electric bills by lowering consumption instantly? No, that's not true: Electrical devices with identical plastic housings have been marketed online for years without mention of Elon Musk ,and there is no evidence this is his invention. Many reports have warned that these purported power-saving devices not only don't do what is claimed but are frequently associated with secondary scams.
The promotion appeared in an advertorial article (archived here) published by calces.shop under the title "Elon Musk's New Electricity Saving Invention Has Residents Saving Up to 90% Off Their Monthly Electric Bill. Electric Power Companies Are Demanding It Be Banned Immediately!" It opened:
'Do not pay your electric bill until you read this. As electricity prices continue to rise in , I realize that not everyone can afford solar panels, so we wanted to come up with a way that EVERYONE can save tons of money on their electric bill. Hurry up and learn this trick before the power companies get their way and it's gone.' - Elon Musk
The advertorial is formatted as if it is a news website. This is how it appeared at the time of writing: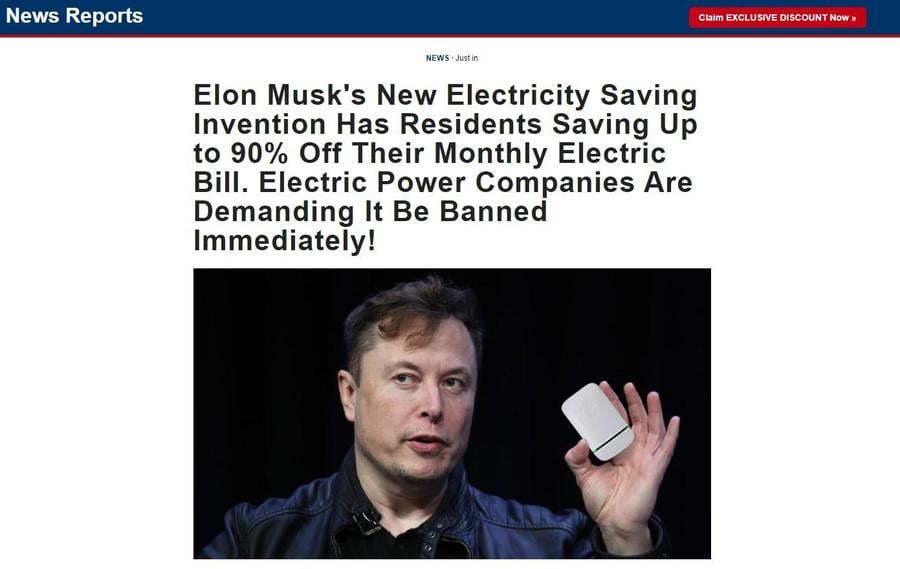 (Image source: calces.shop screenshot taken on Tue Mar 14 00:26:43 2023 UTC)
This is a manipulated image made from a March 9, 2020, photo of Musk by Win McNamee on gettyimages.com. In the original photo from the 2020 Satellite Conference, Musk is holding his hand up in an "OK" hand gesture (inset below left). The photo was edited to make it appear that he is holding a device (below right), which in this advertisement is called "StopWatt." The caption on the original photo at gettyimages.com reads:
Elon Musk Speaks At Satellite Conference In Washington, DC
WASHINGTON, DC - MARCH 09: Elon Musk, founder and chief engineer of SpaceX speaks at the 2020 Satellite Conference and Exhibition March 9, 2020 in Washington, DC. Musk answered a range of questions relating to SpaceX projects during his appearance at the conference. (Photo by Win McNamee/Getty Images)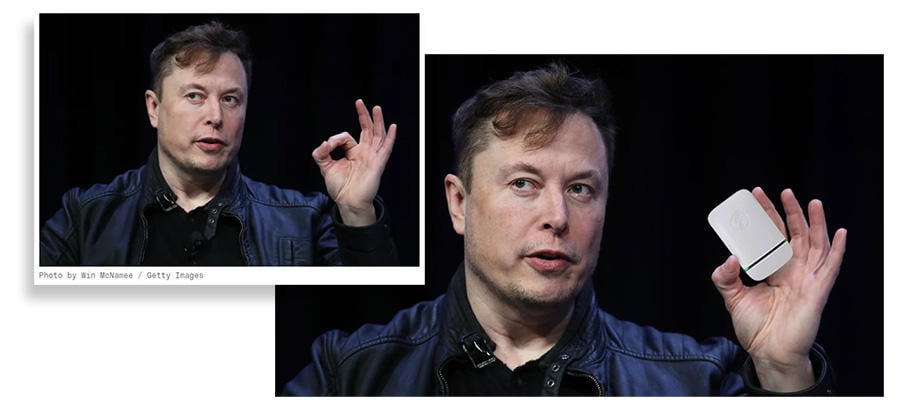 (Image source: Lead Stories composite image made with theverge.com and calces.shop screenshots taken on Tue Mar 14 00:26:43 2023 UTC)
Included in the advertorial is the claim that Musk was moved to invent the energy-saving device partly because of the tragic death of a Tesla employee. The narrative is that Dorothy Smith and her husband were both found dead on the couch by her daughter, having died of heat stroke during a heat wave because the power had been turned off after she fell behind on her bills. A photo of an elderly couple is formatted in the advertorial as if it were an NBC Texas news report. The chyron reads, "TESLA EMPLOYEE DIES OF HEAT STROKE AT HOME." The advertorial includes a personal statement about the tragedy purportedly from Musk. It reads:
'This tragedy shook up the Tesla plant as they mourned their fallen colleague. Many employees asked me how could they help? I was personally devastated when I heard the news. Dorothy was such a kind soul and integral to the team's success. She worked so hard and was looking forward to retiring soon. The immoral electric power industry is completely out of control with their price gouging during these tough times. They should not be allowed to shut off power during these times and these rising prices are not sustainable for the average American family who are just trying to make ends meet. I will make sure to dedicate this important project not only to Dorothy's memory but to humanity itself. This project is so very important to us.' - Elon Musk
A reverse image search determined this photo does not show a Tesla employee named Dorothy Smith. This is a photo of Jim and Donna Mueller of Janesville, Wisconsin. The photo appeared in an August 6, 2022, article in the Wisconsin State Journal. The Muellers were on vacation in Washington, D.C. During a severe storm on August 4, 2022, the couple was killed when they were struck by lightning in Lafayette Park, near the White House.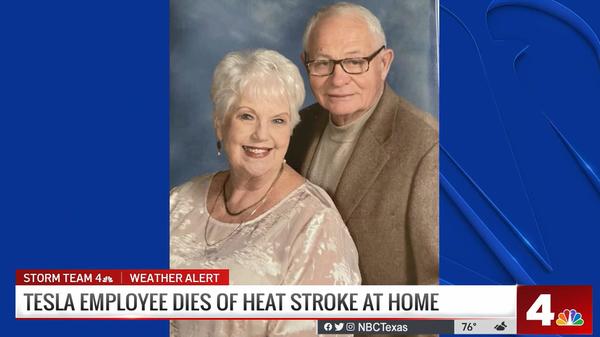 (Image source: calces.shop screenshot taken on Tue Mar 14 00:26:43 2023 UTC)
The focus of this fact check is the claim regarding Musk There is no evidence that Musk invented or endorsed a plug-in power-saving device for homeowners. A Google search for "'Elon Musk' power saver device" returned sponsored links to more of the same advertising disguised as consumer review websites and a January 23, 2023, fact check from Snopes debunking these claims. Some of the search results point to a real 2015 announcement from Musk that Tesla would sell a power backup battery for homes called the Powerwall -- this has nothing to do with the power-saver gadgets.
A November 4, 2011, video posted on the ABC News (Australia) YouTube channel warns of scams associated with fake power-saving devices. Several independent electronic YouTube channels have reviewed the internal circuitry of several devices on the market (here, here, and here). All conclude that this is a waste of money for residential users.
The StopWatt product featured in this advertorial has a white plastic case with an embossed logo of a lightning bolt, and a line of clear green plastic that glows when the device is plugged in. This identical case design and promotional photos have appeared with different brand names over time. At miraclewatt.com the device is offered for $59 marked down from $118, and a pack of three is advertised for $135 marked down from $270. With reverse image search, Lead Stories identified photos of the identical device sold under the brand names; Energix, Voltex, Pro Power Save and Realwatt Energy Saver, to name a few. Some advertisements (here is one called EcoWatt Pro) feature images of devices with similar but not identical housings in the same ad, as if the two are one and the same. Rather than an embossed logo, the other housing has a sticker that reads, "Intelligent Energy Saver Electricity Saving Box The Result Is The Best."
Lead Stories found examples of these devices sold by third party marketplace sellers on Walmart.com, Amazon.com, ebay.com and Sears.com. The price of the units and the multipack markdowns vary widely, but none so low as the business-to-business wholesale prices found on Alibaba.com. When purchased in bulk directly from China, (there are several suppliers) the units sell for as little as 88 cents each.

Lead Stories has debunked a similar false promotion: a chip for cars that is purported to save fuel. In that instance two ads were found for the same gadget on the same website, priced at $2.89 and $58.00. Lead Stories has debunked several cases of false advertising leveraging the name of Elon Musk. Some ads featured cryptocurrencies and others had false promises to pay homeowners for free solar panel installation -- this was actually just a leads generator collecting personal information.